If you're in Dubai towards the end of November, you can check out Dubai's favourite family attraction, the Global Village.
Whether you're looking for the ultimate shopping experience, want to try food from across the world, or are an adventure-seeker (or all three), Dubai should be your short getaway.
If you take pleasure in retail therapy, Dubai is renowned for its glamorous malls that are not only filled with a diverse range of stores, from homegrown boutiques to global, high-end brands, but also have a lot to offer food- and entertainment-wise (in case you're travelling with family members or friends who aren't big on shopping).
Explore the endless selection of shops and dining outlets in Dubai Mall
One of the most popular malls in the city, and among the largest malls in the world, is Dubai Mall.
It not only has an endless selection of shops and dining outlets, but it also has an indoor aquarium, multiple cinemas and entertainment options for children (such as KidZania, an interactive, award-winning edutainment centre).
The mall also has a new wing, Fashion Avenue, a haven for luxury designer shopping, in case you want to treat yourself. Another local and tourist favourite is Mall of Emirates in Dubai's popular Barsha area, which apart from a plethora of shopping options, offers an indoor ski slope too! Whether you want to take a ski lesson, ride in a cable car, interact with real-life penguins or simply have fun with family or friends in the snow park, Ski Dubai is a one-of-a-kind experience.
Experience UAE's largest cinema screen in Dubai Hills Mall
The latest addition to Dubai's range of malls is Dubai Hills Mall, located in the new Dubai Hills Estate, which also boasts Roxy Cinema – the UAE's largest cinema screen to date. Apart from all-time favourite stores like Zara, H&M Home and Pottery Barn, the mall also has an indoor roller coaster called The Storm Coaster and impeccable new dining outlets (try L'eto for its scrumptious desserts, Akiba Dori for its wood fire oven pizza and Common Grounds for its fresh, ground coffee).
If you're a bargain hunter, Dubai Outlet Village is worth a visit to get your hands on the hottest deals on iconic fashion brands.
Get a flavour of local spices, crafts and products in various bazaars
Spice Souk, Gold Souk, Souk Madinat Jumeirah and Souk Al Bahar
If you're in the mood to explore local crafts and products, you can walk around the Spice Souk, taking in the aromatic and flavorful spices on display; or if you're a jewellery enthusiast, you can find intricate and beautiful, pure gold and diamond jewellery at the Gold Souk, a souk that has been in Dubai for decades. Souk Madinat Jumeirah and Souk Al Bahar meanwhile offer tourists a selection of silk cloths, traditional souvenirs, oud and bakhoor in a traditional market setting.
Dragon Mart
If you'd like to see more bazaar-type markets, a popular shopping destination is Dragon Mart, a 25-minute drive from the city centre. This is a retail hub for Chinese products in Dubai and has hundreds of vendors exhibiting a range of items from garden supplies and homeware to tech gadgets and fashion products.
Global Village
Lastly, if you're in Dubai towards the end of November, you're visiting at one of the best times because every year Dubai's favourite family attraction, Global Village, is happening.
Dozens of country-themed pavilions are found under one roof, each with its dining, shopping and entertainment options; including live street performances, concerts and fireworks displays. It truly is a one of its kind multicultural attraction.
Savour deletactable fast food and fine dining options in city wide spots
For a post-shopping meal, indulge in delicious food to nourish the soul; just like Dubai's shopping choices, the eating options in the city are also endless and one is spoiled for choice. You will find plenty to whet your appetite, from delectable fast food to delightful fine dining options. For a quick, local bite you can grab old-school shawarma from Allo Beirut, which serves some of the best Lebanese street food at many locations across Dubai; they also have falafel, hummus and fatoush.
A must-try is the piping hot kunafeh from Feras Sweets – a pastry dish which is a favourite with both locals and visitors. To polish off a hearty meal, grab a coffee at one of the many specialty coffee shops across the city. Dubai has all the international franchise.
For something different, try the Spanish Latte at Arabica. And if you want to further explore the local coffee scene in the city, drop by at Nightjar, The Espresso Lab or Brunch & Cake.
If you have a thing for Italian cuisine, there's fair chance 'Il Ristorante' will prove to be the right spot for you. If you fancy authentic French cuisine, make a note to check out 'STAY by Yannick Alléno'. Both eateries are celebrated by tourists coming in from all parts of the world and are certified two Michelin Star restaurants.
Earlier this year, Dubai released a list of 11 restaurants which have been given a Michelin Star rating, including Woodfire, Hakksan and Trisend Studio. Be sure to make a booking in advance at these popular eateries so that you aren't disappointed.
If you're seeking homegrown, UAE-based food brands, Time Out Market Dubai is a great place to be as it is a culinary hotspot (Dubai has a large expat population, which means there are a lot of different and authentic cuisines available here). Some of the best eateries at Time Out Market include BB Social Dining for its soft, meaty bao buns, Long Teng for its seafood dumplings, Pitfire Pizza for stone oven baked pizzas, Reif for the best sushi, Matar Farms for beef brisket and, of course, the chicken sando from Pickl. Whew, is your mouth watering yet?
Party all night at Address Sky View Hotel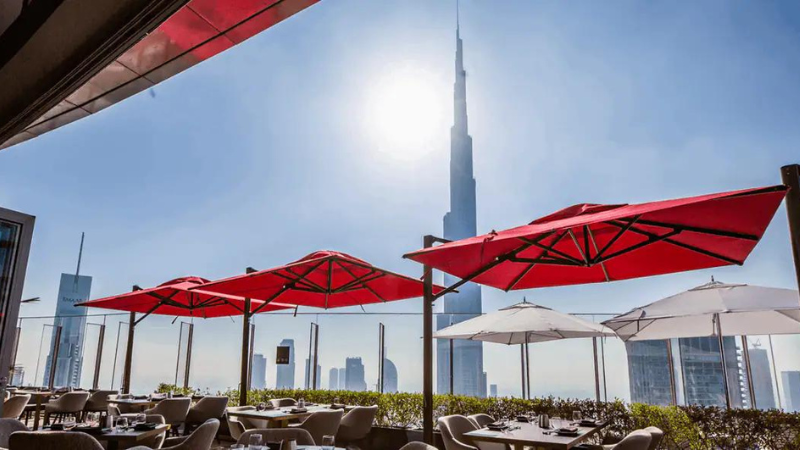 If you need a night out with your significant other or want to dress up for a girl's night out, there are many fine dining options available. Ce La Vi is one, located on the 57th floor of the Address Sky View Hotel, which you can dine at (indoors or outdoors) for a unique experience; it has both stunning views and exquisite culinary flavours.
Amelia Restaurant and Lounge, also in the Address Sky View Hotel, is the latest addition to Dubai's fine dining scene – a restaurant concept from Beirut which opened its doors in July 2022 – it not only has a modern and elegant vibe, and a resident DJ, but it has also quickly become one of Dubai's hot spots. Dubai's dining scene offers the best.
Head to scenic beaches for a relaxing time with friends and family
Whether you're travelling solo, with family or with friends, everyone needs some form of entertainment and Dubai has no dearth of options within this category. And contrary to belief, there is a lot to do in Dubai beyond mall hopping. For one, Dubai is known for its dreamy, serene beaches. The beach at Jumeirah Beach Residence (JBR) (located at Dubai Marina) is popular; here you can not only relax, but you can also find multiple dining options, cinemas and carnival-style games.
Kite Beach in Jumeirah is also a great beach to check out with eating options and activities for all ages. SALT at Kite Beach is a hot favourite with both locals and visitors – their burgers and salted caramel ice cream are lip-smacking.
Book these must-visit recently opened attractions
A relatively new attraction takes thrill lovers to the skyscraper in Downtown Dubai; Edge Walk, Slide and Observatory.
Have a look at the view here: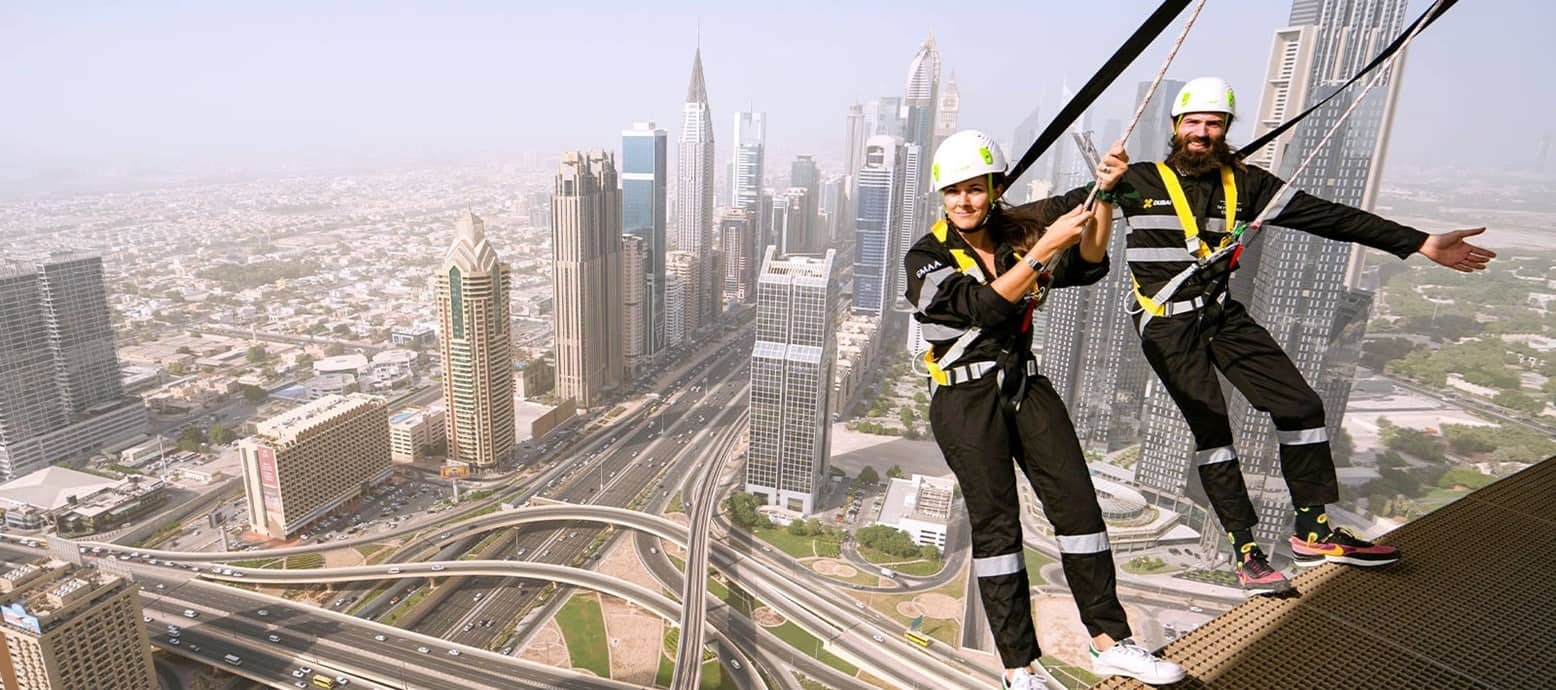 Another new attraction (make sure to book tickets in advance!) is the magnificent-looking structure on Sheikh Zayed Road, the Museum of the Future. It welcomes people of all ages to go on a journey through possible futures.
If you're into outdoor activities and are an adventure-seeker, one of the most fun activities to do while at JBR is AquaFun, a massive obstacle course in the sea! Bounce around in the middle of the sea and race against friends and family.
Get Safari-ing
Desert Safari meanwhile is a fail-safe and has been popular in Dubai for many years; it shows the true culture of the region. Many tour operators provide the service – they will pick you up from your hotel and take you on an adrenaline-filled ride, dune bashing through the desert to a campsite that is set up with traditional food and activities, including camel rides, henna decoration, belly dancing and more.
If you choose the Platinum Heritage Experience, a premium desert safari experience, you can ride through the desert in vintage Land Rovers, watch a delightful falcon show and spot oryxes and gazelles, ending the night at an authentic bedouin camp with fine Arabic food and local entertainment.
Check out Dubai's favourite gardens and rainforest experiences
If you want to simply relax, Dubai Miracle Garden, located in Dubailand, is the world's largest natural flower garden and provides a retreat into nature.
Green Planet, an indoor rainforest experience, is another option which is located in City Walk and is a real oasis; you can stroll through the rainforest, see the beautiful flora and fauna and interact with the species found in a rainforest.
Dubai is a vibrant city and offers unforgettable experiences – whether it's shopping at one of the fabulous malls or markets, treating yourself to culinary delicacies or having the time of your life with adrenaline-filled experiences.
---
This content is produced in paid partnership with visitdubai.com and is not associated with or necessarily reflective of the views of Images or Dawn.com.