Pakistani Twitter rushed to the cricketer's defence, telling naysayers off for slut-shaming his wife.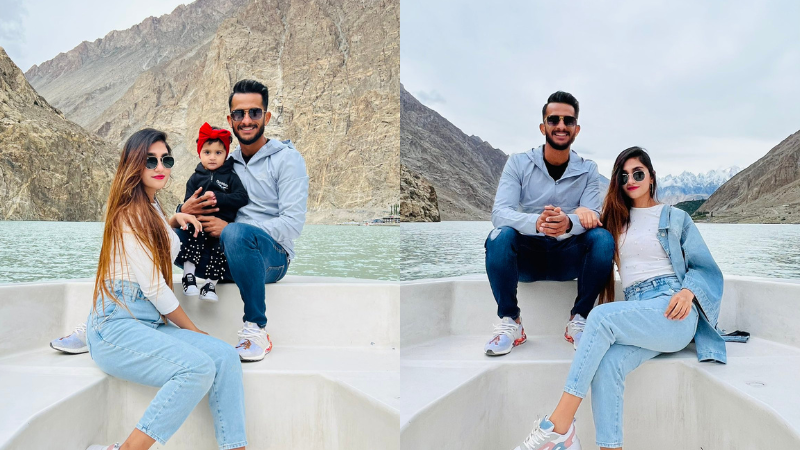 Cricketer Hassan Ali posted some great vacation photos with his wife, Samiya, and infant daughter but they have unprecedentedly become a breeding ground for internet trolls taking digs at his wife's clothes and pose — men have officially hit a new low. We've said this before but we're going to have to repeat it — a woman's clothes are no one's business except her own.
On Monday, Ali posted photos with his wife and daughter on a boat in Hunza and instead of appreciating the scenic family photos like normal people, many netizens — mostly men — dropped down in the replies to slut-shame the cricketer's wife, questioning her morals, intentions and character, amongst other things.
From equating Ali's gairat [respect] to his wife's clothes to asking the cricketer to cover his wife, the trolls went all out with their suggestions that no one asked for.
Though there is a large stream of tweets reflecting this disgusting mentality, the other half of Twitter jumped to the family's defence. They called out the internet trolls while reassuring the cricketer that there is nothing wrong here — just the "gutter mentality" of the moral brigade that loves to overstep.
An excellent observation on this user's part.
Take two for the men who didn't spare Esra Bilgic. Unneeded and unnecessary.
Women have legs — surprise, surprise!
Sweetie, your "harassy" "gutter mentality" is showing.
Can PEMRA look into this?
Absolutely.
Ending note: Stop. Objectifying. Women. Just stop talking if the subject matter is none of your business. Someone else's body is not your concern. What they do with it, how they dress it is entirely their choice and you infringing on that choice is a violation of their basic human rights.
Sitting behind a computer and spitting hate may be very easy but it can have long-term repercussions that another person has to take conscious measures to heal from. Be kind and stop being a troll.