Kamala Khan is on her way to theatres in Pakistan on June 16.
There is no denying the power Marvel holds in entertainment media. The onslaught (no pun intended for Marvel comics fans) is awesome to behold — in the best way possible. The films aren't just crowd-pullers in this time of great economic withdrawal when it comes to watching films on the big-screen, — as we witnessed in Dr. Strange and the Multiverse of Madness' case — they continue to address issues of racial and ethnical inclusivity in their wares. Ms. Marvel, however, is a first, even in these terms — it is the first film in the Marvel-verse to not only include brown actors in prevalent roles, but also highlights the culture of a little big-country that goes by the name of Pakistan.
The main hero of Ms. Marvel — Ms. Marvel — is Kamala Khan, a polymorphous (ie. having elasticity as a power) 16-year-old high schooler who happens to be of Pakistani-American heritage. Living in Jersey City in an instantly recognisable Pakistani household, Kamala is not just a representation of skin colour, gender and age (and the growing pains associated with teenagers), but also a religion, a country and its culture.
Ms. Marvel is the creation of editor Sana Amanat (a Pakistani-American from Jersey City), writer, G. Willow Wilson (a Seattle-based writer who is also Muslim), Stephen Wacker, Adrian Alphona and Jamie McKelvie.
The series, premiering on Disney+, is 'created' (the term used to be 'developed for screen') by Bisha K. Ali, a British-Pakistani comedian and screenwriter who wrote an episode in Loki's series. The series also has two episodes directed by Pakistan's Sharmeen Obaid-Chinoy, in her live-action directorial debut.
However, in a twist in the tale, Disney+ is not available in Pakistan. Disney Hotstar, its Indian off-shoot that will eventually be called Disney+, has a foothold in India, but how would Pakistanis get to see the series, other than piracy? To combat the issue — since Ms Marvel is of Pakistani origin after all — HKC Entertainment, Disney and Marvel are bringing the series to cinemas as three movies, as a Pakistan exclusive.
The news was announced by Iman Vellani, a Canadian-Pakistani, who is playing Ms. Marvel in the series, in a video.
While the show debuts on June 8 on Disney+, Pakistani audiences will see the movies in local cinemas on the June 16, in a cine-compilation of episodes 1 and 2, followed by episodes 3 and 4 on June 30, and 5 and 6 on July 14.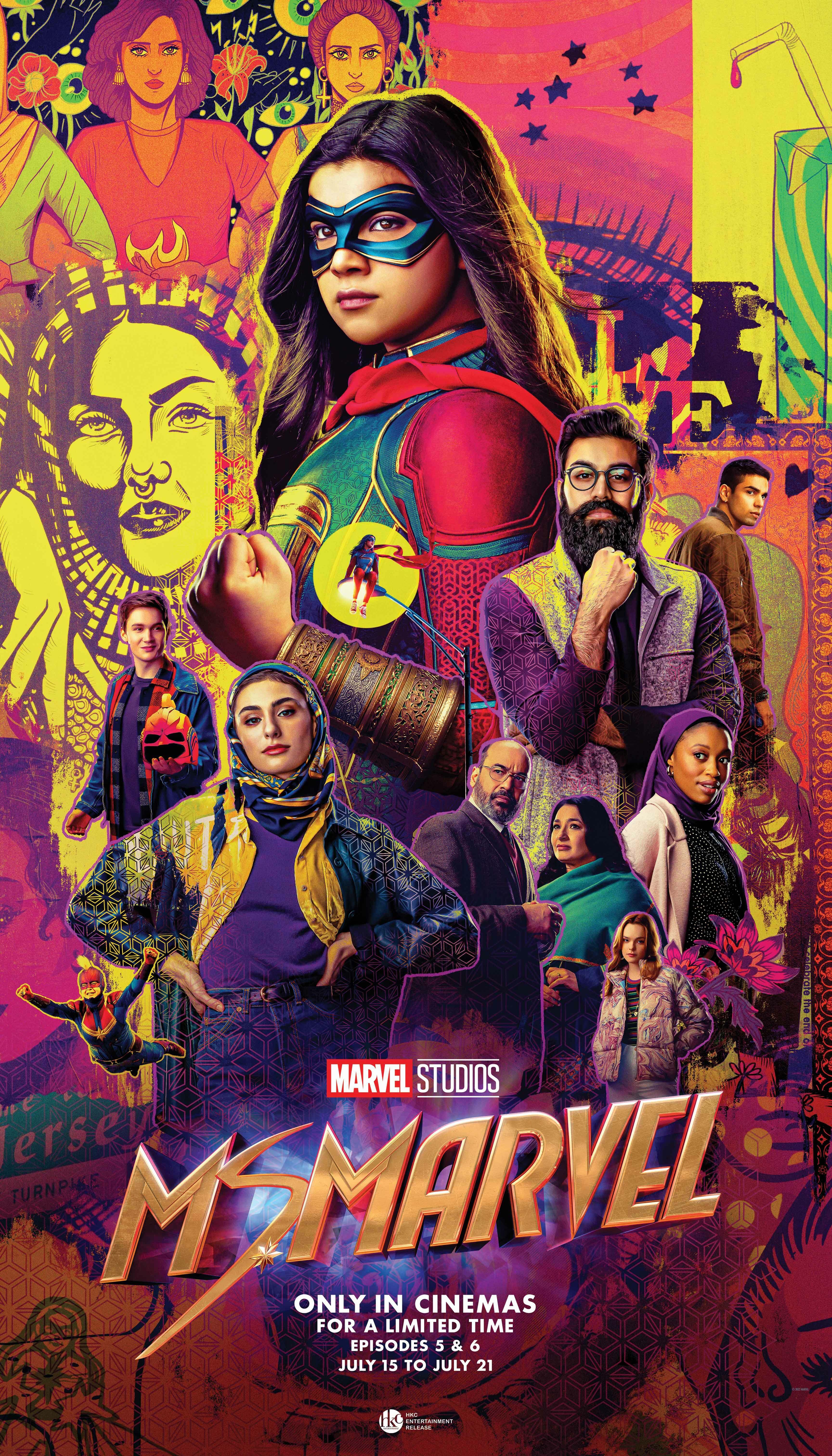 The posters of the movies are being released as an exclusive by Images, courtesy of HKC Entertainment — Pakistan's current distribution partner for Disney and Marvel Studios.
Speaking to Images, HKC's chief, Hammad Chaudhry affirmed the exceptionality of this decision. "This is a very unique decision, and we are overjoyed to be bringing Ms. Marvel to cinemas in Pakistan for a historical first. Our audience will have the unique experience of getting to watch the debut of Marvel's first Pakistani superhero on the big screen in a series which celebrates Pakistani representation, art and culture," he said.
"In fact, next year again we will be seeing Kamala Khan's character of Ms. Marvel in the feature film The Marvels (which teams up Kamala and Captain Marvel, played by Brie Larson) on July 28, 2023."
The project had a few technical and corporate hoops to jump through because as tightly knit as Marvel's continuity across films and series is, the films and series have different distribution companies within the corporate hierarchy, namely Disney+ (the OTT) and Disney theatrical distribution.
"Since Disney+ has not launched in Pakistan yet, the Disney team and I discussed the best possible way for Pakistani audiences to not miss out on the chance to see their very own superhero Kamala Khan. What followed was a bit of back and forth in terms of making this into a reality. This is a huge goodwill gesture on Disney's part," Chaudhry told Images.
As partially officially confirmed to this writer, the official cast roster, released via press release, includes Fawad Khan and Nimra Buccha in undisclosed roles. A little investigative reporting confirms Mehwish Hayat's casting in a pivotal role that is still being kept mum by Marvel. While the rumor mill once claimed Alyy Khan's inclusion in the series, the actor has officially clarified that he has no role in the series to this writer.
The move to release episodes of series in film format is not quite novel in Pakistan. The climax of Mere Pass Tum Ho and the premiere of Sang-e-Mah had come to cinemas, and ARY had once planned to release the climax of Sinf-e-Aahan in cinemas as well. However, if the experiment to release international series in cinemas pans out the way HKC and Marvel assume, we may, perhaps, get to see more of Marvel in cinemas quite soon. Who knows?