Looks like the maestro had a little competition from the groom.
Just when we thought we (and the wedding guests) would get a little break from Junaid Safdar's wedding extravaganza, social media was caught by surprise by a second qawwali event held Monday night in honour of the bride and groom. Should we forgive them for the unrelenting partying? Yes, mainly because the qawwal in attendance last night was none other than the maestro Rahat Fateh Ali Khan himself.
The qawwali night was celebrated in Islamabad on December 13. It was an lavish affair this time around as well — the event planner was Ayra Events and clearly, they have a thing for flower overlays and grand chandeliers.
The event's photographers were Fatima Tariq Photography and OShoot — popular Karachi photographers — helped us get another look at the opulent decor as well as Rahat Fateh Ali Khan up on stage, serenading the crowd.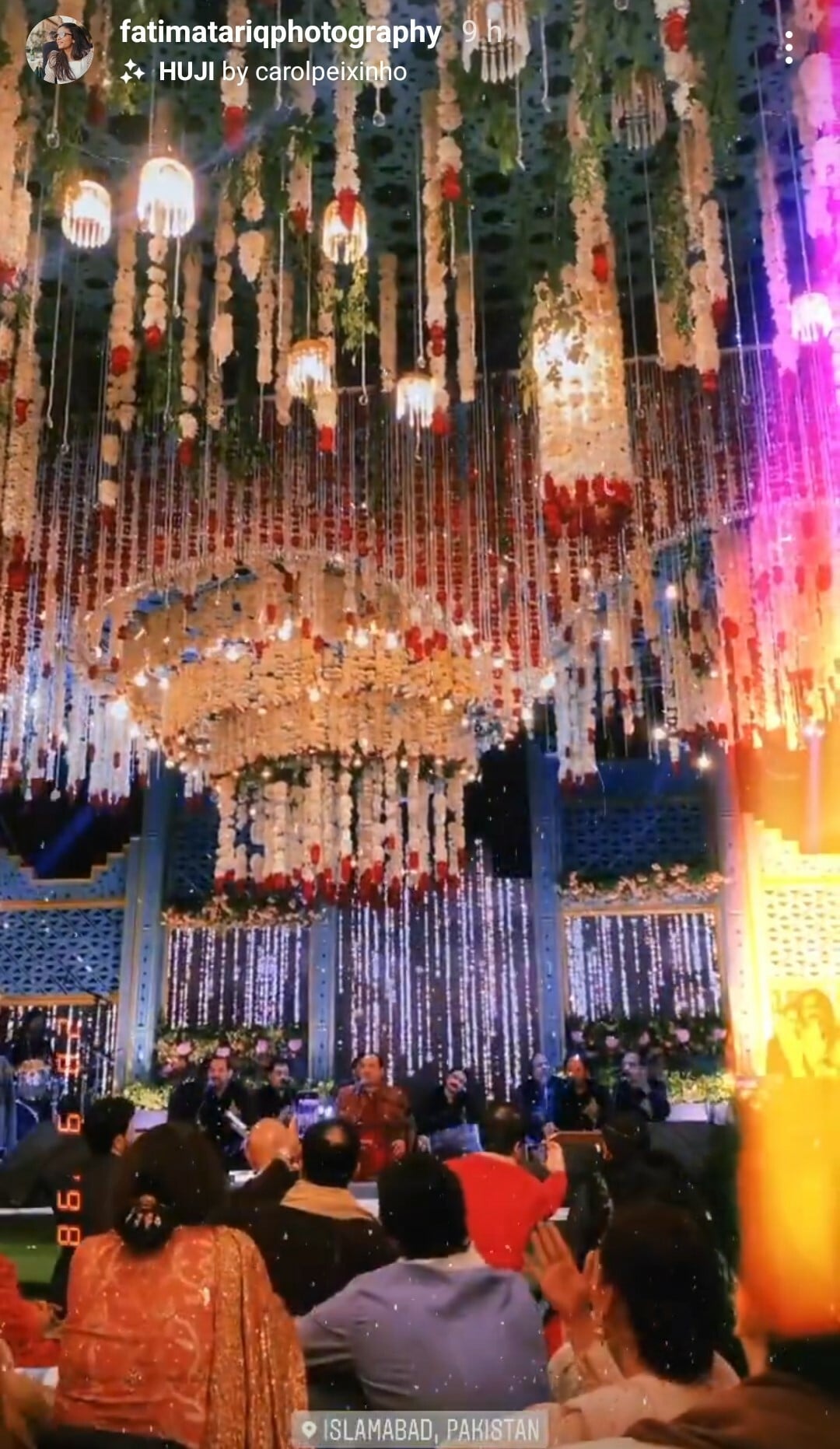 Here's Khan in full swing, crooning one of our favourite Nusrat Fateh Ali Khan songs — 'Dulhe Ka Sehra'. This was clearly sung especially for the bride and groom.
We already knew the Sharifs are a musically talented clan and we figured that Junaid would give Khan a run for his money when it came to belting out songs at the event. We last heard him crooning a Mohammad Rafi song at his nikkah. This time around, Junaid sang Khan's 'Mein Tenu Samjhawan Ki'.
But while he did a great job at singing the song, there's no beating the maestro at his own game. Points to the groom for a great effort though!
All eyes were on PML-N Vice President Maryam Nawaz's outfit yet again, and after wearing Elan and Indian designer Abhinav Mishra on the mayun-mehndi weekend, she choose a pink outfit with a delicate floral dupatta from Saira Shakira last night at the event.
Junaid's wife, Ayesha Saif ur Rehman Khan made a glowing and elegant bride once again. She wore a silver-white ensemble with open hair and minimal accessories. We suspect her outfit is from Bunto Kazmi but there's no confirmation on that just yet.
The wedding guests included many politicians close to the Sharif family.
Junaid and Ayesha's wedding is (finally) nearing its close. Their rukhsati is to be held tonight in Islamabad (December 14) while the wedding reception will be held in Lahore on December 17. But if we base our assumptions on how their wedding has gone so far, there are probably a few more events lined up.