The play will be streamed on Facebook after live productions were shelved due to the lockdown in Sindh.
As performing arts turn digital during the pandemic, the latest theatre offering to go online is Kal Agar Main Marjaun by Bee Gul and Khalid Ahmed. The play, which has been produced in collaboration with the Vasl Artists Association, will be streamed online followed by a discussion and talk with the core team on Friday, September 24.
The play
Kal Agar Main Marjaun (What If I Die Tomorrow) is a layered, abstract and experimental piece of storytelling staged as a product of the Vasl Artists' Association's Multidisciplinary Residency Programme. The 45-minute one-act play is essentially a debate on life, death, existentialism and the passage of time. The play was staged in early August in Karachi and filmed. It will be broadcast on September 24 from 7pm to 9pm via Facebook Live.
The performance weaves together three languages — Urdu, Bengali and Punjabi —as well as poetry from Mirza Ghalib, Faiz Ahmad Faiz, Majaz Lakhnawi and Sahir Ludhianvi. While the play's title is inspired by death-obsessed virtuoso and renowned poet Emily Dickinson's famous poem 'If I should Die', the narrative also incorporates the Urdu translation of the poem.
The play begins with an interesting premise — drinking water being stolen as though it were a coveted object — and interweaves important questions about the passage of time, equating it to death. The play seems to focus on the clash of two ideologies embodied by Tariq Raja (Naujawaan) and Nazar Ul Hassan's characters (Bhoora) — one wants to stay stuck in time while the other wants to race to the future.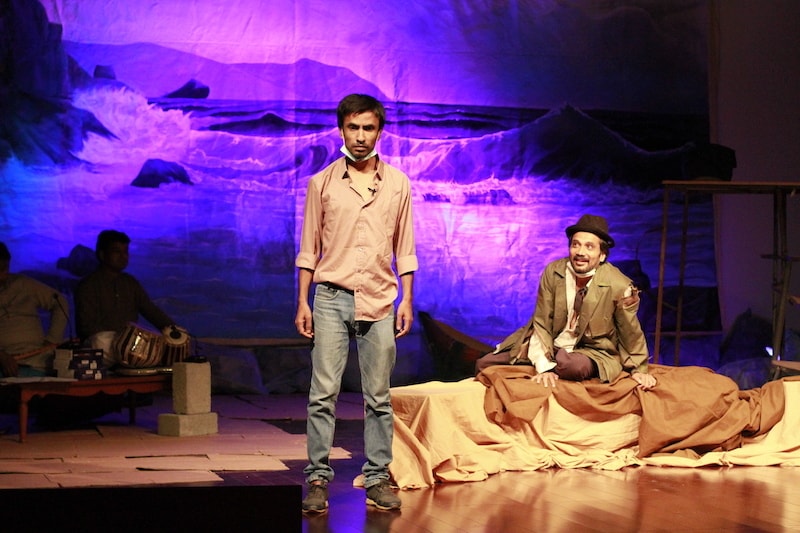 The script has been penned acclaimed writer Bee Gul and directed by thespian Khalid Ahmed. The duo collaborated last year for another black-box theatre one-act masterpiece that centred on nine intimate couple interactions and was titled Bedroom Conversations.
Kal Agar Main Marjaun touches on themes such as life, death, suicide, childhood traumas that manifest into adulthood and existentialist metaphors that are poignantly expressed through poetry, music, dance and rhythmic dialogue.
The performance
The play stars three graduates of the National Academy of Performing Arts (NAPA) — Nazar Ul Hassan, Tariq Raja and Ifrah Khalid — in central roles, along with supporting cast and dancers John, Javeria Khurram, Issac Youngren, Samson Dawood Bhatt and Ahmed Aslam. The performance amalgamates all three major forms of live performing art — theatre, dance and music. The music composition has been scored by classical vocalist Ayesha Nadir Ali, while the instrumental arrangements were by Ustad Mohammad Hanif.
It would have been easier for audiences to focus on the actors if the live music, musicians and instrumentalists were kept off stage. To some, the play may also feel slightly disjointed in trying to bring together too many art forms such as poetry, live music, dance, instrumentalists, theatre, fine arts and folklore as one holistic narrative. This could be because of the short two-week residency programme period and number of artists involved in the production.
The dance sequence by Ifrah Khalid also failed to make a mark as she had a mic wired around her, which seemed to restrict her mobility and we all know that mics used in live theatre can be cumbersome for a performer. Though the dance felt inspired from a classical form of kathak, Ifrah's costume and attire (a brown ankle-length dress with a blue dupatta around her waist) was completely random and complemented neither her character nor dance performance.
Watch out for a key self-reflective moment in the play where Naujawan echoes what runs on loop in almost every middle-class, urban, working millennial's mind: "What do I do with this compromised life? Have sex? Raise kids? Wear a tie and live a lie? Succumb to a life that subscribes to society's superficial norms?" The scenes between Naujawaan and Bhoora will definitely leave you questioning your own life, death, childhood and existence.
Actor Tariq Raja, who played Naujawaan, said the play begins with his character stating his perception of life and death as two different realms. "Life as something to be celebrated and death as something to mourn but towards the end of the narrative, my character is exposed to the realisation that life and death are actually two faces of the same coin. The broader spectrum of life as a whole has nothing to do with death, as death is essentially life transforming to a new form, and dying can be as beautiful as living," he said.
The production design
The lighting design by Fraz Chhotani is effective in creating ambient lighting which evokes a sombre mood for the play overall. The abstract, presentational set design is a subtle yet grand juxtaposition of the stage set against the backdrop of a painting by a group of artists (Syed Phool Badshah, Arif Mahmood, Shahid Zubair, Muhammad Ijaz, Shakil, Zaheer, Muhammad Raees, Ahmed Raees and Gul Sher) and highlights the tremendous hard work that goes into assembling a conceptual set for theatre. The painting backdrop adds a much needed poetic vastness to the intense scenes between the characters.
Overall, the set and lighting complements the blocking of the actors. The sound of live theatre can come across as a bit jarring and distorted when all the performers are wearing mics but since the performance was being filmed, it did feel like a necessary evil.
What's next
Initially, the play was scheduled to be staged live for audiences as three performances at the Getz Pharma Auditorium and the Arts Council of Pakistan but due to the sudden lockdown announced by the Sindh government on July 30, all performances were shelved. Despite the lockdown, the Vasl production team managed to stage a discreet performance at the Getz Pharma auditorium for filming purposes and for selected members of the press, complying with complete SOPs and safety measures against Covid-19.
The Vasl team will now stream the play digitally via Facebook Live on Friday from 7pm to 9pm. The play itself will be streamed from 7pm to 8pm and will be followed by a talk with core cast and crew members from 8pm to 9pm. The panel will include playwright Bee Gul, director Khalid Ahmed, actor Nazar-Ul-Hassan and vocalist Aisha Nadir Ali.