She took to Instagram to discuss the difference in the way male and female employees are treated when they start families.
Actor Zara Noor Abbas recently raised an interesting question on Instagram about why working women are asked to step back when they announce that they are pregnant while men who are starting families aren't asked to do the same.
She posted her query on her Instagram Stories and got several interesting responses from her followers.
One follower said it was just misogyny, plain and simple.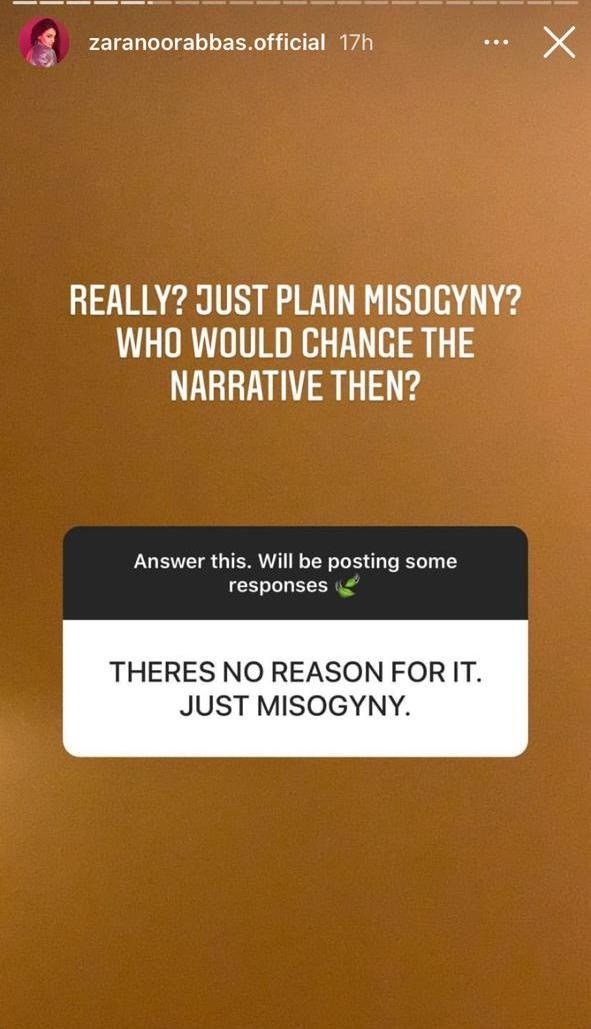 Another had some strange misconceptions about working women. Abbas asked the follower if they knew that Gal Gadot was pregnant while filming Wonder Woman.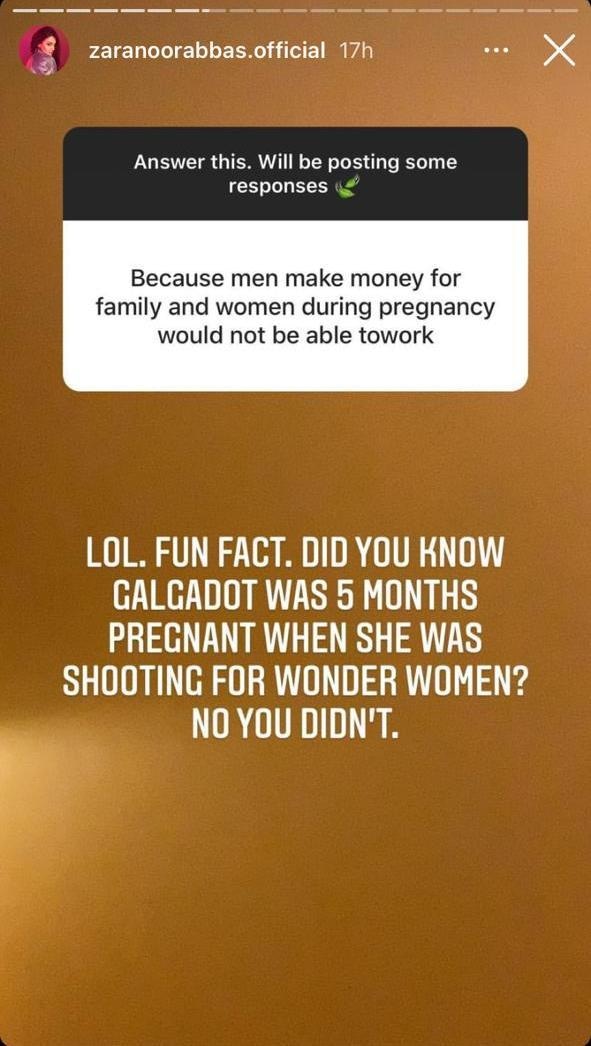 When one follower put it down to they way society thinks, Abbas asked who made up our society. "You and I are also 'society' but we don't think like this. Then who is this?" she asked.
For one Instagram user, it all boiled down to society's standards.
One person believed it was so women can get a break but Abbas had the perfect reply. "Did she ask for it?"
Someone brought up paternity leave for fathers. The Senate has already passed a bill allowing paternity leave for employees and Abbas is right that fathers should definitely be availing it.
Abbas didn't agree with one follower's assertion that women were always belittled. "But they are repeatedly questioned for their choices in life. Why is that question not standard for men in corporate worlds?" She asked.
She also claimed men and women are not equal. "They have their own place and women have their own. Plus, women give birth to another human being. Men can't do that."
The actor questioned the availability of daycare facilities at office.
She also schooled one follower who considered working risky for pregnant women. Abbas reminded them that pregnancy doesn't hinder their thinking capabilities.
One response Abbas got was spot on. The follower said people believe pregnant women won't be able to manage their professional and personal lives, despite doing it all their lives.
Another was subjective. Abbas reminded this user that we shouldn't paint all men with the same brush.
Many women are discriminated against in the workplace when they announce that they're pregnant and it's great to see celebrities discussing important issues like this. The choice of whether to work or not to work should be the pregnant woman's. If she is willing to work till the end of her pregnancy, shouldn't she be allowed to do so as an adult who is capable of making her own decisions?