"It's a blessing to be alive and healthy in the latter part of your life," said Ayesha Omar.
Ageing isn't something to shame a woman for and Ayesha Omar and Nausheen Shah are making sure that people know they should respect veteran actors.
Society often links a woman actor's age to their success and attractiveness, and often finds older actors lacking, creating an extremely problematic and toxic environment that results in celebrities being on the receiving end of trolling and shaming.
It all started when veteran actor and host Iffat Omar posted a picture from a gathering at Angeline Malik's birthday party. Guests included actors Arjumand Rahim, Samina Ahmed, Ayesha Omar and Saba Hamid to name a few. Soon after pictures from the party were posted on social media, distasteful comments started rolling in.
Omar and Shah hit back at trolls who used age in an attempt to shame the women actors.
Replying to a troll who commented "Shaitan buddyan [evil old women]" under the picture, the Bulbulay star reminded them how ageing was a natural phenomenon.
"Most humans will get 'budha' in their lives… it's a natural human process. In fact, it's a blessing to be alive and healthy in the latter part of your life," she said.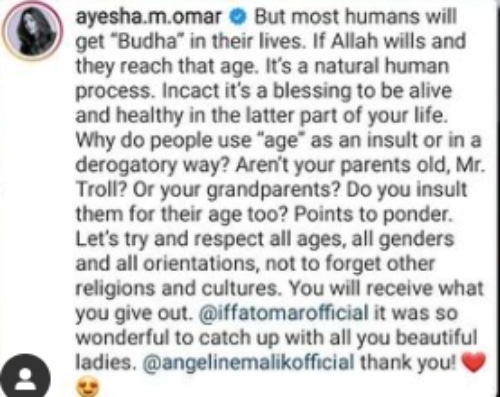 She then wondered who the concept was alien to. "Aren't your parents old, Mr Troll? Or your grandparents? Do you insult them for their age too?" she asked, saying that all ages, genders, castes and orientations should be respected.
Shah expressed similar sentiments, saying they should be lifting one another up instead of pulling each other down.
"Instead of saying MashaAllah, they think getting old is an insult or some sort of crime," she said, adding that we should be thankful for being alive and growing up so gracefully.