The brand has combined ease and affordability to help customers purchase their Eid outfits from the comfort of their homes.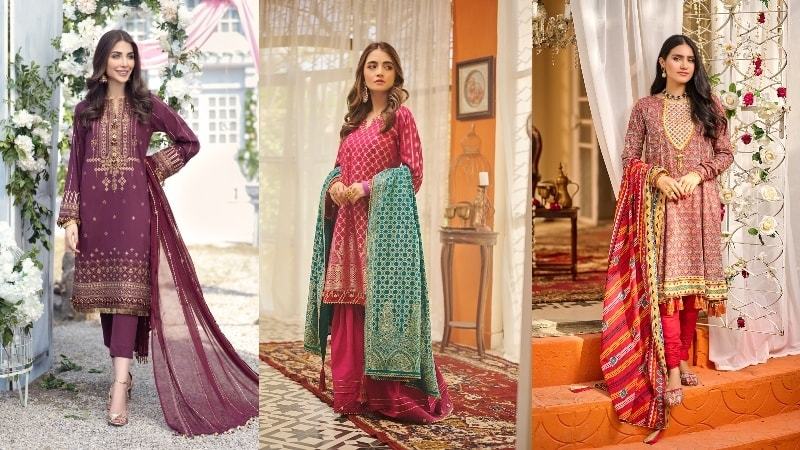 With the Eid just round the corner, we understand how everyone is in a state of frenzy looking for that perfect outfit.
We know we usually look for an outfit that aptly captures the spirit of festivity, is breathable, looks good in photos and does not burn a hole in the pocket.
Finding that 4-in-1 outfit may seem slightly overambitious, but we must say it's not entirely impossible. In fact, we really think you might find one sooner than you think.
With the launch of their latest Meethi Eid collection, we think there's an outfit for all sorts of moods and tastes at Bonanza Satrangi.
Our favourite pieces
Though it's hard to make picks from the many elegant silhouettes Bonanza Satrangi has come up with, we feel we're bending more towards subtle embroideries and classic tones this season.
Here's what we would totes add to our cart:
A tassled, white organza outfit with specks of gold-silver and mirror work for iftar festivities at home
Keeping it classic this Ramazan? Same here.
We feel this white piece from Bonanza Satrangi's Khoob collection will make a stellar addition to our wardrobes this month for all those intimate iftar dinners at home or the in-car hangouts we're dreaming of.
In fact, with its gold-threaded embroidery, tasseled sleeves and neckline, we really think it can double as a daytime Eid outfit anytime.
Here are some more pieces from the collection we have our eyes on:
A fun and festive pink jacquard outfit with colour-blocking sea green dopatta for the Eid look we're planning for our Instagram
While it's only smart (and highly recommended!) to skip Eid gatherings or dawats in the wake of a full-blown pandemic, there's no harm in keeping the spirit of the festival alive at home with your immediate (and Instagram) fam.
And nothing screams festive like vibrant colours, wide-legged gharara pants with gota and a pair of gorgeous jhumkas!
This regal outfit from Bonanza Satrangi's latest Meethi Eid collection is exactly what we're donning to devour one bowl of *sheer khorma* after another on our Zoom-based Eid parties this season.
The collection has a lot more affordable three-piece dresses to pick from, starting from Rs2280 only!
Check out these Bonanza Satrangi Eid outfits as well:
A soot-grey kurta with woven labels with an ajrak for the mister
For the fashion-forward mister, we have shortlisted a soot grey kurta shalwar with contrasting detailing on neckline and cuffs to mark the festive occasion.
Throw in a pair of summer-friendly, traditional ajrak, matching sandals and a cute hairdo, and the head-turner look is ready.
Check out more options in Bonanza Satrangi's men's collection here.
Bonanza Satrangi's Feelings is here to help us channel the celebratory spirit
We're wearing our feelings this season!
Our top pick from the brand's perfume collection, Feelings' sweet and floral fragrance has us swooning every time we spray it on.
Whether it's for personal use or a gift for a someone special, we're totally picking up this one to smell fresh and pleasant round the clock under Karachi's sweltering summer sun.
Remember Me, Rang and Shalimar are also part of our wishlist of fragrances Bonanza Satrangi has recently introduced.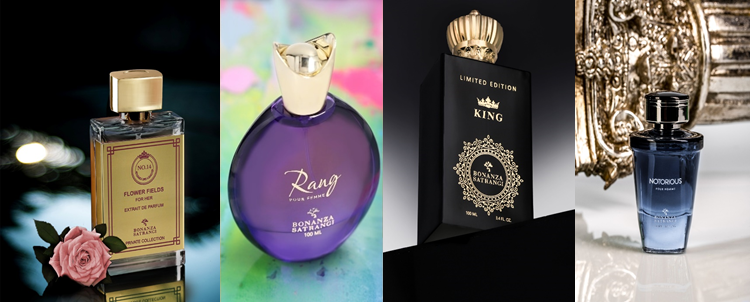 Check out their full perfume collection here.
What's more?
Keeping in check the ever-changing coronavirus situation around the globe, the brand has combined ease and affordability to help customers stay responsibly fashionable this Eid.
With an interactive and easy-to-use interface and various discounts, we can now shop our favourite looks from Bonanza Satrangi's official website from the comfort of our homes.
The brand has also launched a WhatsApp service to ensure customers are just few taps away from gorgeous outfits, cosmetics and fragrances.
Simply drop a text on 0300-0641038 to place orders.
---
This content is produced in paid partnership with Bonanza Satrangi and is not associated with or necessarily reflective of the views of Images or Dawn.com
Email