The mall is packed with activities for all members of your family from March onwards.
You know you are a true shopaholic at heart if you end up at a mall even when you don't plan on spending money.
An easy topper on our list, Dolmen Mall, is giving us all the more reasons (not that we needed any) to visit and enjoy some safe and guilt-free shopping, yum food and festivities, all under one roof.
The pandemic brought the usual seasonal festivities to an abrupt halt, but now the mall is bringing all the fun back with a bang (and complete SOPs in place, of course!)
How safe is it?
With the coronavirus already dropping major hints that it is here to stay, it only makes sense to resume usual activities with the right precautionary measures in place.
Socially distanced entertainment events, like Perfect Presents and Home Loves Style, brought forth exciting brands under one roof for eager shoppers looking to indulge in some retail therapy, along with a diverse range of restaurants serving in the open-air Dolmen Patio in Clifton and Hyderi.
Here are all the reasons why Dolmen Mall is the place to be this season:
Calling all foodies!
Dolmen Mall is calling all food lovers looking out for discounts.
Drop by with your friends and family and enjoy exciting deals at the Dolmen Patio.
From Broadway to Ginsoy and Subway to Bar.B.Q Tonight, there is something for everyone at Dolmen Mall.
Look for exciting deals at your favourite food outlets while we wait for Dolmen Food Courts to re-open very soon!
Dolmen Mall is celebrating women power this month
With the International Women's day around the corner, the mall would be celebrating all women who visit the mall, via in-mall and online power talk sessions with inspiring female entrepreneurs and exciting women's day sales, discounts and activities.
'Tis the season to embrace those comfy, lightweight fabrics
Looking to revamp your wardrobe with exclusive lawn collections for the sunny season?
Beautiful prints, intricate embroideries and delicate detailing, we're sure there's a treat for everyone awaiting the Spring Shopping spree that hosts myriads of options to choose from.
Channel your patriotic spirit with Dolmen festivities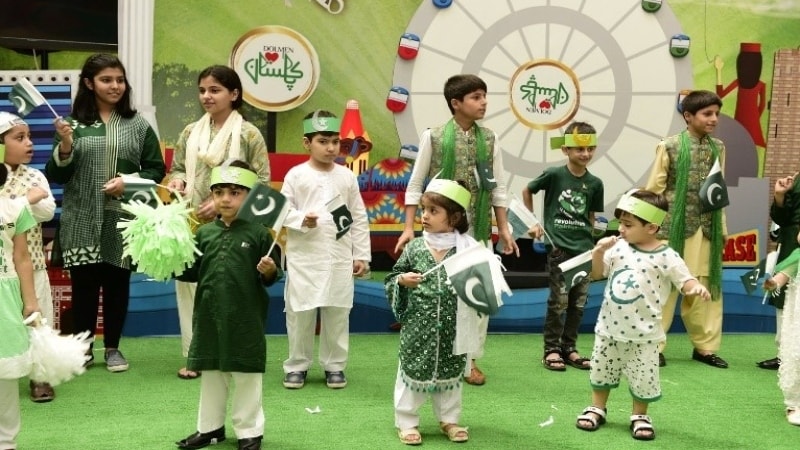 What better day to celebrate our strength than the Pakistan Resolution day on 23rd March?
Channel patriotism with the cultural festivities at the mall starting from March 19, with Pakistan day sales, green lucky draws and exciting prizes and discounts up for grabs.
5. Feel and spread the blessings of Ramadan with Dolmen
Hassle-free shopping, scrumptious iftar and dining options, Dolmen eidi, Ramazan rewards and much more await shoppers across all three Dolmen Mall branches in Clifton, Tariq Road and Hyderi.
From exciting Ramazan deals to eid collections, Dolmen Malls will be our one stop shop for all Ramazan and Eid essentials, be it clothes, shoes, makeup or traditional bangles.
What's more?
You can also enjoy Ramazan blessings with safe praying areas and special taravih (Ramazan prayers) arrangements at the mall.
6. There are exciting options of entertainment for kids of all ages
Let's not forget about our kids while we go gaga over all the sales!
While we shop till we drop, kids can have a blast of their own at Dolmen mall's Sindbad Xtreme with fun and exciting attractions.
Whether it's bowling or soft play, there's something for everyone in the family.
Head to Dolmen Mall's official Facebook page for more updates.
---
This content is a paid advertisement by Dolmen Mall and is not associated with or reflective of the views of Images and DAWN.com.