After a pandemic-hit year, producers are finishing films at breakneck speed and ramping up development of future slates.
At Shamsi Studios in Korangi, Karachi, one of the final sets of Yasir Nawaz's upcoming thriller Chakkar is being re-tweaked at the last moment. The eventual delay will shuffle their schedule, but that's often a part of the production game, producer Nida Yasir tells me as she whizzes around coordinating and streamlining everything from actors to production hands.
A series of bright LED panels affixed far up the sides of the wall light up the ambience of the set, and harsher, more concentrated illumination lights up the talent. A track, and subsequently a Steadicam are prepped, as Neelum Muneer gets on the stage. Her co-stars for the next several days, however, aren't Ahsan Khan or Yasir Nawaz; they're a string of guest actors which we cannot reveal … for now.
Yasir is filming one of those songs you often see in films: a booming, banging, celebrity mash-up. Only, there's a difference, he tells me: the song is not coming at the beginning or at the end of the movie — it is a part of the story.
There will be no breather, Yasir tells me, as he shows me the overenthusiastically intense rough edit of the fight sequence (published in Icon, December 20, 2020). He is already at work on another project — another comedy, his go-to genre — that he will start shooting as soon as cinemas reopen.
With constantly shifting dates for theatres to open and for the release of tentpole Hollywood films, things don't look very bright for the cinema trade globally. But Pakistani productions may, ironically, be seeing a silver lining in a changing business and the current dark clouds...
It seems to be business as usual for Pakistani producers and studios, while the world of international movies takes another crack in fool-proofing their release strategies.
Let's zoom out to the bigger picture for a minute first: as predicted by Icon in its January 3 issue (The Great OTT War), Daniel Craig's last James Bond title, No Time to Die, will get shuffled once again.
Although it was predicted that the delay will likely push the film to the July 4 weekend from a previously announced April 2 release date, it seems like MGM, which has already invested 250 million dollars on the budget (not counting almost the same cost for publicity), is in no mood to take chances; the film's new date of release is now October 8.
This throws a big monkey wrench into the global business of theatrical releases.
Hollywood still reshuffling
With Bond out of the running as a first major tentpole title to bring mega-movies back into cinemas, the honour — and the weight — of the summer season now falls on the shoulders of Marvel's Black Widow, set for release on May 7. With studio executives remaining adamant of Black Widow explicitly being a theatrical release — meaning there is little chance of it shifting to Disney+ (ala Mulan and Pixar's Soul) — it's logical that the title will be moved from its scheduled release date in May.
The domino effect from No Time to Die will also thrust Universal Studios' latest installment of Fast and the Furious away from its release date of May 28; the studio has already pushed the Tom Hanks' starrer Bios to August 13, from its original release date of April 16.
Concurrently, as per a report from the New York Times (published January 22), Sony has already bumped Ghostbusters: Afterlife from June 11 to November 11, 2021, and Morbius starring Jared Leto to January 21, 2022.
Morbius, the continuation title of their Spider-man universe (aka the Spider-verse) starring the pseudo-vampire superhero, was originally set to release on October 8, where it would have collided directly with Bond — and no vampire or superhero wants to headbutt Bond, especially if division of box-office collections is at stake.
Smaller titles are also feeling the heat. Sony/ScreenGem's Escape Room 2, the sequel to the nine million dollar-budgeted movie that grossed 155 million dollars worldwide, has quietly slinked away to January 22, 2022. The small film had previously set dates on April 17, August 14 and December 20, in 2020.
Over at Paramount, Tom Cruise's Mission: Impossible 7 and Top Gun: Maverick had already vacated their spots, with the tentpole spy-thriller shifting to November 19 of 2021, and the sequel to Tom Cruise's first worldwide phenomenon likely looking at dates for late 2021 or early 2022 (Paramount will not have two Tom Cruise movies releasing over each other). A Quiet Place II, another high-profile title at Paramount, starring Emily Blunt, will likely shift from its April 23 release date as well.
Reeling from Covid's impact
Film exhibitors are also reeling from the impact. Even though streaming services were heavily impacting Hollywood, theatrical business still boomed in the pre-Covid-19 days, as Hollywood titles grossed over 42 billion dollars worldwide. But much has changed in the interim.
America's biggest cinema chain, AMC, has navigated away from potential bankruptcy by raising 917 million dollars in equity and debt capital.
According to a feature on AMC in the New York Times, back in March 2020 Covid-19 had forced AMC to lay off 35,000 workers and close 10,700 screens in 15 countries. As the virus surged, retreated and resurged, the cinema chain reopened, reclosed and once again reopened most of its theatres. They did this while averting bankruptcy four times in nine months. The chain has now secured one billion dollars and another one billion dollars or so in rent deferrals.
In order for AMC to survive the dark Covid-19 winter, the chain's head, Adam Aron — a relative newcomer to the multiplex business — had a falling out with other cinema chains, when he agreed to radically shorten AMC's exclusive theatrical play deal with Universal. Where AMC once had 90 days to run Universal's titles before they went digital, in July Aron agreed to slash the three-month deal to mere 17 days. Universal, in an industry-first deal, subsequently agreed to share a percentage of its revenue from on-demand with the cinema chain.
According to the same article in New York Times, Mooky Greidinger, who owns Regal Cinemas, the second biggest chain in North America, said that the deal was "the wrong move at the wrong time".
His reason is logical and obvious, as any cinema chain owner worldwide will tell you: people will not spend money to go to the movies if they can get it on their television sets and mobile devices two weeks later.
I personally never ventured out in this field for short term gains. Our production house never produced during stable times," Jamil Baig. He has just ventured from running cinemas — the Nuplex chain — into film production.
This is a fact Pakistan itself will have to contend with when Warner Bros. releases its entire slate on HBO Max and when, subsequently, piracy will inevitably prevail.
The pressure to survive is too much, however, because Regal is now also in talks with Universal on a similar agreement. Cinemark and Cineplex, the other two giants in the film exhibition business have already followed AMC's tactic.
With a backlog of films stuck in limbo, there is little news of production in the trades. Mostly, the headlines speak of the booming OTT (Over-The-Top, ie streaming platform) market, studio executives shuffling, and option and development deals on screenplays and intellectual properties.
Back to back Pakistani movies this year?
Back in Pakistan, a similar trend is picking up pace. Independent producers are finishing films at breakneck speed, while bigger ones — Eveready, JB Films, Distribution Club and ARY Films — are astutely ramping up development of future slates.
It's a great strategy for one reason. Pakistani cinema doesn't have a great standing with OTT platforms. In fact, Netflix, the lone giant that has broken through to the country, baulks at the idea of acquiring Pakistani content (why would lead to a long debate, best left for another day). Since Hollywood releases would likely get same day-and-date releases on OTT platforms, there would be little charm for audiences to shell out expensive ticket costs to watch them in cinemas. And since Bollywood will likely stay away from Pakistan for the next few years, the only alternative for cinemas will be big-screen-worthy home-grown content.
Satish Anand, of Eveready Pictures, goes into the long history of how local films always trumped international releases. Pakistani films, he cites by example from the original Maula Jatt to Punjab Nahin Jaungi to Chalaawa, ran for weeks and weeks, whereas Hollywood films only have a theatrical lifetime of three weeks.
"Historically, in week one, they [Hollywood films] give phenomenal business, by week two they slow down and by week three they are almost ready to exit cinemas — this is true for even the biggest blockbusters," he says, citing his own releases Avengers: Infinity War and Endgame as examples. Very few titles stay past the one-month mark, he asserts.
Eveready, so far, has the biggest slate of titles ready for release, including Quaid-i-Azam Zindabad, Chakkar, Parde Mein Rehnay Do, Yaara Vey and Peechay to Dekho amongst others. The studio is in active development of several new projects, some primed for filming in the next few months. The outlook, Anand tells me, is not for the immediate future — that is taken care of — but for the year afterwards.
"I personally never ventured out in this field for short term gains. Our production house never produced during stable times," Jamil Baig writes in a message. He has just ventured from running cinemas — the Nuplex chain — into film production.
"In fact, our first movie, Ghabrana Nahin Hai, went into production during times of instability and unpredictability. This is enough to suggest that I always considered the long run benefits of this for the industry as a whole, because I believe that if we all come together and think on a macro level, we can foster growth like never before," he writes on having a clear-headed all-encompassing view of the industry and the problems it faces.
"Collective growth is the best form of growth. It should anyway always be about the bigger picture."
Baig says that this is the sole reason for his plans to produce movies back to back this year; just last week he has announced his (technically speaking) third film of the slate. The film, titled Sorry, Darling, a romance thriller, is set to go on sets in the third quarter of this year, while another yet-to-be-revealed title will go on set sooner. All titles will hit the screens in succession as another slate of movies is developed in the interim.
"I don't want to limit myself ever when it comes to genres," he writes. "Our audience deserves comedy, romantic thrillers, historical period dramas, action movies, and even animated content for younger movie-goers. However, for me there is one constant ideology behind these genres, and that is to give a good and positive social message to our society. I view cinema as an extremely powerful tool, and as a core element of societies. We learn from what we watch, we are what we consume," he explains.
In a previous meeting, Baig had said that his films will never stoop to the cheap theatrics that often plagued cinema in the recent past.
A changed environment for film industry
"We don't want to be stuck doing rom-coms and comedies," Irfan Malik, head of ARY Films tells me over the phone. They are trying to develop scripts that are different from the norm, he says. Malik has a limited amount to play with, he says, because finances are stuck in projects that have yet to complete or release.
"We're hanging in the middle right now. We have a film completed right now [Tich Button], another awaiting completion because of a foreign spell [London Nahin Jaunga]. We might be taking a film on set by spring this year. Yes, the strategy is to have enough content by the time cinemas reopen, which I believe will be post-August, Eidul-Azha. Having no films in hand for 2022 will put ARY Films in a situation we don't want to be in," Malik explains.
ARY Films' plan is to develop and execute two to three films by June or July this year, and take on projects that don't sully ARY Films' reputation in the market. The studio, so far, has the highest strike rate with the movies they've either produced or distributed. ARY Films plans to acquire box-office worthy films as well, he says. The mix slate will help them stay relevant as producers and distributors.
Budgets will undoubtedly go down, Malik says, but not at the visual cost of the film. Excessive overhead, he tells me, will have to be cut down.
"If the environment is right, and when cinema is working at a 100 per cent potential, it's kind of enough for a good producer to get their money back."
"Not for all of them," Malik quickly adds, "but good producers producing good content do get their money back from cinema itself in an ideal environment. In this case, revenue from television and satellite rights become a bonus."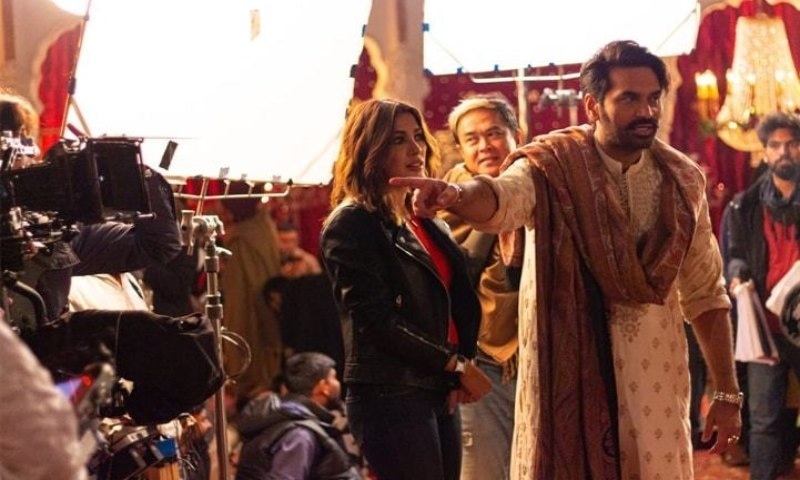 In a brief telephone conversation, Amjad Rasheed of Distribution Club, brings up another aspect of production: the business estimates of movies in a changed environment.
"The films that we produced before Covid-19 had a different business sense. They were a calculated risk. They were made on budgets based on [older] expectations. Those titles were partially produced or completed before the coronavirus pandemic shut down the industry. They will not be viable business-wise when cinemas reopen," he says.
Rasheed tells Icon that he has just made a trip to Islamabad to check up on the government's announcement of the film policy. From the way he tells it, it feels like the policy is still stuck in limbo, after Asim Bajwa's exit a few months back.
Rasheed has pressed the government to include incentives for producers, distributors and cinema owners who are at risk. Unless things are sorted out, producers — most with substandard products — have no choice but to look for alternate digital strategies, Icon gathers from the conversation.
Substandard products, and their eventual submissions to platforms such as Netflix, will undoubtedly destroy chances that better films have with OTTs.
"At times you're playing blind, but umeed pe duniya qayam hai [hope springs eternal]," Malik says. "Despite the farsightedness of the industry to produce its content, and make efforts in keeping cinema alive, film production has been a jihad during the last 20 years, and it will still remain one in the next few years."
---
Originally published in Dawn, ICON, January 31st, 2021
---