There are way too many questions that we always wanted to ask Bilal Lashari, right?
23 News has been running a series of exciting Q&A sessions with some of Pakistan's most famous celebs; Hamza Ali Abbasi, Vasay Chaudhry and Faisal Qureshi are few of our favourites who have been seen on the show recently.
Highlights of the episode
In the episode of '23 Questions With Bilal Lashari', the Waar director revealed exciting plans and aspirations for the release of his star-studded upcoming film, Maula Jutt, and discussed how he envisioned on some of his most celebrated projects.
Answering a question on how satisfied he is with his projects once they have released, Bilal tells 23 News that he's always finding mistakes in whatever he does.
We'd say that's what enables him to bring some of the country's most stellar performances to screens.
In this single-shot video episode, the director also takes us around his tastefully decorated home.
This library, quite honestly, is goals: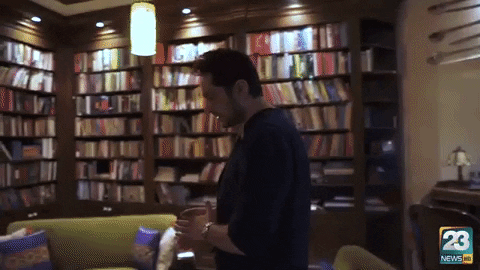 In addition to all that, Bilal talked about his personal life and relationship status, and his favourite me-time activity, meditation.
Watch the exciting interview to find out how Bilal spontaneously answered 23 questions with 23 News:
To find out more about which of your favourite celebs will make it to the show next, head over to 23 News' Facebook and Instagram accounts.
---
This content is produced in paid partnership with 23 News and is not associated with or necessarily reflective of the views of Images of Dawn.com
Email