'Either she's a pari, a soft-spoken, beautiful example of modesty — or she's an outspoken, opinionated woman … a churail.'
"Asim, you're not letting me ask any questions," I say, side-stepping the cow dung at my feet, and the conversation awkwardly pauses. "Because…" I continue, "You're answering every question I have, without me even asking them."
Asim Abbasi, hundreds of miles away, free from electricity shutdowns in his home in London, laughs a little. "I don't know if that's a good thing." It definitely is, I assure him, half-stepping into a puddle.
My conversation with Asim is the second last pit-stop in a three-day-long talking spree. Parched throats, depleted thoughts and looping answers aside, the combined recording time from four leading ladies, the director and high-ranking executives on both sides of the Indo-Pak border, exceeds six hours by the time I cut Asim's call. Just thinking about the amount of information I would have to sift through triggers a throbbing headache.
Still, Asim Abbasi's new project — a 10-episode web series produced by Zee5, under its re-launched Zindagi moniker, and sensationally titled Churails (Witches) — may very well be worth the trouble … and an exercise in patience.
As an international project, one specifically made by Pakistani talent for worldwide consumption, there are strict, corporate-led protocols in place. One misstep may ripple a domino effect — especially if angst-y questions about Pak-India media rivalries come into play. At times one needs a chainsaw — not a knife — to cut through the anxiety in the air.
Asim Abbasi's Churails may very well be an opportunity for the country to build a portfolio that can attract other global platforms to seriously entertain the idea of producing Pakistani content
The stakes behind Churails are high, but not because of its subject matter, or its association with an Indian streaming platform inching its way to local consumers at a price point cheaper than Netflix, or the resulting reopening of floodgates of Indian content in Pakistan (one Zee5 subscription gives access to Indian soaps, dramas and movies). The issue, disgruntled voices from the industry say, compounds all of these aspects together.
But it only becomes an issue if you let it be one.
Zindagi has been a long-term project. It bypasses borders and politics, and has a 150 million-strong subscriber base worldwide. Bad publicity wouldn't kill the project, but the hit would hurt a lot.
So prudence takes precedence as Zee's local PR representatives run this writer's messages back and forth, sometimes in the dead of night. Information is shared in hushed confidence, some of it cryptic, some redacted even during conversations. Simple explanations are shielded behind emotionless wordplay out of a corporate press-kit.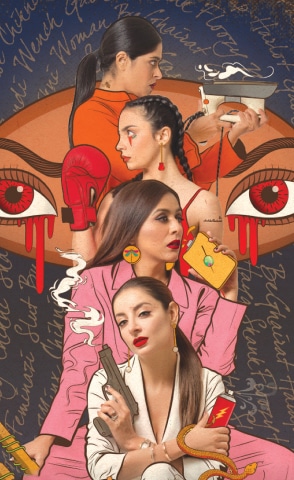 It wasn't helping, and Icon, of course, was not budging from its routine of pursuing the story its own way.
Still, the process of approvals and schedules reminds this writer of prior decade-long interactions with Zee and other film studios, when Bollywood celebrities were interviewed in these pages. Requests for representatives to silently participate in the interview on conference calls were vehemently opposed by this writer.
This isn't Bollywood, and while the investment may have been from India, the talent is Pakistani, as are the stories they're telling. The only discernable difference is the change in medium, method of delivery and technical terms: streaming replaces broadcasting, internet replaces terrestrial satellites, and cellular (or web-enabled) devices and apps replace television.
Churails is Asim's first foray into this strange new world of entertainment. This endeavour is a risky ballgame that, while set in Pakistan, couldn't be made in Pakistan.
At least, not for Pakistani television.
A film version would get a serious head-butt at the censors. Domestic digital platforms, although brave and relatively unregulated by government at this time, don't have the reach or the funds to present the vision in its entirety.
Now would be the right time to ask the 'what's' and the 'why's'. I do as well. Quite often.
On the day of the first interview, this writer called Yasra Rizvi, one of the actors, with barely a smidgen of insight. Churails is about four women on the warpath — though not in the sense one would imagine. It's a thriller, not a horror. But what exactly is it?
With no frame of reference at hand — images and plot details were kept hush-hush — this writer had to literally shoot questions in the dark.
The experience made me seethe with frustration.
The pieces eventually connected one by one, through conversations with Nimra Bucha, Sarwat Gilani and — god bless him — Asim, who walked me through the plot with as much detail as he could give out, without breaching the contract. Just minutes before my conversation with Asim, a trailer was shared in private (thanks, again, to his insistence and Zee's Chief Creative Office, Special Projects Shailja Kejriwal's timely intervention).
Words and explanations don't do justice. Churails stars four women — a lawyer-turned-housewife, an ex-convict released from prison, a high-society wedding planner, and a lower-middle class youngster who's desperate for a career as a professional boxer (Sarwat, Nimra, Yasra and Mehar Bano). The women, reeling from personal miseries, decide to open a detective agency under the pretext of a burqa shop christened Halal Designs. 'Pets and men aren't allowed' says the sign at the storefront.
Not all superheroes wear capes, the trailer tells us. The motive is to help women in need. Donning coloured scarfs and black burqas, the four ladies tackle cases with a swagger befitting Batman-esque vigilantes. Women cue up to join this elite underground sisterhood against "misogynistic patriarchy" (the word pops up quite a bit in conversations). During recruitment interviews, one sees Mard ko dard ho ga [Men will feel pain], in red, written over and over again on the inverted glass window at their backs …yowch!
Inserts of a lot of actors playing roles specific to episodes cut into the trailer. Punctuated by small, humorous details and subtexts, visually, there's too much to take in.
There will be murder and — presumably — an abduction. A cop, on their case, has an assistant with a bit-sized fan keeping his superior cool in the heat (the series is quite lighthearted at first, I'm told). Women, in high-fashion dresses and wigs, are rated by (or presumably bet on) by anonymous men in cardboard animal masks. Other women, clad in burqas, brandishing cricket stumps and hockey sticks, square off against men waving 'Death to churails' placards.
The series, as mentioned, is 10 episodes long at 50-odd minutes each (with exception to the finale). Although it's women-centric, Asim tells me that his prime motive is to tell an engaging story. It's not message-heavy per se, he says. "I prefer to raise questions," he tells me.
"It's very difficult to put Churails into a genre. It's discussing serious issues, but the show itself doesn't take itself too seriously." That's not to say that it's all fun and games. The last few episodes lead to a dramatic highpoint, comparable to any high-profile Netflix series.
"There are themes that make it story-heavy. Cake [Asim's critically applauded debut film] wasn't plot heavy, it was more a study of characters. Churails has a lot of plot to it. The themes here are important, and I want people, who generally don't watch this content, to watch it."
Cake had a very long life, and Asim hopes that Churails, being a web-series, hopefully lives a very long time on the platform.
"Audience's tastes develop and change. So, hopefully, those who may not be able to connect with it today, may do so in five or ten years' time, when their views on life would've changed."
Initially Asim wanted to develop the story as a feature film, but he felt that the story was a little too long for the format. That is when fate lined up Shailja, who had heard rave reviews of Cake from Mehreen Jabbar and Haisam Hussain, whom she had worked with.
Five or six ideas were exchanged (Shailja wanted to do all of them, she told me earlier in a phone call), and Zee settled on this one.
The experience Asim had is similar to a studio system. An episode-by-episode series bible was written, followed by a pilot, and then the series. It took Asim a year to write Cake; he wrote Churails in six or so months.
Best of all was the fact that there was no creative oversight.
"I really want individual voices to come through," Shailja tells me on the phone. "Asim has his own voice, and I want him to write in that."
Ateeq-ur-Rahman, Chief Investment Officer at GroupM, Zee's partner in Pakistan, believes passion and imagination to be a core component for original voices. "If you have passion, but not imagination, then you just end up doing what has been done before," he tells me late one night.
One of GroupM's key tasks is to provide executive producer services to Zee's projects, so that Pakistani productions retain that elusive global appeal.
In fact, in hindsight, Churails may very well be an opportunity for the country to build a portfolio that can attract other global platforms to seriously entertain the idea of producing Pakistani content.
"Content consumption doesn't have any boundaries. In fact, you don't even see any specific country or language. Your audience is people who consume your content, irrespective of where they live," Ateeq explains.
"This kind of a project hasn't happened in India as well," Shailja clarifies. "Churails isn't limiting itself to a particular class, a particular issue, or a particular body type [as in women who look like archetypically-figured, dolled up heroines]. We're exploring the story from all points of view. Most others just show the protagonists' inner strength, not their vulnerabilities." The message is subtle at times, she says. "Here, empowerment means giving women the right of choices."
Growing up in a house of strong women (he has four elder sisters, a very strong mother and a father who is supportive of the women around him), Asim may be attuned to telling female-centric stories.
"It would be very presumptuous of me to say that I can tell this story better than a woman can. I have experiences that have shaped my thinking, and that has leaned me towards [particular] stories I want to tell," he says.
His cast feels that this is one of the best representation of a woman's point of view they've seen till date.
Yasra, who plays Jugnoo, the high-society wedding planner, says that the characters are quite close to real life people.
"There's this age-old tradition, where we put women in one of two categories. Either she's a pari [fairy], a soft-spoken, beautiful example of modesty — or she's an outspoken, opinionated woman … a churail." There's no middle-ground, she emphasises.
Asim, Yasra says, doesn't dilute the essence of these people. There is no watered-down version of any character. "If my character is an alcoholic, you can see she's an alcoholic."
Nimra Bucha, who plays the ex-convict Batool, says that Asim had very clear pointers at the script level, followed by an intense rehearsal session and constant discussions on characters and motives, both before and in the midst of production.
"This woman is too sure of herself," she tells me of Batool. "She's all the things I would aspire to. She's single-minded, has a purpose, isn't apologetic. She may seem hardened, or cynical, but she is not. She likes watching cartoons. She's not a busybody, nor is she affected by small problems.
"I know a lot of artists say this, but I felt I carried a lot of the clarity from Batool, even months after filming wrapped. She's probably the most complex and the quietest character I've played," Nimra tells me.
With the series scheduled to wrap within three months, stress was a routine companion. Despite what everyone tells me, Asim tells me that, internally, he's a nervous wreck who feels he's constantly failing in delivering his vision. It's only when he gets to the edit that he lets out a sigh of relief.
Speaking about a different type of grueling experience, there's Mehar Bano. Bano — as she's called by everyone — who plays Zubaida, a young boxer and one of the four key members of the cast, writes in a long message that she went to Lyari for four months, where she trained as a boxer.
"The process was brutal for me, to say the least, considering I have never put in this much effort for any character I've done. I was injured, bruised and battered but, as per the spirit of the character, I kept going. The process gave me inimitable strength and I channeled all of that back into Zubaida," she writes.
"What I love is how we developed this unbreakable bond of sisterhood while shooting. Not just the four 'churails' but the entire ensemble cast. They would go out of their way to help whoever was struggling. I once sustained a very serious injury on-set and each of the women came to my rescue immediately," she recalls in the message.
The last stop of my conversation takes me to Sarwat, barely an hour after finishing up with Asim. Her first words on the phone are to enquire if I have finished my PhD of the series. I had.
Sarwat and I discuss her role: Sarah is a criminal lawyer whose husband Jamil (Omair Rana), a lawyer, gives her all the comforts of life but, in turn, subjugates her to a life of domestic servitude. As if this weren't enough, Jamil is an unrelenting infidelity machine, texting lewd messages to 75 women, from Larkana to London!
"Humiliated, absolutely violated, Sarah feels really angry at her own self first, then Jamil," Sarwat tells me. "There's a whole circle she goes through. She's a little timid at first, and then a new Sarah comes out. She embarks on a journey of self-discovery, and realises that many more women need rescuing around her.
"Churails is about strong women who protect each other. It's time we stop playing the victim. We're talking about awareness and inclusion. Today, a high-society girl wouldn't feel ashamed drinking tea with a lower-middle class woman. It takes a lot of uplifting for a woman to stand up to a society like this," she continues. Her train of thought — but not her words — harmonising with Yasra, Nimra, Bano, Shailja, Ateeq and Asim's replies, as if they have a shared belief.
One other aspect that harmonises — especially between the cast and the director — is that they are all fed up with television's 'mazloom aurat' [poor, subjugated woman] narrative.
"We're not asking anyone to empower anyone. We're asking women to empower themselves," Shailja tells me earlier. The hard sell seems to work. To break new grounds, Zee Zindagi needs striking projects to buzz-up the market. Judging from the trailer, and the conversations, Churails, which debuts on August 11, seems to be ticking all the right boxes. Now, all one has to do is see the finished product.
Originally published in Dawn, ICON, July 31st, 2020