Originally franchised from Birmingham, United Kingdom, Pepe's Piri Piri is home to fresh, flame-grilled chicken sold till late hours of the night - notorious for its lengthy queues of young pedestrians in search of pocket-friendly halal food around the block.
When local foodies started engaging in banter regarding the authenticity and similarity of the brand being true to its roots in London, we had to investigate what the fuss was about – and made our way to Sindhi Muslim Society in Karachi.
Where to go
Located on the main road of the crowded food street at Sindhi Muslim, Pepe's is hard to miss with its red chicken logo looking right back at you. The two-story restaurant is located next to Broadway Pizza, and right across from Burger Lab.
When to go
They are open for business from 12pm to 12am.
What to order
If you're hoping to accessorise your outfit with some glam, wear your heels, pull off the informal with just a hint of extra, and update your Instagram with an over-the-top night out at the fanciest 'casual' food joint in town – get ready to be disappointed - because Pepe's is anything but that.
It is a fast food chain that attempts to contest all your flame-grilled comfort food desires, without trying to dress up your meal. Expect to roll your sleeves up, and gear up to dig into grub served in basic white plates and plastic boxes.
The one-page menu is pretty straightforward and speaks for itself – currently hosting appetisers and mains, with the addition of a chocolate and cheese cake launching very soon.
Owner Ahsen Wali Mohammed helped us choose from a temporary menu (with an original currently in the making), and we ended up ordering a little bit of everything.
Digging straight into starters, we got the onion rings, peri bites, mozzarella sticks and an assortment of six wings – each of which was coated in the six different flavors they have on the menu. The quirky combinations ranged from mango and lime, lemon and herb; and the usual mild, hot, extra hot, and extreme.
Safe to say, the extreme did not put our intestines on fire and was actually flavourful instead of just burn your mouth spicy.
Surprisingly, Pepe's is one of the few eateries who have perfected the art of solid onion rings! We devoured on the crunch, without the batter overpowering the onion. The mozzarella sticks were another hit - light, tasty, and the ratio of cheese to batter balanced well.
Although not as classic as Nandos, the peri bites too, were a decent contender to its competitor.
Ascending to the mains, we ordered the Peri's original half chicken and safe to say, we weren't disappointed. Spicy, tender, juicy and packed with flavour – the chicken was everything we have missed in Karachi's flame-grilled scene. Unlike other places where we have to constantly use more sauce to moist up our meal, the meat remained succulent till the very end.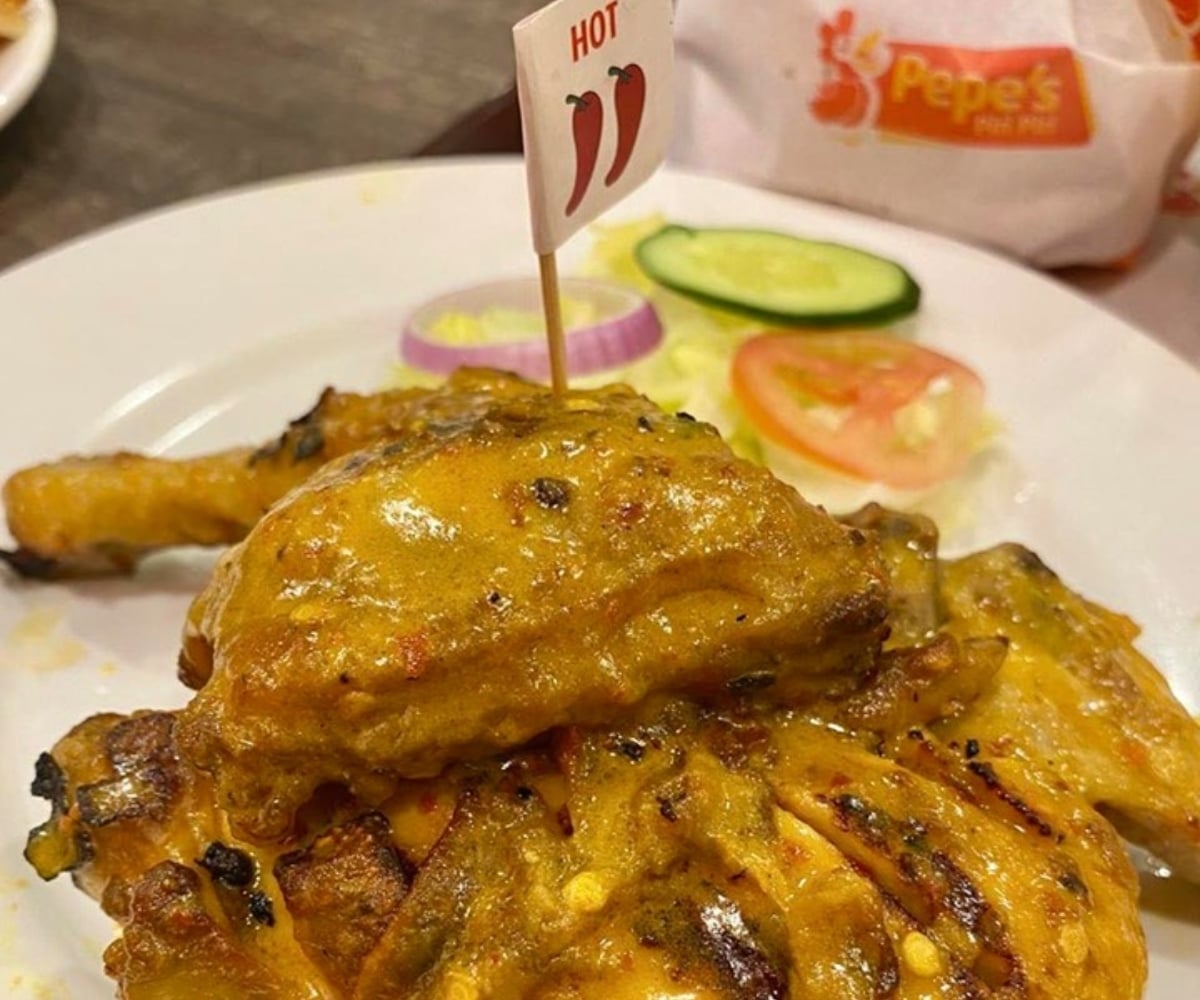 Next, we ordered the signature chick 'n' rice, in the flavor mango and lime, with a combination of mild. This was supposedly one of their best-selling item and we could see why. The chicken-to-rice ratio was evenly distributed with the seasoning and sauce perfectly complimenting one another. Maybe a combination of hot would have elevated the dish to a higher degree, but either way, it had to be our favourite.
Excited to see a vegetarian dish on the menu, next we ordered the paneer wrap. If we're being honest, the dish lacked excitement. The tortilla itself was over-toasted and crispy – resembling the shell of a taco instead. We felt a generously toasted pita would be a much better alternative and route to improvement.
The chicken burrito, a combination of tender strips with spicy rice and kidney beans wrapped in toasted tortilla, was another dish that left us underwhelmed; despite bursting with flavour, the combination just felt odd with the tortilla way too crispy for our liking. We weren't fans of this one.
We also happened to order the chicken XL burger, which was another forgettable dish. We'll give them a pass since these aren't really the stars of their menu; quite simply, the chicken is. That said, the eatery definitely needs to work on sourcing/baking a better bun, and a more appetising patty.
Having toured the kitchen after we were done with our meal, we find it commendable that the eatery has exerted extra effort towards hygiene. Workers were well-equipped, work stations were spotless clean, and contrary to most behind-the-scenes, everything was sanitised.
All in all, packed with a creative punch of spices, Pepe's Piri Piri is an acquired taste – you either love it or you don't. For us, we'd give it a solid 6.5/10 based on our overall experience. While the burgers and burritos were a miss, we walked out with our desi palettes more than satisfied with the mouth-watering grilled chicken and delicious appetisers.
Damage on the pocket?
With the mains priced between Rs450-725, and starters priced under Rs500 each, our total bill was around Rs3500. Divided amongst the three of us, we thought it was reasonably priced as we left feeling full and honestly, satisfied beyond the expectations we first walked in with.
However, not many flame-grilled joints survive in Karachi (Barcelos, Peri Peri Chicken and For Chicken's Sake have all shut down operations) so it'll be interesting to see if Pepe's will pull through.
That said, it is worthy alternative to good ol' Nandos and Rowtisserie, both of which have been having consistency issues as of recently.
Email