Recalling one instance, Kimia Alizadeh said an official told her, "It's not virtuous for a woman to stretch her legs."
Iran's only female Olympic medalist, Kimia Alizadeh, has defected from the Islamic Republic in a scathing online letter that accused the government of "hypocrisy," "injustice" and oppressing women like her while using them as political tools.
Kimia Alizadeh, who won a bronze medal in taekwondo at the 2016 Olympics in Rio de Janeiro, shared the news on her Instagram account this past weekend.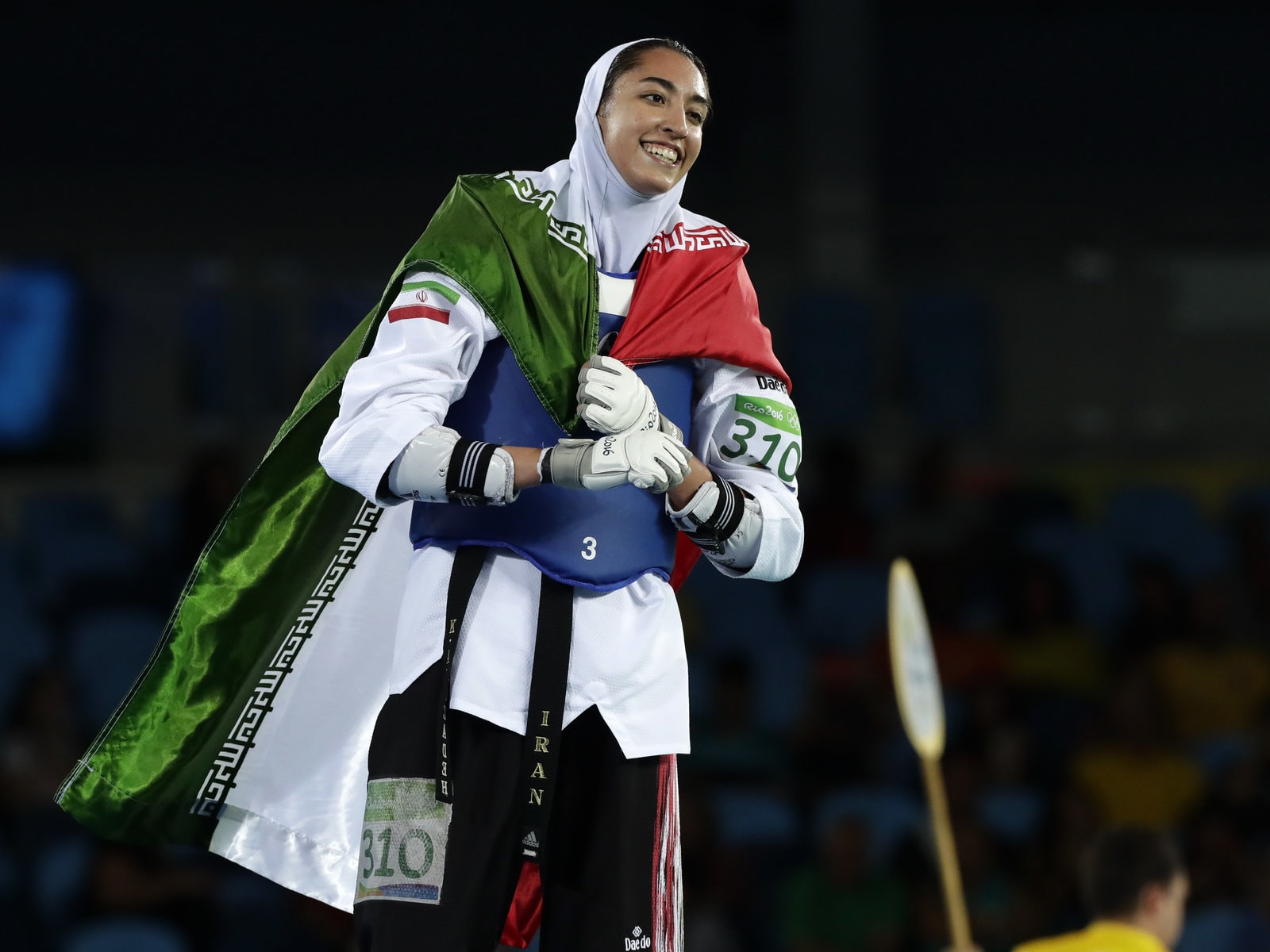 "I am one of the millions of oppressed women in Iran with whom they have been playing for years," the 21-year-old athlete wrote in Persian, accompanied by a black-and-white image of her from the 2016 medal ceremony in which she is draped in the Iranian flag and holding her face in her hands.
"Should I start with hello, goodbye or condolences?" Alizadeh wrote in an emotional post that addressed her love of her homeland but anger with its regime. She said the government took credit for her athletic achievement while humiliating her for her efforts, recalling one instance in which an official told her, "It's not virtuous for a woman to stretch her legs."
In her statement, she said she wanted nothing more than "taekwondo, security, and a happy, healthy life." She said she no longer wanted to "sit at the table of hypocrisy, lies, injustice, and flattery."
She continued, "I wore whatever they told me to wear," referring to the Islamic veil, compulsory for all women in public in a deeply conservative country.
"I repeated everything they told me to say," she wrote, adding that "none of us matter to them."
While there was no immediate reaction from Iranian authorities, Iran's semiofficial ISNA news agency reported that she had fled to the Netherlands. ISNA said Alizadeh had been reported injured and unable to compete and suggested Alizadeh may try to compete under another nation's flag at the 2020 Olympics in Tokyo.
Alizadeh is not the only notable Iranian athlete to defect in recent months: Olympian and judoka world champion Saeid Mollaei left Iran and ultimately became a Mongolian citizen after Iranian officials allegedly pressured him to throw a match to avoid competing against Israelis; Pourya Jalalipour, an Iranian para-archer who qualified for the 2020 Tokyo Olympics, left Iran in July to seek asylum in the Netherlands.
Alizadeh's announcement comes amid growing tensions in Iran because of the escalating conflict with the United States over its killing of a top Iranian military commander, Maj Gen. Qasem Soleimani and the Iranian government's recent admission that it erroneously shot down a Ukrainian passenger jet, killing all 176 people on board, including more than 140 Iranians and dual citizens.