A recommended stop for your next cheat day.
As a 90s kid in Karachi, I would get fried chicken from one, and one place only: good ol' KFC in grease-stained cardboard buckets smelling like mon salwa.
I vividly remember eating it: tearing the coating off in big, fat chunks, tasting the spicy, salty grease, shredding the white meat underneath with my oily fingers and delivering it to my anxiously waiting mouth. It was heavenly.
Despite its inconsistent performance, KFC has been more of a nostalgic indulgence ever since.
Good thing Karachi's craving for fried chicken remains insatiable because new places keep popping up. Our most recent fried chicken find is Clucky's; it boasts of fried chicken in all shades (and masalas) and — drum roll — you might not have to break a bank for this one.
Where to go?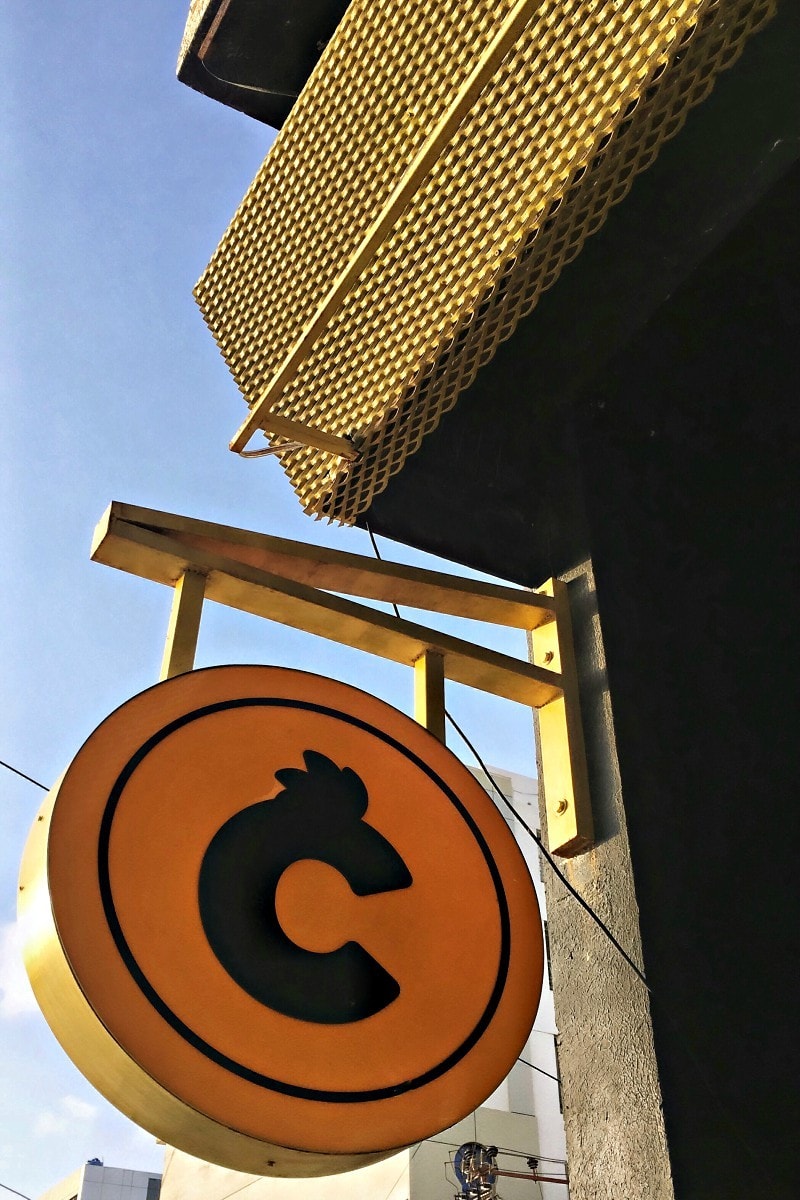 Clucky's is located in the bustling Bukhari Commercial area of Karachi.
The place is naturally well-lit and not very spacious, but seating isn't cramped, which leaves the space feeling roomy.
The interior has been smartly invested in to keep the place talking with a mural of Mr Clucky dabbing on one wall and an oversized crossword puzzle for everyone who speaks fluent fried chicken on another.
When to go?
The place serves fresh, fried chicken from noon to midnight.
What to order?
We usually like our menus descriptive, but visuals work just as well. The menu here is precise, quirky and every chicken lover's dream come true.
Here is what we tried
Waffle Cone
The Waffle Cone is the stellar item we're definitely coming back for. The cone is thin, crispy and subtle-sweet. The chicken chunks within were well-done, lightly-seasoned and drizzled with the jalapeno cheddar sauce.
We topped it up with other sauces from the menu to add some depth — and the Maple Kicker turned out to be the clear winner with its sweet and sour undertones. The chicken is the base for other flavours to play; if you're not a fan of the "chicken taste", this one's for you.
Clucky Chicken
The Clucky Chicken consists of two pieces of thick, craggy fried chicken spiced with a total desi chatpata tandoori masala. Like KFC but desi and better. Both the meat and crumb are seasoned, which gets a thumbs up from us.
The downside was that the crunch often slid off the meat and fell apart in your hands. Some pieces were overcooked. We also felt just two pieces of chicken is a bit basic for Rs400.
Chick 'n' Waffle
Now, I'm not very embracing of the cross between sweet and savoury and this was just that. I dug in expecting the waffle to be savoury, but it caught me by surprise with all its sweet glory.
Don't get me wrong; the waffle was a masterpiece: toasty brown and as fluffy as a pillow. The crispy chicken made for a great contrast with the soft waffle — got to give them points for that. It's just that serving it with chicken didn't quite sit well with me (can I have it with oodles of Nutella instead?).
I also wouldn't mind some savoury waffles... but that's only a suggestion. I feel their chicken stands wonderfully on its own, complete with a generous spice rub and a flavourful marination which goes deeper than the surface. This can be a greasy indulgence after a bite or two but that's a given for all fried chicken devotees.
(PS: Not kidding about the savoury waffles.)
Sandwich Ala Kiev
Now this is something we had our hearts on for a long time and oh boy, was it good! You dig in and out comes a scalding-hot cheddar melt with a strong kick of jalapeño. The crispy chicken exterior makes up for the excessive cheese ooze and comes sitting on a layer of jalapeño cheddar sauce with some added jalapeños on top. Loads of spice zing here but beware: things can get messy.
The size can be slightly deceiving (the glutton in me was momentarily upset), but it's filling enough with fries and coke.
Nutella Waffle
The heart wants what it wants! I'd been eyeing this on the menu from the start. The waffle is the same fluffy goodness served with their chicken (which could perhaps be a downside? Some might want another variant to try) except there's a more delightful touch to it when served with the Hazelnut Fantasy .
Damage on the pocket
All items on the menu are Rs450 or less inclusive of tax, which is a good thing. Our bill for everything we ordered was around Rs2,000 and the spread could easily feed two very hungry eaters or three light ones. We fell in the former category and left the place very full; that surely says something.
Are we going back? Yes, for the Sandwich Ala Kiev and anything new they introduce (we hear they have tater tots and loaded fries too now).
You should try the place at least once, if only just to see which of the brand new fried chicken competitors reigns supreme.
---
Aliza Anees is an Images food partner who runs the blog @foodieshoodie