The National Academy of Performing Arts (Napa) was abuzz on Thursday evening as they announced dates for a festival of contemporary theatre — four plays over four weekends beginning on July 11.
Jashn Sahwan Ka, Napa's summer theatre series, will feature a new generation of theatre actors, actresses and directors.
According to Napa's Arshad Mahmud, while the title of the festival suggests it is about rain, rain is not a central theme, instead, all four plays look at different issues in society.
All four plays of the festival look at different issues in society, says Arshad Mahmud
"These plays were written and directed by former students of the academy. We want to look at this as a professional thing, not a student production. Our core objective here is to teach students about the performing arts. We realise that such institutions were missing from our system. When I started working in this field, there was no such academy," he said.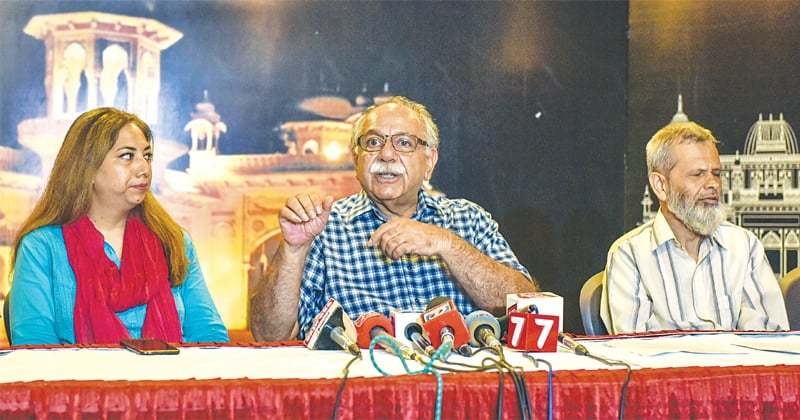 Talking about his own journey in the performing arts [when he started making music for a show called Akkar, bakkar Mr Mahmud said that you can only learn the performing arts by performing.
The festival will open with Lights Out by Fawad Khan — a thriller/suspense about Laila and Rahat who hear screams from the compound next to their apartment block. It will run from July 11 to 14.
This will be followed by Heer, directed by Zain Ahmed, which focuses on the tale of Heer Ranjha from Heer's (and a feminist) point of view. The play will run on the weekend of July 18.
Heer will be followed by Sunil Shankar's Dead End, an adaptation of David Mamet's masterpiece Glengarry Glenn Ross. The script revolves around real estate agents trying to survive a brutal and competitive market.
Talking about the play, the director said: "There are times that it will look like improv but that is only because the play is so fast-paced. It is about an hour and 20 minutes. I adapted the play myself and thoroughly enjoyed the process. I did some research work as well by talking to real estate agents. I hope people will enjoy the show."
The closing event of the festival will be Uzma Sabeen's Pooja, which will run from Aug 1 to 4. Pooja is the story of love, faith and betrayal and is set in the Hindu fishing community of Karachi.
Speaking about the play at the press conference, she said that she was trying to do something different. "This is an experiment. The play does not have many dialogues — enough to set the location and move the narrative along etc, but it is mostly a musical."
A prime focus of her play, she explained, was folk music (by Nigel Bobby) as it was not being used much anywhere in the country these days. The story she explained is about two friends who fall in love with the same girl. They make a pact that both of them will not pursue her but circumstances change and she becomes an integral part of their lives.
A moment of silence was also observed for the late Anil Datta, a senior journalist who took a keen interest in music and theatre.
Originally published in Dawn, July 5th, 2019