Imagine opening up the menu of a new restaurant and finding almost everything you could possibly crave listed there.
And no, I don't mean just the usual continental and desi cuisine blend. I'm talking low-carb options, an extensive dessert menu and even street food.
Seven Kitchens surprised us with their menu and also had us concerned. With such a wide range of dishes falling in every category, would a restaurant be able to provide decent quality worthy of a mid to high range price tag?
Speaking to Dr Asif, the owner of the establishment, we learned the interesting story behind the restaurant and its diverse menu.
Dr Asif is the founder of Wellness 360, a meal plan company that creates dishes according to a one's nutrition needs. Being a nutritionist himself, Dr Asif teamed up with chef Yusra Faridi to create dishes that not only provide the nutrients one needs but are also palatable. In the attempt to bring variety, their number of dishes grew and won the hearts of their customers to the point that they decided to open up Seven Kitchens.
Yeap, we're fascinated.
Where to go
Seven Kitchens is in Shahbaz Commercial, in the same building as Muvbase.
Climbing up to the second floor, I did wonder how peculiar the location of the restaurant is. It felt as though we were about to enter an office. But the restaurant makes sure you forget all such concerns the moment you entered.
The restaurant has a very comfortable vibe and the minimal decor adds to the laid-back ambience. The set up was designed by owner Dr Asif himself.
"I did want the restaurant to have its own appeal but I made sure that all the additions were useful. The blue wall helps with acoustics and that book shelf is for anyone who wants to just sit here and enjoy a cup of coffee."
When to go
The restaurant is open for dinner from 7pm - 11:30pm.
What to order
We decided to order something from each of the categories Seven Kitchens. Dr Asif helped us with our order and we were grateful since the endless menu was troublesome.
Seven Kitchens offers complimentary slushies to all its customers and does not charge for water. We were pretty impressed by their decision.
The bread basket, however, is not complimentary like most restaurants but I can see why. The assortment includes garlic bread and also cheesy bread.
To snack while we waited, we tried out pakoras from their street food menu. The pakoras were basic onion-based versions but we still enjoyed them as they came in fresh and the light and crispy batter was consistent throughout.
When the prawn tempura arrived we weren't sold on trying it. The coating looked too tough. However, one bite in and our hearts were on. The prawn was perfectly cooked and the batter was actually very light!
We couldn't resist trying out the seafood chowder and were impressed by the generous amount of seafood in the soup. We do wish the soup was a little thicker as it would've added to the comfort.
The hummus with pita was also a dish generously topped with olives. While it had a thinner consistency than the regular hummus we're used to, we did enjoy the flavour and the underlying notes of garlic.
The pizza at Seven Kitchens is inspired by authentic Italian pizza in terms of the crust; thin but not crunchy. The cheese on our salami jalepeno pizza was delicious but we all wished there was a bit more of both salami and jalepeno.
From the low-carb options we tried out the Japanese fish teppenyaki. The dish was served without rice and had crunchy fresh veggies to complement the fish. We loved the sesame seeds that topped the fish, providing a subtle nutty taste which goes very well with seafood in general.
We had an unfortunate incident with our steak as we forgot to tell the staff how we wanted it. Should a customer not tell their temperature preference, it will be prepared medium well. I understand why they did that, as many among us have not yet ventured to the rarer side of steak, but considering we prefer medium-rare, this was a bummer. We also forgot to ask for sauce on the side.
While the meat was tender and the sides spot on - especially the broccoli, which I could eat a dish of on its own - we were dismayed at how we missed out on the true potential of this dish due to the wrong temperature. We let the staff know it would be wise to ask their customers of their preference.
We were recommended the biryani and I was not on board at the thought, mainly because I have given up on decent biryani at a restaurant. But I am glad we went for it. Extremely glad.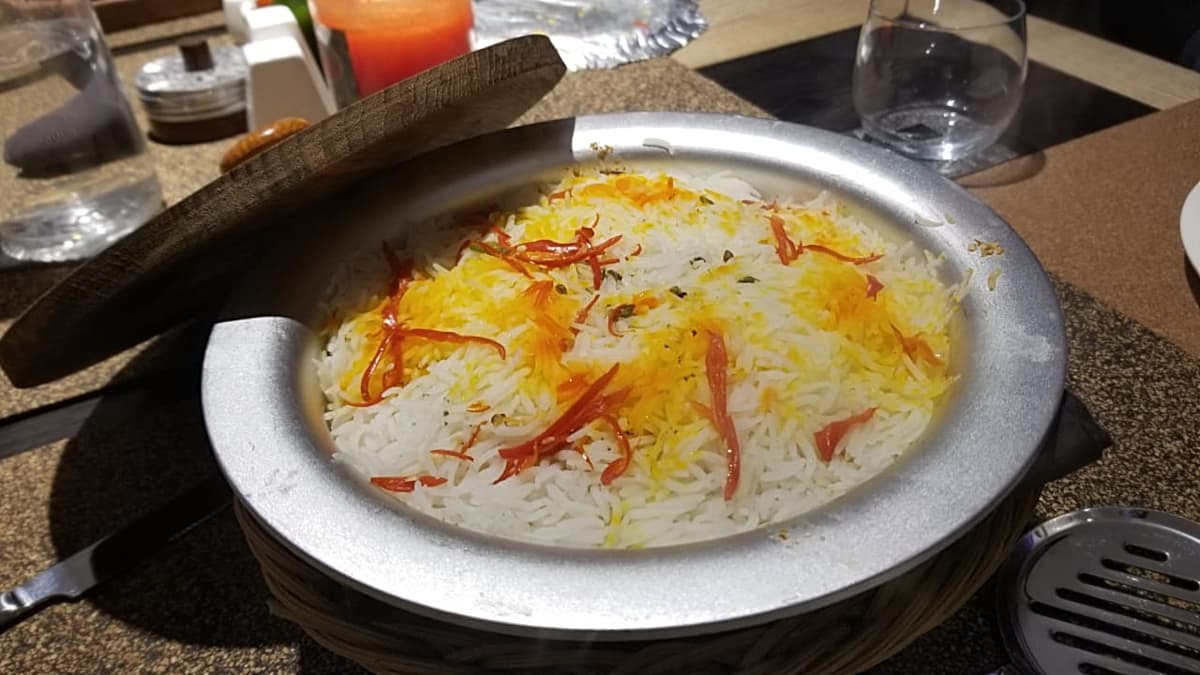 Seven Kitchens has one of the best biryanis I've ever had in a restaurant. Their Mughlai mutton biryani comes in a mini daig, all set up in layers that you mix right there on the table. The serving is enough for 3-4 people.
The mutton could be cut with a spoon while the rice had the perfect balance of flavours. The table was blown away and I may have already made a second trip to enjoy it again. And yes, it was just as delicious and just as loved the second time around. We had to meet chef Yusra and commend her for her creation. I can write an ode to this biryani, people.
The brain masala was an impulsive order we made out of curiosity and there was no buyer's remorse there. The masala was not overpowering and we happily enjoyed it with our garlic naan - which is very generous with the garlic and thank you for that!
Unfortunately, the Mughlai badami mutton qorma didn't win us over. As a basic mutton curry, it was supreme - with the mutton once again tender as ever - but as a qorma it didn't really hold up. The spices felt muted and we were expecting more of a burst of flavour as we did with the previous dishes.
The tawa chops cemented our claim that Seven Kitchens knows how to handle their mutton. The barbeque based flavours complemented the succulent and absolutely tender meat and we could not get enough.
Moving on to desserts, we were encouraged to try both their usual menu and the low-carb menu. A guilt free dessert? How could we resist?
If you take a bite out of the restaurant's low carb brownie, you will find it just as sinfully delicious as an average brownie. While I am not a fan of mint based ice cream, I was impressed at the (also healthy) ice cream that served with it. The restaurant makes their ice creams in-house as well.
The tres leches cake impressed us by how it balanced the texture of the cake, with an even coverage of condensed milk in every bite and no part risking being a mushy mess due to an excess of milk.
Just like Seven Kitchens invites you with a complimentary slushy, it lets you end your meal with complimentary green tea.
Damage on the pocket
I expected the prices at Seven Kitchens to be higher than they are, considering their quality ingredients and commitment to making everything in-house. However, barely five of their dishes go over Rs1000, those too being dishes to share. Even with a very glutenous order, the total will be Rs1000 per head - and conscious ordering will bring the price down remarkably.
Seven Kitchens is a lovely place for the family and some of their dishes are highly recommended for the foodie. Especially their biryani, which I see myself indulging in on many occasions to come.