Nourished by Sunsilk's new fashion range, these styles are giving us major inspo to get good-looking hair right at home.
First things first, we feel this year's PSFW showed off some good-looking hair that made use of effortlessly chic styles created by Nabila's Salon and powered by Sunsilk.
We find it particularly hard to have our hair acclimate to Karachi's heat each year, and so we're taking notes from all that happened at the launch of Sunsilk's fashion range and PSFW '19.
Hint: Most looks on the ramp are keeping hair free of fuss and fancy tools.
Here's us discussing few of our top favourites that you can make at home out of freshly shampooed hair:
1. Hania Aamir's beachy, sporty high pony tail
Admitting it right here: we love bouncy pony tails at the crown of the head.
They keep hair away from the face and fight bad hair days like nothing else.
2. The slicked back, voluminous 'do from HSY's Rani show
Bobby pins are real life savers in hair world, and can up your styling game in no time.
Bouncy at the bottom, sleek at the crown, we feel this 'do is super apt for those day weddings we're going to hit this summer.
3. Add a hair accessory like Amo B, and let your hair be
Amo B and a couple of other models donned silk scarves and printed bandanas over straight, shiny hair and we're digging the look.
We love those statement earrings completing Amna Babar's look here:
4. The no-nonsense, futuristic braids from Sania Maskatiya and Fahad Hussayn's show
Loose and distressed or tightly coiled, braids remain us desi women's favourite hairstyle.
We feel a couple of designers, mainly Sania Maskatiya, Hussain Rehar and Fahad Hussayn, revamped regular plaits by pinning some ethnic jewelry and edgy accessories atop.
5. The basic-but-blingy pony tail Zara Noor Abbas wore
Strings and strings of bling and gota added to pony tails seems to be really working for the ramp these days.
We instantly bookmarked Zara Noor Abbas' straight and long hair look to replicate it often.
How to get these looks at home
Here's the best part: none of these styles require us to invest money and effort into hitting fancy salons or buying pricey products.
From ethnic plaits to bouncy, voluminous and blingy tails, all we need is gorgeous hair that is easy to play with and around.
We recommend investing in shampoo and conditioner that best suits your hair type.
Sunsilk launches 'Fashion' range with 7 variants
We feel Sunsilk has introduced a fairly diversified range of hair products that address all sorts of hair styling needs.
Bringing to us a line-up of 7 distinct products, the brand has partnered with Elan, Sana Safinaz, Alkaram, Ali Xeeshan, Generation, Khaadi and Sania Maskatiya.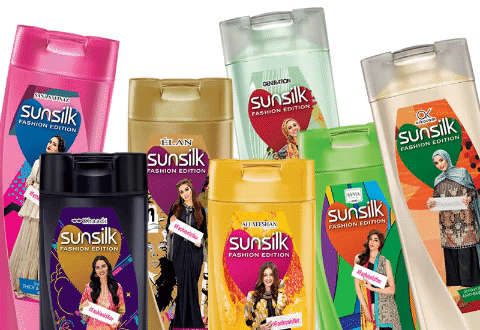 Unilever Pakistan Limited's Marketing Director for Beauty and Personal Care, Asima Haq, tells us, "Since 2010, Sunsilk has been collaborating with PFDC and local designers to bring fashion trends to Pakistani millennials. This year the brand is moving one step forward and opening up more possibilities for young girls who aspire to be part of Pakistan's fashion industry through our digital platform."
For a detailed look into more hair styles that made it to the PSFW this year, head over to these hashtags: #SunsilkFashionEdition19 #SunsilkLiveTrends #PSFW19
---
This content is produced in paid partnership with Sunsilk Pakistan and is not associated with or necessarily reflective of the views of Images or DAWN.com