The Good Food Tour is back in the capital and this time around loyal foodpanda fans celebrated desi food!
Kicking off this season's Tour from Karachi, foodpanda branched their campaign to other cities like Lahore and Islamabad.
Foodies from the capital hopped on to the Good Food Tour bus, all set to try the wide variety of dishes that restaurants located at the capital had on offer.
This bright pink bus remains one of our favourite parts of the Good Food Tour.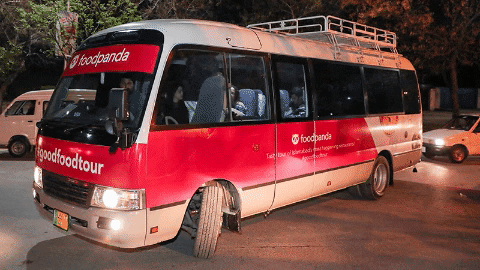 The one-day tour journeyed across town making noteworthy stops at various food joints that brewed some of the country's best delicacies as a warm and welcome note.
Highlights of The Good Food Tour
Four restaurants were selected for the Tour based on their diverse range of cuisines, befitting ambiance and great reviews.
Let's discuss the noteworthy stops made this season:
Stop number 1: Chaat Shaat
The tour kicked off with a celebration of desi street food at the popular Chaat Shaat restaurant.
Served to hungry foodies was a scrumptious line-up of Papri Chaat, Samosa Chaat, Pani Pur, Gujrati Puri, Samosay and Kebabs.
Stop number 2: BBQ Bazaar
We feel authentic BBQ is always a great idea for to celebrate desi food.
Presented with a modern twist were delicacies like Rasmasa Kabab, Beef Seekh Kabab along with a wide range of other BBQ food items.
Stop number 3: Kohinoor
To give hungry foodies a hint of authentic Pakistani flavour, the Tour made a stop at Kohinoor next.
We'd say this resto took all Pakistani food lovers back to good memories of home-cooked, nutritious meals. Sindhi Biryani, devoured in minutes by enthusiastic foodies, was the star of the show.
Food items served included: Chatt Patt Baigan, Brain Masala and Sindhi Biryani
Stop number 4: Mughlai Courtyard
We feel all food tours should end on a sweet note.
This one lined up traditional desserts at the Mughlai Courtyard.
On offer were hearty and very traditional servings of Ras Malai, Ghulam Janam, Gajar ka Halwa and warm Jalebis.
Enjoyed by all foodies alike, the Tour came to an end with a promise of returning soon to other parts of Pakistan with a ton of exciting experiences and scrumptious meals.
We feel foodpanda has been nurturing its bond with foodies with back-to-back campaigns like Bites and Vibes Festival, Halka Nai Ana and Don't Cook campaign - and of course - the Good Food Tour.
To find out more about what city the Good Food Tour will hit next, head over to foodpanda's official facebook page.
---
This content is a paid advertisement by foodpanda Pakistan and is not associated with or reflective of the views of Images or DAWN.com.
Email