Day 1 featured a couple of interesting sessions. Let's see what today has in store for us
Lahore Literary Festival has become an annual tradition by this point so we'll get right to it.
Day 1 featured a keynote dedicated to Faiz, one illuminating talk about water scarcity in Pakistan and a couple of fascinating book launches. Check out all our updates here.
We're here at Day 2 now so stick with us as we update you on what's up at LLF 2019 in real time:
---
07:12pm: Ending the day with a documentary
There's a long line outside hall 2 for the screening of Koi aashiq kisi mehbooba se!
---
06:22pm: Music and the Mughal Twilight, from Aurangzeb to Bahadur Shah Zafar
Katherine Schofield sits with musician Rakae Jamil in this session.
"I was looking at the sociopolitical side of things. It's fascinating to see how the rulers and politicians had so much impact on the music of the era," says Rakae Jamil.
Says Schofield, "If the music is in the blood, listeners become disciples of musician... as an act of saving the tradition from destruction."
---
06:10pm: Book Launch for The Selected Works of Abdullah the Cossack
Author H. M. Naqvi is joined by Christopher Merrill with moderator Nasreen Rehman.
"Part of the project in this novel, is to remind the reader how Karachi is in a sense the centre of this world," says Christopher Merrill.
The author says, "One of the dynamics that inform this novel is the genre of a minor autobiography. In our swath of the world, at the end of their lives, people chronicle their world, and also in a way, make sense of the world."
Merrill adds, "In a scholarly text, you read the footnotes reluctantly. But when I read the footnotes in this book, they were very compelling."
"This book is a hymn to Karachi," says Nasreen Rehman about The Selected Works of Abdullah the Cossack, which begins with the conscious imperative that Karachi is the 6th largest city in the world.
Says Naqvi, "Karachi, culturally and socially, is a cosmopolitan and modern city. Like other cities, it was a function of a colonial enterprise. With Abdullah, he can be thought as an analogue it a personification is the city."
He reveals, "The only thing that I won't talk about is why the Cossack. You need to read at least halfway through to understand why he was once known in Karachi society as the 'Cossack'."
On Nasreen's query about his journey as a writer, Naqvi responds, "I've been writing since I was a child. Since as far back as I could remember. This imperative to put pen to paper is innate to me. Before words I would doodle. And what are words but codified doodles."
"As far as the muse goes, she doesn't visit me everyday. Maybe every five years. And what is writing but carpentry? I hammer away on a construction that I don't have a manual for."
---
05:56pm: Book launch for Bird summons
Author Leila Aboulela joins Muneeza Shamsie and Sadia Zulfiqar with moderator Afia Aslam.
---
05:47pm: Back to the future
Pankaj Mishra sits with Mohsin Hamid for this book discussion.
Pankaj Mishra talks about Buddhism and how there are similarities to what Buddha responded to and the changes that we face today; individualism, technology and so on.
Says Mishra, "It's possible to see the rise of certain ideologies as consequences of social breakdown... nationalism and Zionism were also responses to massive shifts in the social and political economies of these nations."
"The nation state is a very poor fit for our heterogeneous societies and identities," he adds.
Says Mohsin Hamid, "We in Pakistan have a close relationship with China, but we also as a public know very little about China. Perhaps that's why we love it."
Mohsin Hamid talks about the self - notions of the self - individualistic in the west, "where we believe the self exists and that fulfilling its desires is the best way to live. As opposed to the Sufi tradition which seeks to dissolve the self within the beloved or with a greater power. We is Asia are torn between these two ideas of self."
---
05:15pm: Caught another performance outside!
---
05:10pm: Book launch for Hijabistan
Author Sabyn Javeri sits in conversation with Maha Khan Phillips about her book.
Says Sabyn, "Stories create empathy, they impact you. Sometimes literature touches you in a way mere factual information or news can't."
"I've had some interesting reactions from older men who have been very scandalised after reading my book. They ask me, 'why is a nice girl like you writing something like this?'"
---
04:45pm: Jadeed shayeri ke Ufaq
Abbas Tabish, Ahmad Ata and Adnan Baig showcase the talent from Urdu's contemporary poetry with moderator Shakeel Jazib.
---
04:44pm: Between Remembrance and Forgetting: History as Freedom
Hameed Haroon sits in a conversation with Ayesha Jalal.
Ayesha Jalal speaks of how she became interested in history.
Says Jalal, "Rote learning is intended to create believers and dummies, and we have done a terrific job of that... Changing the educational system is a political problem. It is not for historians like me to answer. It is for you to answer because you have to choose who will lead you."
She adds, "Until you resolve your competing desires to be a federation on the one hand or to have some sort of unitary state on the other we can never be constitutionally strong."
Jalal points out, "The educational system has been deliberately sabotaged to keep the elite in their place and to keep the public dis-empowered to be their servants and domestic staff."
---
04:00pm: Book launch for Tell her everything
Zarrar Saeed sits with award-winning novelist Mirza Waheed to talk about his upcoming book.
Says Mirza Waheed, "The only method writer who inhabits the mind of the character is Nadeem Aslam. When he wanted to write a blind character he blindfolded himself in his house for a few weeks."
---
03:37pm: Decoding Iran
Afshin Shahi, Vali Mahlouji and Kamin Mohammadi sit with Shahrbanou Tadjbakhsh to the vibrant youth of Iran and its expressions in activism, art, literature and other realms.
Shahrbanou Tadjbakhsh says, "The people of Pakistan fly over Iran to go to Turkey and the people of Iran fly over Pakistan to get to Delhi but they don't know much about each other."
She adds, "The Iranian revolution was an answer to what Iqbal wanted."
Kamin Mohammadi points out, "In a world where the Persian legacy is so strong, we are always trying to establish to the western world that we are not what you see on your TV during the revolution."
Afshin Shahi adds, "The moment you break down the notion of identity, you are confronted with a lot of difficulties. What is identity and what is political identity. When we say national identity, we are talking about a political concept."
Kamin reveals, "When internet was in infancy, Farsi was the most blogged language in the world."
He adds, "The difficulty in holding the amount of tension within yourself can be very disruptive to your own personality."
---
03:35pm: My Lahore
Parveen Kennedy sits in conversation with Nayyar Ali Dada about the past and present of the cultural capital of Pakistan.
"Rudyard Kipling's father, the principal of Mayo college, suggested that we should change our architecture, make it more indigenous, and involve native experts," says Nayyar Ali Dada on Lahore's architectural development. "We see a continuity of the same spirit in Lahore's architectural past; using the appropriate material and techniques."
While narrating the Shia-Sunni dispute at Lahore's Bibi Pak Daman shrine, Nayyar Ali Dada asks, "Since when did domes become sectarian?"
Parveen Kennedy shares her experience saying, "When I saw Lahore, it was the Paris of the east: hobbling bubbling mornings, lazy afternoons, and the chatter of the night. It was one big moving thing, full of life. Out which we had a lot of communities: one was the Parsi communities, then we had the gonis (chefs and musicians), and the biggest was he Anglo Indian communities - bureaucrats, police, clever lot of people."
On her acting career, Kennedy says, "One thing you can never escape, is your past. Someone is always thinking of you in some way from your past."
---
03:30pm: The crying game
Iqra Aziz and Atiqa Odho sit with moderator Fifi Haroon to discuss whether Pakistani TV serials are misogynistic or if their stories actually do resonate with women.
Fifi Haroon opens the discussion with the question, "We all watch dramas.... But why are the females so bechari?*
Says Iqra Aziz, "We need to change the notion that a strong woman is one who gets out of the house. A strong woman can be one inside her own home."
The actor shares the story of her mother, who worked in numerous salons and became the first female Careem captain. She asks, "Why can't we see this story in our dramas?"
Atiqa Odho says, "We need to go back to our core cultural approach to Urdu drama."
Fifi also points out that "When a girl is wearing jeans she is shown as bad, also the career oriented woman. They are shown as wanting nothing but to seduce men and having no real ambitions."
When she asks why we don't have ambitious women anymore, Iqra responds with "We don't accept it."
Odho adds, "Majority of the media is owned by men... the content now needs to change and reflect us."
She shares her family's story, of having five sisters and all being career oriented. "None of us have time to do all this sazish... We need to tell our own stories."
"I believe we waste a lot of time and money on superficial content."
Fifi adds to this, "We glorify misery."
---
03:12pm: Caught a performance
We're on our way to the next session and walked in on this performance!
---
02:23pm: Exploring the political and social consciousness in Urdu fiction and poetry
Ameena Saiyid, Nasir Abbas Nayyar, Harris Khalique and Amar Sindhu sit with moderator Asif Farrukhi.
Says Nasir Abbas Nayyar, "Tareekhi shaoor aur samaji shaoor donon mukhtalif hain."
Harris Khalique adds, "Woh adab hi nahi hai jis mein tareekhi, tehzeebi shaoor na ho."
---
02:20pm: War writing
Journalists Rania Abouzeid, Lalage Snow and Osama bin Javaid wit with moderator Secunder Kermani and discuss the 'Unraveling of a Cultural Haven in the Middle East'
Says Rania, "I'm not an adrenaline junkie, I don't even consider myself a war reporter... I covered Middle east and parts that happened to fall into conflict... I covered the protests in Damascus."
Lalage Snow says, "One of the hardest things abt being an image maker is the moral dilemma to take it or not."
"A lot has changed in the past 8 years of the Syrian conflict. Now people don't want to actively talk to journalists, they think we are voyeurs," says Osama bin Javaid.
---
02:15pm: Iran: Legends of emperors and kings
Zehra Nigah introduces author Iftikhar Salahuddin.
Says Iftikhar, "The British discovered the Cyrus cylinder which details the history of the emancipation of the Jews."
He adds, "Despite sanctions imposed by the west, Tehran is a modern and vibrant metropolis"
---
01:20pm: Time for a break!
We're out and about for a while, waiting for the next sessions to begin. Looks like a lot more people are here today compared to day 1!
Look what we found!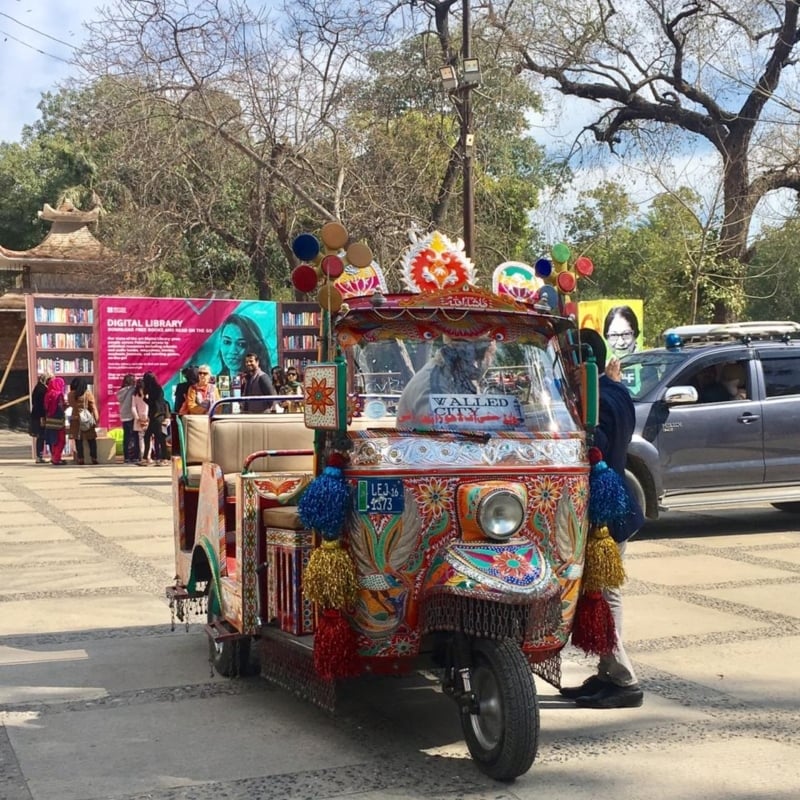 Also, it's time to grab a bit to eat!
---
12:51pm: Modern pasts, connected futures: Exploring the progressive artists of South Asia
Zehra Jumabhoy, Taimur Hassan, Conor Macklin sit with moderator Samina Iqbal discuss the work of artist Souza and how he broke into the art scene in London.
The panelists discuss Sadequain's engagement with the European art scene and talking about the period until 1966 that Sadequain spent in Paris.
Says Macklin, "These artists were extremely brave, they chose to immerse themselves in western modernism and paved the way for artists who came after them."
---
12:23pm: Literature and Sufism in Khyber-Pakhtunkhwa
Dr. Shahida Shah, Neelum Afridi, Akbar Hoti and Ibrar Ghar sit with moderator Kainat Khan for this session held in recognition of Hamza Shinwari.
"Wo Allah ko pyare honay say pehlay logon ko pyare the" says Neelum Afridi on Hamza Shinwari.
Says Kainat Khan, "Hamza baba was one of those people for whom feminism was normal. And he celebrated feminism."
Adds Dr. Shahida Shah, "Hamza baba was the first poet in Pushto history who considered women as equals of men."
---
12:20pm: Channeling Nostalgia
Eugene Rogan sits with Ahmed Rashid to discuss the Ottomans, the Great War and Turkey Today.
Says Eugene, "The Ottoman Army was the most disciplined in their time."
Ahmed Rashid asks, "Why did the Ottoman Empire collapse, specially when the British moved to the Middle East?"
Eugene responds, "The ottomans were in a particularly weak place, they had a revolution, there was land grab of the ottoman territory, there were other imperial aspirations, and ottomans couldn't defeat their former colonies and territories."
---
12:14pm: Book Launch for A woman like her
Author Sanam Meher is joined by Amar Sindhu, Ammara Athar and moderator Salima Hashmi to discuss her new book.
The panelists discuss Sanam Meher's first book and Qandeel Baloch, whom the book is based on.
Says the author, "The book started when the day she was murdered... I saw how we behaved online - in a space which we created. I wanted to do a piece on this but when she was murdered I felt gutted."
She adds, "Details about her persona came out soon before her death. She knew her audience What kind of place allows her to become as famous as she did but at the same time doesn't tolerate her?"
"It's not just Qandeel's story... Its about several things happening in Pakistan."
Amar Sindhu says, "I don't say whether Qandeel was right or wrong... The question is who is to decide whether she was right or wrong? We wont tolerate Maulana Qavi's followers to tell us."
---
12:09pm: Spotted Zehra Nigah!
The writer/poet was coming out of the VIP area and we couldn't resist saying hi!
---
11:35am: A city in fiction
Muneeza Shamsie, Roopa Farooki and Osama Siddique sit with moderator Claire Chambers to discuss all that is Lahore; from capturing its stories to the violence and revolts.
Says Muneeza, "There is a lot of diversity and dynamism and its the pride of the country. Our old city folks preserve their own areas, the heritage and vibrancy. Its a special city of the country"
---
11:25am: Punjabi Lok Geet
The University of Punjab's Nabila Rehman and Ayesha Ali sit with moderator Faiza Rana.
---
11:20am: Kahani ek Shehr ki
Adeela Suleman, Naazish Ataullah and Ambereen Karamat sit with moderator Rabeya Jalil to discuss the political and personal in the art of Lahore-based artist Farida Batool, who joins the panel as well.
---
11:15am: On equity and happiness
Says economist Hafiz Pasha, "According to agricultural and population census, 1 percent farmers own 22 percent of the farm area of pakistan. And bottom 50 percent own only 12 percent of the farm area."
Says Amjad Saqib, "Poverty is a multidimensional phenomenon. It is not just lack of money."
Erum Sattar speaks on the distribution of natural resources such as water. "Even if you design a system as equitable, it never runs equitably."
---
11:10am: From Kargil to the Coup: Events that shook Pakistan
Owen Bennett-Jones sits with author Nasim Zehra to discuss her book.
Says Jones, "One of the things I remember about the operation was that nobody was stopping it. Including the Indians."
He goes on to ask "Is it possible that Mr Vajpaye understood the situation better than Mr Sharif?" to which Nasim Zehra replies, "The Indian army was not prepared and did not take action, so no."
Says Zehra, "Nothing got into the press. We were getting briefings that on the one hand it was the Kashmiri fighters and the Indian side was saying it was the Afghan mujahideen. So that's the story that was sold. The fact that it was Pakistani soldiers did not come up in the press."
"Mind you, when the Indians hit back they used unconventional methods and pounded the mountain tops where our Pakistani soldiers had their supply lines destroyed."
She adds, "Under president Clinton, this was also the time when relations between India and the US were developing... The team looking after South Asian affairs was keen to use this as an opportunity to get an IOU from the Indians. And they wanted Clinton's involvement on the top level."
"The story was spun in D.C that the Pakistani side was moving their nuclear weapons. But that wasn't true and I couldn't find evidence of it either. But the nuclear card was used on a rhetoric level."
She answers an angry critic of the army who questions her about the generals' hand in steering policy in the country by saying, "I have tremendous respect for the Pakistan Army as an institution, and I'm quite proud of it. While we should be critical of the army, and I understand your anger, but the elected leadership has now come of age and needs to be competent so they can steer policy."
---
10:52am: We're early and ready for the sessions!
Day 2 is jam packed with sessions and we're all geared up for them.