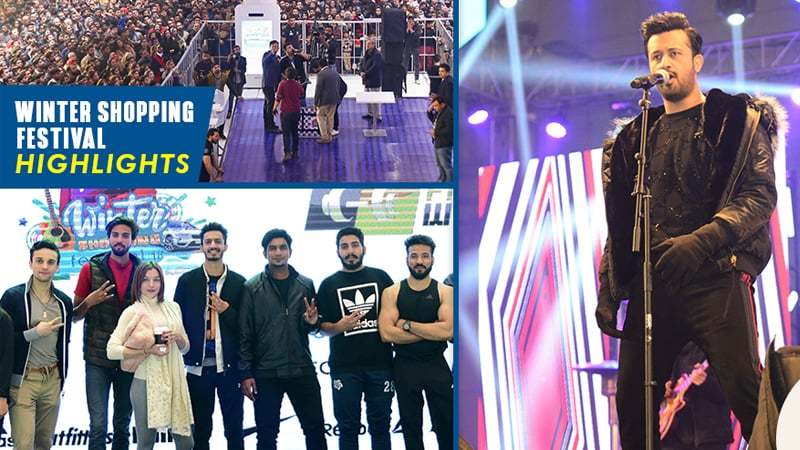 Packages Mall bid farewell to 2018 with a month-long celebration that brought together a whole lot of music, prizes, discounts, celebs and games for everyone coming to the mall.
Here's a quick look at what all happened:
Atif Aslam performed for 15,000 people on the weekend
Crowds of visitors witnessed some of the singer's most celebrated songs on the 28th of December, 2018.
Here's a little snippet of his performance:
Bands like Quadrum also performed their favourite tunes for the crowds attending the winter fest.
The BMW-X1 and other great prizes were given away to lucky winners
One of the top highlights of the festival included the grand prize of the BMW-X1 car given away on the 29th of December 2018.
Other prizes including television sets, motor bikes, PS4s, home theatre systems were handed over to attendees via lucky draws. The mall also had gifts, hampers and vouchers up for grabs for everyone engaging in activities with RJ Rizwan from FM 91.
Week-long entertainment segments and bargain deals were hosted by major brands
Packages Mall partnered with a whole lot of brands to offer discounts to everyone attending the winter fest.
The mall also played host to:
-Home & Décor Week where most home decor brands displayed their latest collections and slashed prices for all shoppers.
-Fitness Week where fitness enthusiasts from all across the country attended sessions hosted by fitness gurus from 42DC including Nusrat Hidayatullah and Torsam Tajik.
On-ground activities kept kids busy while the parents shopped
Games like Ludo, Chess, Kick Dart, Bowling amongst others were some of the activities introduced to entertain kids attending the fest.
The mall also showcased performances including shuffle dancers, live musicians, magic card players and mannequin scare pranks.
Celebrations for Christmas and Quaid's day lit up the arena
As the 25th of December approached, Packages Mall hosted a range of performances by Salvation Army for Christmas, and decorated the event space with specially designed Christmas decor.
As part of a collaboration with DAWN, Packages Mall put up a detailed display of Quaid-e-Azam's journey and his struggles explaining it all in pictures.
Commenting on the response received for the winter fest, the marketing team says, "We are thrilled to see the response we have received for this campaign, and the eagerness with which our patrons have participated."
"All our efforts are directed towards creating not just a shopping center but a place that can serve as an entertainment hub as well.This is what we have strived to achieve with this campaign, and we hope to continue organising events in the future that resonate with the same objective."
---
This content is a paid advertisement by Packages Mall.
Email