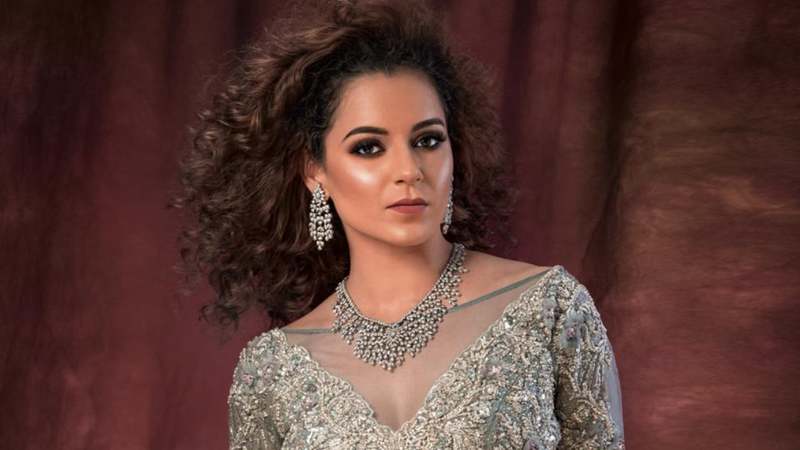 Kangana Ranaut's just about to play a warrior queen in her upcoming movie Manikarnika but just recently, local social media was thronged by images of her in bridal-wear.
It wasn't warrior-like at all but it was Kangana all right, with her famous corkscrew curls wound up above her face and that forthright stare that we're all now familiar with.
Joining the fray of the many Pak-India collaborative efforts in fashion, this was Kangana modelling Pakistani designer Saira Rizwan's latest bridal collection for UK-based Asiana Magazine. According to Saira, she considered a number of options before opting for Kangana because she is one of her "favorite actresses".
Why opt for a Bollywood actor at all? Apparently, it's yielded huge sales for the designer in the past.
Last year, she worked with Shilpa Shetty for a shoot for Asiana Magazine, which was very successful. "Asiana Magazine allows me to reach out to not just the Pakistani market but also potential clients in the UK, Singapore, India and Dubai. People still come to me asking for the 'Shilpa outfit'," laughs Saira. "They actually refer to it as that. And now, I am already getting inquiries for the 'Kangana outfits'."
Saira has also worked with up and coming Indian actor Amy Jackson for a lawn campaign. "With lawn, I have to be very careful about who I choose. It can't be someone who has an Indian passport because then I wouldn't be allowed to put up her pictures on billboards in Pakistan. Amy fit the bill," reveals Saira.
Kangana, of course, is in another league altogether given that she's one of India's top actors at the moment with a slew of hits to her credit and a colossal fan following. The actress is also known to be quite a firecracker in her interviews.
Was she difficult to work with? "No, in fact, she was very sweet and down-to-earth," says Saira. "Even Shilpa had been very sweet but I remember how she had had very specific ideas about how she wanted her makeup to be. She had done her own makeup only allowing the makeup artist to apply lipstick on her. Kangana, though, was completely easygoing. In fact, I would be tweaking the looks while Kangana remained quite complacent about how I wanted her to be styled."
"It was a great experience. My seven-year-old son was at the shoot with me and she would keep teasing him and talking to him. There was also one outfit which didn't fit her well but I really wanted her to wear it in the shoot. She allowed me to pin it in places and adjust the fitting and didn't complain one bit. She wasn't a diva at all."
Did she like the outfits? "Yes, she really liked them!" says Saira.
In a video shout-out, Kangana talked about how she thought Saira's clothes were beautiful. It's a very sweet gesture that most Indian celebrities refrain from making because they are afraid of cross-border tensions. But setting politics aside, we have, as a nation, always loved Bollywood. It's great when we get some of that love back!
Email