Nargis Hameedullah, who hails from Hazara Town in Quetta, recently returned from the Asian Games with a bronze medal
"I still remember how sad I had been when I had lost the chance of winning a bronze medal in Baku," says Nargis Hameedullah. "I ran off to the bathroom to cry. Noticing my red eyes, later, my coach Khalid Noor had told me not to feel bad as I had given it my all. He also told me to remember the defeat and take strength from it."
The then 17-year-old female karateka from Pakistan, who had come back empty-handed from the 4th Islamic Solidarity Games held in Baku, Azerbaijan in 2016, has now returned with a bronze medal from the recent 18th Asian Games held in Jakarta, Indonesia.
"The Asiad is bigger than the Islamic Games, no doubt. The Islamic Games were also my first international outing after winning several national-level championships for Wapda. But I had trained very hard and was hoping to win a medal for my country there. I guess my God had better plans for me," she smiles now.
Speaking of her journey on the road to the Asian Games, Nargis says that the camp for the Games commenced in Islamabad soon after Eidul Fitr on June 20. "At first there were 30 boys and girls in the camp but then we heard of our funding being cut down. The trials and selection first brought us down to 20 then 14, and then 10 and eight. Finally, only six — three girls and three boys — could be a part of the Pakistan contingent. I was so glad to have made it," she says.
Coming to her recent victory, Nargis, who is 19 now and has a black belt first dan in Shotokan style, says that she had taken too much pressure before her fight. "After losing the semi-final match to the girl from China, I was informed that the girl happened to have a world ranking so my losing to her was not such a terrible thing. But then I was also told that my fight for the bronze medal was going to be with a contestant from Nepal whom I had it in me to beat. And that is what put me under pressure.
"But before the fight my coach, Shah Mohammad Shah this time, whose words had stressed me out, noticed my utter panic. He covered my head with a wet towel then and asked me to stop thinking about the outcome of the fight. He told me to forget everything and make my mind go blank. But with so much going on in my head then I had no idea how to do that, and that too spontaneously," she laughs about it now.
"Anyway, there was no turning back. I stepped on the mat with trembling legs but as the fight began I started spotting my opponent's weaknesses which I exposed to my advantage. I beat her 3-1. And then I was crying, my coach was crying. I performed the sajda and thanked my God.
"My father, who runs a florist shop, was so happy that when a customer at that moment had inquired from him about payment for a big bouquet he gave it away for free as he told him that his daughter had just won a medal for the country at the Asian Games no less!"
"Then I had to call home to share this news with my parents but I couldn't find my phone. My coach lent me his but now my mind had really gone blank when it came to remembering their phone number. Finally, when I was able to get through, my mother, who is a nurse by profession, was also crying with joy. There had been load shedding [power cut] at home and they had not been able to watch TV then."
"But my father, who runs a florist shop, had seen it all live. He too was so happy that when a customer at that precise moment had inquired from him about payment for a big bouquet, he gave it away for free as he told him that his daughter had just won a medal for the country at the Asian Games, no less!"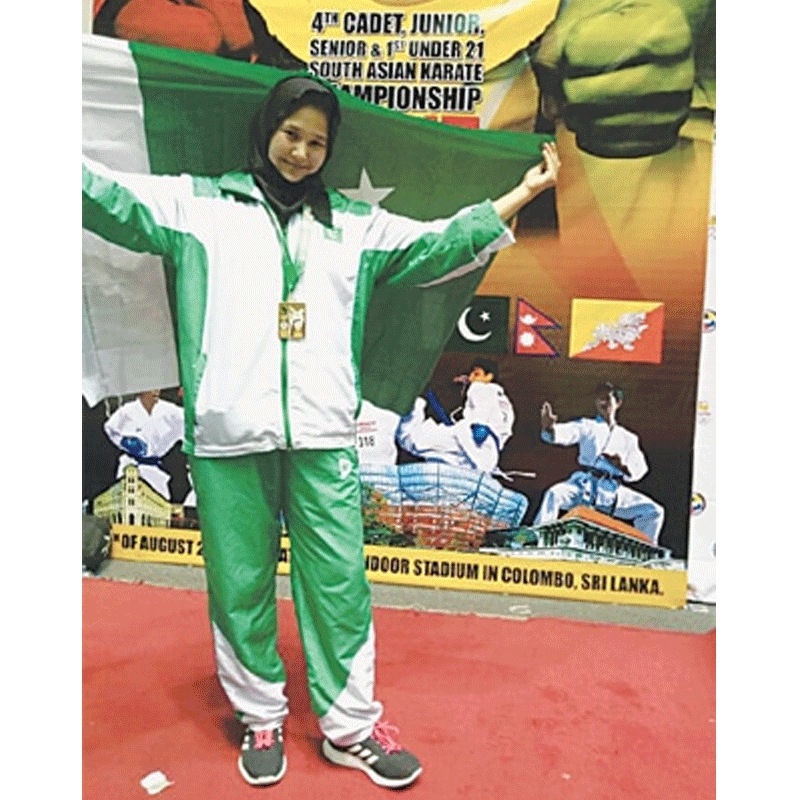 Nargis, who hails from Hazara Town in Quetta is the eldest of four children. Her younger brother Ilyas is 17 and is also very good at martial arts. Then she has a 10-year-old sister Ferozina who is also into the sport along with the youngest sister, two-year-old Hadia. "But with Hadia at the moment it is more watching than practising karate," says Nargis.
"Our father, who is a former mine worker, wants all his children to take an interest in sports and studies. I started with mixed martial arts [MMA] at the age of six, but then in 2010 I switched to Shotokan karate," she says.
When asked about other sporting interests such as cricket or football, Nargis becomes a little serious. "I belong to the Hazara community. We barely go outside Hazara Town due to security reasons and the only sports clubs there offer MMA or Shotokan karate training. Still, if we feel like playing cricket or football, we can do it amongst ourselves. There is no proper coaching for those sports in Hazara Town," she says.
"As it is my parents are tense when I leave the town every morning to attend college. They are always relieved to find me back home safe from college," she says. "I enjoy my studies, especially Economics, Mathematics and Statistics, as much as I do karate. I also take my books along with me to the Sports Board training camps," she smiles. Nargis recently passed in her final intermediate exams with an A-1 grade where she got 947 out of a total of 1,100 marks.
"I have requested my karate association to see if I can get a university scholarship through the Pakistan Karate Federation in Lahore," she says.
When asked if her parents will be worried for her safety if she goes to Lahore, Nargis points out that they may actually be relieved. "We are more at risk in Quetta. It is far safer in other parts of the country. I think my parents would be glad if I can move away," she says.
On being asked then why doesn't the entire family move, she says with both her parents working and her younger siblings studying, moving isn't that simple. "I wish my parents didn't need to work so hard for us. I have this dream to stand on my own legs soon and support my family."
---
The writer is a member of staff. She tweets @HasanShazia
Originally published in Dawn, EOS, September 23rd, 2018