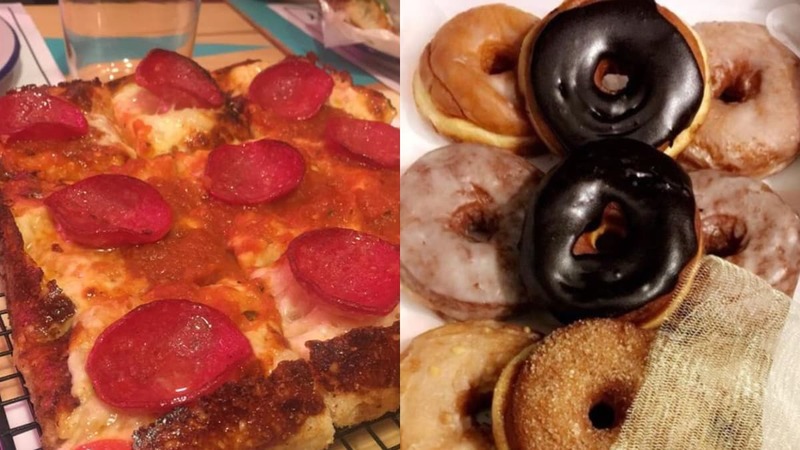 Take it, Easy. And by take it, I mean all my money.
I've been going to Easy almost every other day since it opened its doors. Their tag line, 'A friendly carb-factory' is ironically also my Tinder bio.
Easy is brought to us by Maha Jawed, whose stall Fatso's is one of the most anticipated and usually quickest to sell out at Karachi Eat.
The chic little spot is located on Khayaban-e-Shahbaz, Lane 4. It screams girl power with a bright neon sign illuminating the eatery in a faint pink glow that reads 'Who run the world?'.
The timings are a little bit odd: they open their doors at 2 pm and don't start dinner service till 7 pm!
Fusion comfort food at its best
We began by ordering appetisers. The Tostada, my personal favourite thing on the entire menu, is a fried tortilla loaded with foodgasmic beef mole, refried beans, cheddar sauce, a sour cream salsa, coriander and a fried egg. I could write poetry about this dish. Everything about it was bang-on. The flavours, texture and presentation all came together for a 5-star starter.
The Bao Buns were a little underwhelming next to it, but in all fairness, the Tostadas are a hard act to follow.
The Ode to Hanifia was good but if I'm in Karachi, I'd much rather have the real thing. I would definitely go back for the fried chicken Bao which was a great little treat to whet our appetites before the main course(s).
Let's start with the hot-dogs in order I like most. The Genoa has a pickle and pesto relish, truffle mustard, ketchup and drum roll please, a mozzarella cheese blanket.
It has to be eaten fresh or the cheese blanket hardens, but if you get it piping hot, it's divine. All the components, from the fluffy bun to the even flavours, it's just an all around good hot-dog.
Next is the Karachi dog, which shows off Easy's playful and fun side. It's a tandoori battered beef dog with garlic mayo, masala cheese and SLIMS DUST! All the flavours come together in a wonderfully nostalgic way that's incredibly yum.
In a very close third place we have the Tokyo Dog, a hot-dog with okonomoyaki sauce, Asian slaw and toasted nori flakes. I would've liked to see some wasabi in there to kick it up a notch,but the seaweed with the beef sausage is a great out of the box fusion of tastes.
Next up was the pizza. Being the glutton that I am, I had to try two flavours of course. Anyone whose as much of a pizza fanatic as I am, knows to truly find out if a pizza is good you have to try their pepperoni. And Easy does not disappoint.
The Detroit style goodness is a pepperoni deep dish Za that's been cut into squares, and topped with a combination of brick cheese, moz, a mouth-watering tomato sauce.
The base dough was crispy on the outside while staying warm and soft on the inside. It has just the right amount of garlic to make you keep coming back for me, even though you've already undone the top button of your pants and will probably have to waddle out when you leave.
The Whipped Ricotta with mushrooms, truffle and rocket on a bed of mozzarella and brick cheese was suberb, brought together by the luxurious texture of ricotta that's been whipped to submission.
We moved on the Beef Burger. This is one of the best burgers I've had in Karachi hands down. Let me tell you a little bit more about my new summer romance. It's between me and this burger. A gloriously grilled 6.5 OZ beef patty coated in an absolutely addictive beef fat onion sauce topped with a contrasting sharp cheddar slice and garnished with crunchy rocket. This bad boy sits on a base of house made potato bread roll fluffier than clouds before rain.
A good, old fashioned no nonsense fab burger. How long have I waited for this? How many calories have I wasted in search of a burger like this in Karachi? I put that all behind me and took another bite. That's all in the past now. We've been saved and our prayers answered.
Much to my excitement, I found out that Easy is also doing Fatso's signature Lasagne. I've been very vocal about my Garfield like obsession with Lasagne so much so that I've written an article comparing several of the so called 'best' in Karachi, and each time Fatso had come up on top.
The quality of cheese coupled with the thick cut beef filling and béchamel sauce is honestly the best the city has to offer. Straight out of the oven, melty goodness that always leaves you wanting more.
These Lasagne has been my go to on both bad days and good days. When I was pregnant my husband bet me a pair of shoes I couldn't eat the whole serving. Guess who was walking around with fresh kicks the next day?
Did their infamous donuts live up to the hype?
Now even if you haven't heard about the rest of Easy's food, I'm pretty sure unless you've been living under a rock these last couple of weeks, that you've heard about Easy's donuts. I'm here to tell you that the hype is true.
Although trying to keep up with Karachi's bottomless appetite, Easy is falling a little behind and I usually seem to find the donuts all sold out.
I only take that as testimony to how good they are though, and if given the opportunity I too would buy out (and eat) their entire stock in one visit. Anyone who followed Easy's page prior to their opening knows how much effort Maha put into making these donuts scrumptious.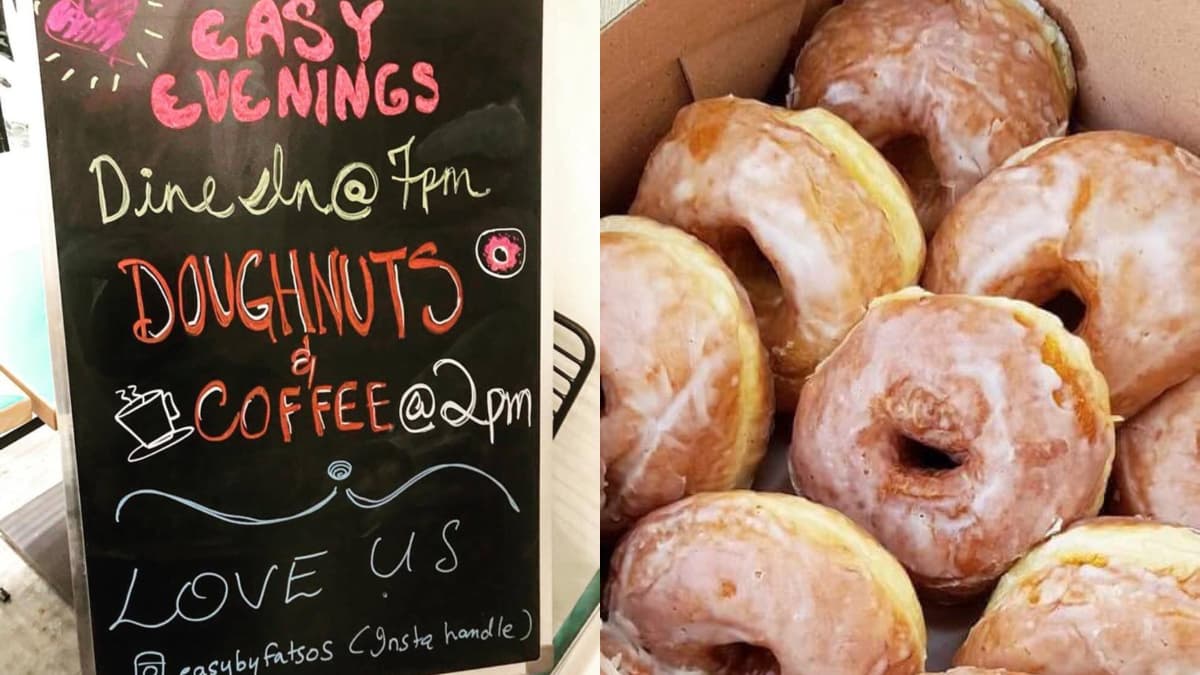 We would be teased with days of trial and error pictures in Maha's quest for making the perfect donut. And all her hard work and effort paid off, because these little pieces of heaven are in every definition of the word, perfection. Their glazed donut is enough to put Krispy Kreme to shame and that's no light praise. Every bite legit dissolved on ones tongue almost instantly.
The raspberry sriracha was inspired. I was dubious about trying such a random flavour combination, but I'm glad I put my faith in Easy and tried it out. The almost tart raspberry clashed perfectly with a hint of the sweet, spicy kick of the sriracha.
The neutral playing field of the donut dough held the flavours together brilliantly. The creme brûlée donut was flambé from the top and filled with thick, rich creme pudding that oozes out in all the right ways.
Finally we tried the soft serve. I'm note entirely sure if the flavours are in rotation, but we got to have the matcha and mango. When it comes to mouth feel and texture, Easy has absolutely nailed it. It's thick, luxurious and decadent. Everything you'd want in a soft serve and more.
I would have liked the matcha taste to come out a little more strongly but before I could ponder on that, I realised my serving was all gone and I was already walking back to the counter like a zombie for a second round.
Easy is here with a bang and I only have two things to say in conclusion. My words and pictures don't do the place justice, you need to check it out for yourself.
And secondly, please pray for my waistline and wallet because I've found my new favourite haunt and I don't see anyone taking that top spot any time soon.
Email