After films like Cake and Motorcycle Girl, I had started to believe that there was a positive shift taking place in Pakistan's entertainment industry, a shift where we were finally getting female characters that have some depth and aren't just a tool to move the plot forward.
Then in came Wajood and I took it all back.
Going in to see Javed Sheikh's directorial comeback, I was fully prepared with everything said about the movie. Javed Sheikh described it as an unpredictable and 'violent love story' (oh no) and Danish Taimoor spoke of it being a great entertainer for the family. The two points contradict each other but let's see what all the fuss is about.
Danish Taimoor plays Faizan, a pilot who has returned to his hometown Karachi for a friend's wedding. He is a big shot who earns $35,000 (we are reminded of that ever so often) and is pretty content with his life so far.
Enter Saeeda Imtiaz as Aarzoo. She trips, Faizan catches her, they burst into song and dance and he's in love. But unfortunately Aarzoo is betrothed to another. Faizan does all in his power to win Aarzoo's heart, unaware of an old flame plotting against the two's happiness.
Warning: Spoilers ahead
Faizan tries to win Aarzoo's affection by stalking her excessively
I'm not even going to go into the fact that Faizan knows nothing about Aarzoo but is madly in love with her.
Aarzoo is already baat pakkofied to another, but here's what Faizan thinks of that. "Baat hi pakki hui hai na, shaadi tou nahi hui."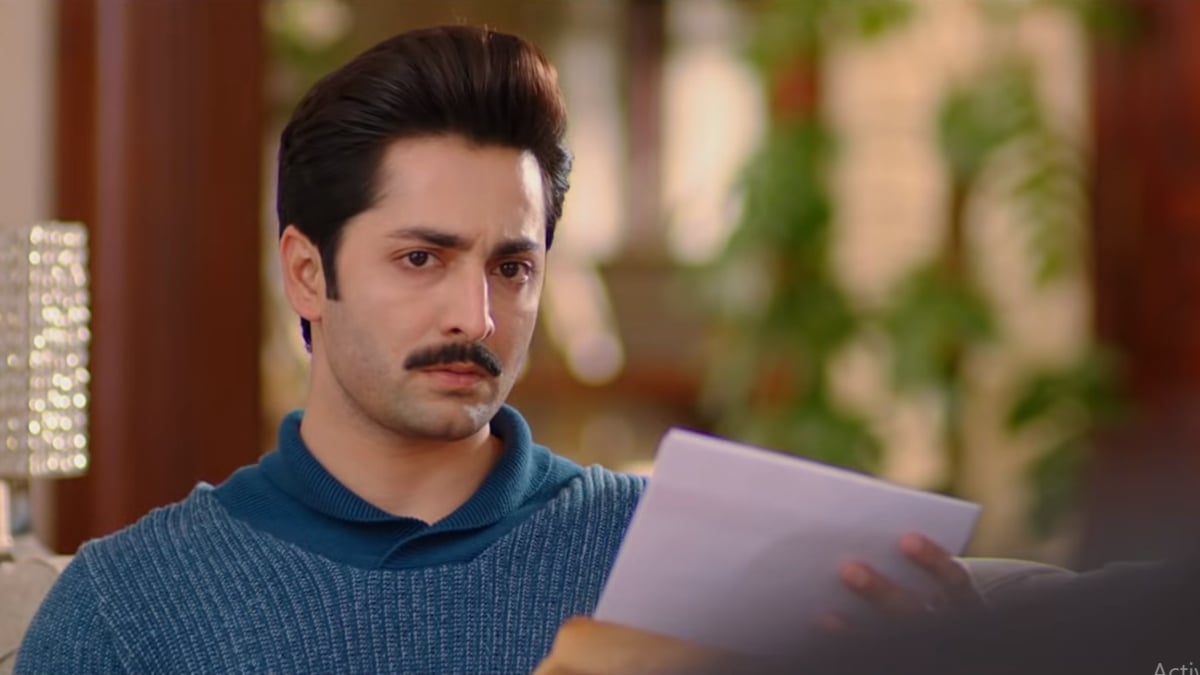 He then pursues Aarzoo by showing up every where Aarzoo is. He shows up to where she's having lunch and just sits with her. He tries to hold her hand at the mall. He even tries to pay for her clothes when she's shopping. He doesn't offer, he just tries to throw his cash at her. That's weird. And it upsets her. Because it should.
20 minutes into the film and I was having horrible flashbacks of Chain Aye Na. It's 2018 and the entertainment industry still thinks its okay to show a man borderline harass a woman to win her heart.
Faizan also makes a grand confession of love where he claims no one will love Aarzoo as much as him and all I could think was "Do you even know her last name?"
Props to Aarzoo for staying firm on her 'no'. Because, no means no.
The downplaying of stalking as just a slightly aggressive form of wooing is inexcusably irresponsible, particularly at a time when our news cycle is replete with stories of women being subjected to violence by men they reject.
Of course Aarzoo eventually does change her mind and marries Faizan after he takes a beating from some goons for her (which could have been done better honestly. Those guys were actually just driving through and there was no set up of them having the intention of harming anyone there) but oh well it was done the halal way, with Faizan's parents and friends going to Aarzoo's parents.
Aarzoo is shown as a strong career oriented woman... until she gets married
Aarzoo has a dream project, she's an ambitious gal who doesn't want marriage to stop her from achieving all her career goals as an advertising exec. She even has a sharp answer when her friend Sara asks her why she is working so hard even though she's about to get married.
But Aarzoo gives it all up for Faizan and we never get an answer why. She also transforms from a strong independent woman to a sweet stereotypical wifey, moving to Turkey with no confirmation if she'll get a job there.
Filmmakers need to understand that if they want to present convincing representations of strong, independent women, they need to do more than have their character pay lip service to that end.
Saeeda Imtiaz could have done a better job portraying Aarzoo. She lacked expression in her voice, sounding very monotonous in most scenes. However, I do believe a major problem with Aarzoo's character is the script using her as a motivational device instead of giving her depth. Like I said, Faizan knows nothing about Aarzoo except what she does, and to an extent, neither did we.
It seemed like the writers did not know how to carry on a romantic story with a strong female lead. They have a premise for a character, fierce and ambitious, but somehow she morphs into the very maasoom gharelu larki she was suppose to be different from.
There were times where I'd be going "Go Aarzoo!" and immediately afterwards I'd say "No Aarzoo!"
Faizan is stuck in a love triangle that he doesn't want to be in... but still is?
After marrying Aarzoo, Faizan gets an amazing job offer in Turkey. He moves there only to find out that the CEO is his ex. Jessica (Aditi Singh) hires him as a ploy to be with him again.
Now, you may think this is a crazy ex-girlfriend situation which Wajood was using to have us sympathise with Faizan but Jessica's story actually had us frustrated at Faizan.
Faizan and Jessica were in a relationship. Faizan had to take a week-long trip back home during which he claimed he'll speak to his parents about marrying Jessica. This was seven years ago. Through out the film we never get any justification from Faizan as to why he ditched her.
While many of Jessica's actions are questionable, there's no denying Faizan ghosted her and that is not cool. He changed his number, never contacted her and left her broken. Jessica was also not a looker back in the day but now she's worked on herself because "Andar ki khoobsurti ko reject kar diya."
I dunno about you, but if someone rejects someone for their looks, they aren't good people to begin with.
Jessica, while making a huge name for herself and earning her success, does it all for Faizan. If I was Jessica's friend, I'd give her Beyonce's Lemonade and tell her to move on.
While I saw Karma hitting Faizan back when Jessica says "Shaadi hui tou kya hua? Talaaq de do," I was constantly questioning why Faizan was putting up with Jessica's advances while maintaining his stance on not divorcing Aarzoo.
Jessica has some leverage on Faizan that renders him helpless in the situation but he could have told Aarzoo, or his family, or his best friend. He could have tried to get out of it. But instead he is attentively listening to Jessica explain how there are other options than divorcing Aarzoo. Read: killing her.
And yes, we are shown multiple murder fantasies of henchman killing Aarzoo in the most gruesome way. Faizan says no to the murder, but nothing more.
This struggle of Faizan made me annoyed that even a female antagonist in a movie has very little depth and is a motivational ploy for the protagonist.
Is it so difficult to write strong female characters with motivations of their own?
Javed Sheikh has a bias... towards himself
You'd think with Javed Sheikh directing the film himself and not showing up for a good hour and a half of the film would mean he would not pull too much attention to himself and keep the movie going. But it is not so.
Sure, Sheikh keeps the movie going but you get the idea that now its HIS movie. He plays Steve Rock (I know right?) an investigator in Turkey who is solving a crime. His entrance in the film will make you forget about the movie altogether because of the way its shot, full of slow motion effects and very focused angles.
He even has his own OST.
It reminded me of Wonder Woman from BvS but there is no Batman or Superman in Wajood. So basically, just Wonder Woman leaping in the last segment of a random film. And I don't think Steve Rock is getting his own film for an entertainment universe. I digress.
Javed Sheikh said there would be no item song in the film, but there was
Hey Javed Sheikh, here's the difference between a dance number and an item song. A dance number celebrates the music and the story-line while an item number is a highly sexualised song where a woman's dance is more about objectifying her than her dance skills. Guess what Aditi Singh's dance fell under.
Here's the thing, I love a good dance, heck I love all the Step up movies. But an item number where a woman is aggressively all over a very unresponsive man is just not it. It reminded me of movies that came on Filmazia. You know what I'm talking about.
The song was unnecessary, awkward to watch and had us screaming "But why is Faizan there?"
Wajood made me question the value of such a movie
The makers of Wajood cannot get away with saying this film is an entertainer. Even when its called a violent love story, the film lacked a theme that bound the movie together.
While I don't think every film needs to have an important social message, I do believe there is a purpose to every plot. Be it to show a family, friendship or highlight a point of view, there is something that ties the whole thing together. In fact we just had Cake show a story of a family without any higher social message but still have a strong theme about relationships. Wajood lacked that greatly.
There is no point in the film where I see a character progressing. I was hoping to see Faizan confide in Aarzoo and if nothing else, realising that he now has a partner to rely on. Or Jessica coming to terms with not having the love of her life and learning how to move on.
What does the audience take away from this movie? And does it even make an impact in the Pakistani entertainment industry? I don't think so.
The film does have its unpredictable moments, but does it really work out?
Jessica has leverage against Faizan, but we don't find out until the last ten minutes of the film. Javed Sheikh's character pops up when things have escalated too quickly and but then continues to pop in and out without explaining what he's up to.
The director did say the film is unpredictable and they made sure to keep all the surprises even with the trailer out, but all I was left wondering was if it all was necessary.
Wajood feels like two different movies mushed together in one. The first half is a story of a man acquiring the woman he loves, albeit through distasteful means. The second is a messy thriller that raises more questions than it answers.
The threat Jessica had given over Faizan seemed like a last minute addition to justify his staying. While I'm glad they justified it, I did not like the way it was treated. In fact, Jessica herself seemed like an addition to keep the movie unpredictable. Such a revenge loaded love story would have made more sense if Aarzoo's previous beau was unhappy at their rishta being called off. We never see him in the whole film by the way.
Wajood is not an entertainer for the family
Danish Taimoor called Wajood a family friendly entertainer and I cannot imagine bringing children to this film.
While Wajood made me question the integrity of the film censor board (How are some things deemed vulgar but some just allowed?) I was more concerned about the U rating of this film.
Its not just about the item number. The romantic songs with Faizan and Aarzoo had them be too close for comfort and I highly doubt parents here would be okay with the topic of pre-marital sex being discussed in front of their children. Because a lot of the film's plot is based on that.
A film can be an entertainer and can have its limitations. I remember Verna having an age restriction in the cinemas for its very adult theme. Even Deadpool 2 was rated 16+ despite being censored and who is the biggest audience for superhero movies?
The life lessons in Wajood are the last thing I want impressionable children to be subjected to. No kids, you should not stalk a woman to win her heart. No kids, a woman's life does not revolve around a man and they need to be respected for the individual beings they are. And no kids, if someone is causing you trouble you shouldn't resort to murder!
Email