The Royal Wedding aka Prince Harry and Meghan Markle's nuptials was a star-studded affair to say the least.
And all 600 guests adhered to an apparently strict dress code: on the the invitation, it said "Uniform, Morning Coat, Lounge Suit, Day Dress with hat".
Yellows, pale pastels, well-stitched suits and florals were all spotted at the elaborate affair but who won the style game? And to get reallllly specific, how did some looks fare when they faced off against a rival?
Best headwear: Kitty Spencer or Serena Williams?
Us mere mortals never get a chance to to play around with elaborate hats or fascinators without looking too extra but royal weddings like these give us the perfect opportunity to at the very least judge others who do.
Kitty rocked some gorgeous emerald green headwear that stood out while Williams' pale pink fascinator was also a slam dunk. We're spoilt for choice!
Worst headwear: Gina Torres or Charlotte Riley?
While we were rooting for Markle's Suits co-stars, Gina's fedora just left a lot to be desired whereas Riley's clashed with her dress and even on it's own just looked plain tacky and busy.
Best shoes: Victoria Beckham or Jacinda Barrett?
Victoria might have looked ready to attend a funeral rather than a royal wedding in this get-up but these shoesies might just be her saving grace.
Jacinda, on the other hand, donned classy strappy black heels that are a little business but also a little party. We approve!
Worst shoes: Priyanka Chopra or Delfina Blaquier?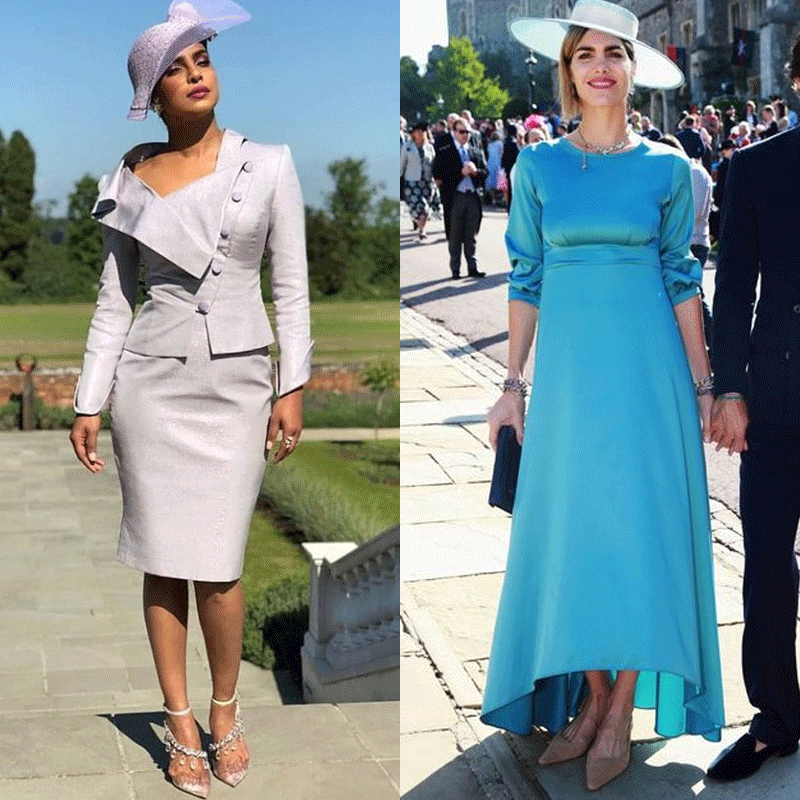 While this wasn't spelled out on the invitation, according to palace etiquette experts, guests are expected to wear closed-toed shoes.
Chopra pushed the envelope a little by donning clear Jimmy Choo heels but they were clearly a size too small for her and just scrolling through pictures involves a lot of secondhand discomfort.
Don't even get us started on Delfina's blah beige shoes; you can do better girl!
Best suit: Idris Elba or David Beckham?
The thirst is real, how could we possibly pick one? You guys do it, we're digging 'em both:
Worst suit: George Clooney or James Corden?
Clooney has been the resident silver fox in our lives for a while now but this dad suit just isn't cutting it.
Speaking of dad suits, late night show host James Corden also opted for a suit that wasn't for him; it didn't fit well and he almost looked like the supervillian Penguin, all that was missing was a top hat!
Best sunglasses: Elton John or Oprah?
You'd think sunglasses would be a staple at a day wedding but surprisingly not many guests impressed in this department. However, Elton John obviously wore his statement glasses, as he always does and we had to give a shout-out to Oprah too for timeless but spunky brown frames.
Again, how could we just choose one?
Worst dressed: Chelsy Davy or Pippa Middleton?
If you're attending your ex's wedding, you gotta dress to the nines. Chelsy really disappointed us with her look. The dress was boring, the hat was a disaster and those shoes look like benign bumps on her legs.
Pippa Middleton wore a floral number that would've made a better table runner and just wasn't wow enough for the event.
Best dressed: Amal Clooney or... Amal Clooney?
No other attendee even came close. Amal Clooney, looking like a ray of sunshine in a canary yellow Stella McCartney dress knocked it out of the park. From the hat to the makeup to THAT dress and golden shoes, she's leading any and every Royal Wedding best-dressed list.
Email