"If this can happen to someone like me, an established artist, then it can happen to any young woman," says Shafi
Popular singer, model and actress Meesha Shafi took to Twitter today to allege that musician and actor Ali Zafar subjected her to sexual harassment on more than one occasion.
"Today, I speak up because my conscience does not allow me to be silent anymore," said Meesha in her statement. "If this can happen to someone like me, an established artist, then it can happen to any young woman hoping to break into the industry and that concerns me gravely."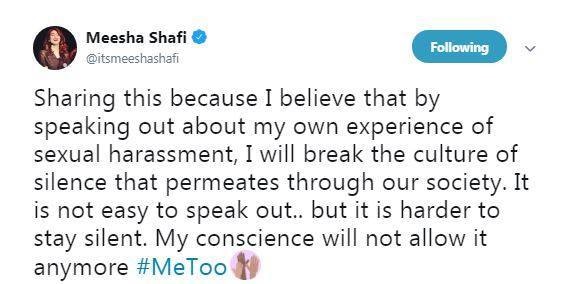 She continued: "I have been subjected, on more than one occasion, to sexual harassment of a physical nature at the hands of a colleague from my industry: Ali Zafar. These incidences did not happen when I was young, or just entering the industry. This happened to me despite the fact that I am an empowered, accomplished woman who is known for speaking her mind! This happened to me as a mother of two children."
Ali Zafar has responded to Shafi's allegations of sexual harassment on Twitter, saying that he categorically denies "any and all claims of harassment lodged against me by Ms Shafi". He added that he intends to take the matter to court.
Shafi is a prominent figure in Pakistan's entertainment industry: she has featured prominently in Coke Studio, in international cinema like The Reluctant Fundamentalist, and local drama serials like Mor Mahal. She is a vocal supporter of human rights; she featured in UN Women Pakistan's recent campaign that aimed to raise awareness about violence against women, and on social media she has also come out in support of the #MeToo movement.
Zafar is known for well-known musical tracks like 'Channo' and 'Rockstar', his appearance in Bollywood films like Tere Bin Laden and Kill Dil, and he will be starring in upcoming production Teefa in Trouble. He is also a regular fixture on Coke Studio and is a sought-after artiste for large-scale events such as Lux Style Awards and PSL.
Though several Pakistani celebrities have come forward to reveal their personal experience of child sexual abuse as part of the #MeToo movement – most notably Frieha Altaf and Maheen Khan – Shafi's statement accusing Zafar of harassment is the first instance of a Pakistani entertainer publicly calling out a peer for sexual misconduct.
Prior to this, in the small, interconnected and close-knit community that is the Pakistani entertainment industry, rumours of misconduct floated around through "whisper networks" and public confrontations were rare.
Speaking to Images, Shafi says: "When the incident happened, the very first person I told was my husband. Shortly after that I spoke about this incident to someone on my team, and one of my friends."
Speaking of her own anxiety about coming forward, Shafi says: "It shouldn't be this difficult to speak out when one is in the right. As parents, we tell our children to speak up if somebody touches them inappropriately and that it is never their fault. So why is it this hard to do the same? One shouldn't have to be this brave to report sexual misconduct. I've had support around me, I consider myself an empowered woman, and I still had such a hard time with this decision. By speaking up I hope I'm able to break this chain of hesitation that holds us back from speaking up. I'm doing this not only for myself, but also for people who might be watching me, especially young women, who have the right to enter any professional or communal space without fearing harassment."
Images got in touch with Shafi's mother, actress Saba Hamid, who supports her daughter's decision to speak publicly.
"I am totally behind my daughter and I support her," says Hamid. "I'm hurt and angry and I feel very strongly about this. That this can happen with someone like Meesha who is so empowered is a rude awakening."
"Previously, women weren't even allowed to speak up about things like this. This has to stop. We need to tell our men this is not ok. No matter how minor or major harassment is, it leaves a scar. To heal this wound one has to talk about it," she continues.
---
This is a developing story and will be updated to reflect latest news.