Shehla Chatoor has always been extravagant – with a penchant for details, flora, butterflies, glimmer, glamour. And one knew that her first solo outing would pack in the whole shebang, delivering not just a show but an experience.
The collection was titled 'Nur-e-Alaleh' which means 'light from a heavenly flower' and following the theme, the models walked through an enchanted forest to lilting music. There were pigeons suspended in the air, clusters of chrysanthemums dotted about the astro-turfed catwalk and winged, feathered installations everywhere. There were sparkling Swarovski crystals, heavy trails and swathes upon swathes of extremely delicate hand embroideries. Classic Shehla.
But perhaps a solo show needs to be like this. Unlike fashion weeks, it is a show that needs to get people's attention on its own merit rather than rely on a stellar multi-designer lineup. It needs to move beyond showcasing apparel towards reflecting a designer's signature aesthetic. The entire audience, media and society's crème de la crème, is there just for that one designer – the show needs to give them something to talk about.
This, Shehla managed to achieve. The turnout at her show was exemplary, a far cry from the lackluster red carpets one encounters at fashion weeks. It just goes to show that crowds are drawn in by designer clout rather than just any fashion event.
This was Karachi's fashion fraternity coming together to support each other, from Fashion Pakistan Council stalwarts Feri Rawanian, Maheen Khan, Aamna Aqeel, Obaid Sheikh and Nauman Arfeen to upper-tier designers like Umar Sayeed, Maheen Karim, Amir Adnan, Huma Adnan, Wardha Saleem, Nubain Ali, Zaheer Abbas, Adnan Pardesy, Safinaz Munir with her team and bridal couturier extraordinaire Bunto Kazmi.
Add in an elegant smattering of celebrities – Sana Bucha, Hareem Farooq, Asim Raza – and the event was a veritable Instagram fantasy. Shows as well-attended are few and far between.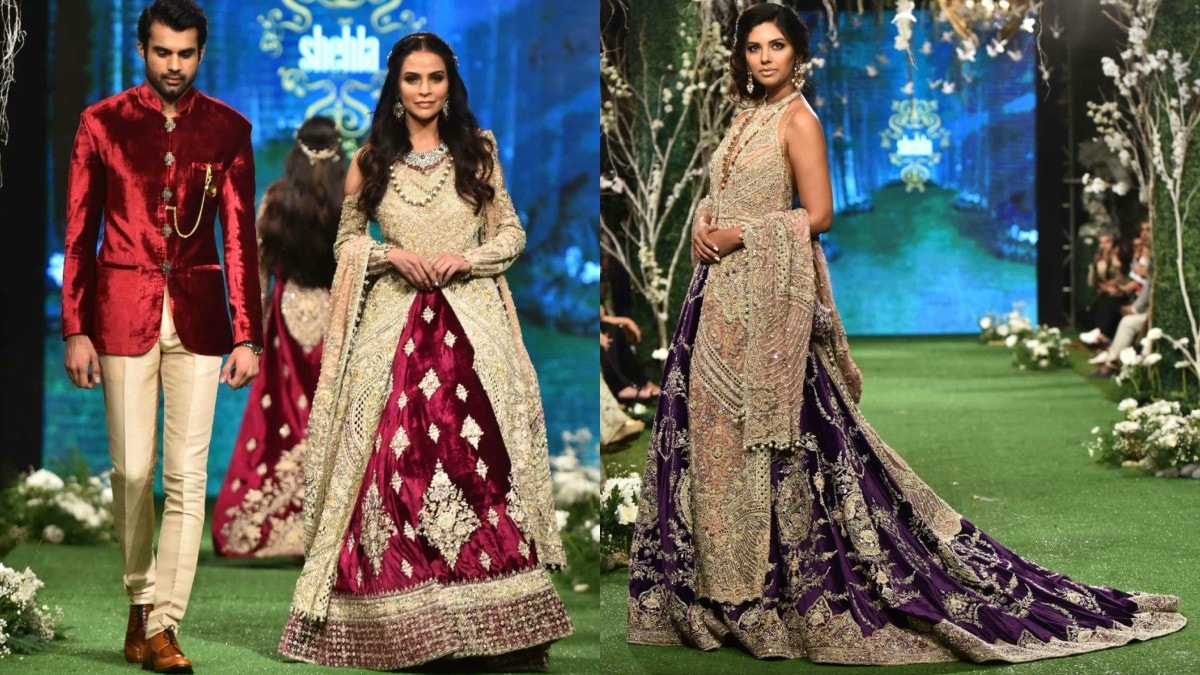 But what of the clothes? Did they make impact? Mostly yes.
The heaviest bridal wear was most exquisite: Fauzia Aman dazzling in maroon and gold, Sunita Marshall in a gorgeous violet lehnga paired with an ivory backless shirt, Sabeeka Imam in a play of pastel florals and panels running down the length of the shirt, Fayezah Ansari swaggering in a midnight blue suit and Amna Ilyas in a cape and a fitted skirt with a standout feather trail.
There were layers of raffia, tulle, feathers and layers. Shehla's forte has always been her dedication to the most minute hand embroideries and they took center stage on a predominantly nude palette set off by jewel tones.
There were elaborately worked clutches complementing the clothes and shoes by Sophia Webster, sent in especially by the brand for the show. It was a first for Sophia Webster to be part of a fashion show in South Asia and one had looked forward to seeing the shoes on our catwalks. They weren't very visible, though, most of the time – perhaps that's just not possible with our wedding lehngas.
Nonetheless, these were designs that any bride – or her wedding-bound family – would love to own. Perhaps the one outfit that was purely there for drama rather than wearability was the finale number worn by Mehreen Syed, a gown with an extremely heavy trail that made walking very difficult. Ever elegant, Mehreen carried it with a smile – and a few heavy breaths here and there!
And then there were the designs that weren't as impactful. There were clothes that played it far too safe.
Sadaf Kanwal's powder blue lehnga may look great at a wedding but it didn't really make impact on the catwalk. Amna Babar's boxy shirt could have fitted better. The fully embellished shirt worked with ruffles on Rubab Ali was ill-conceived.
Also, the use of velvet, at the very onset of a longwinded Pakistani summer, was odd. Some of the capes and blazers were also very wintry – the one worn by Alizeh Gabol, for instance. Was Shehla defining trends for her design house for the year to come rather than the current ongoing season? A few more slinky sleevlesses, lighter fabrics and a greater improvisation with cuts could have helped diminish some very wintry looks.
It was all beautiful but one missed the fierce statements that have always been quintessential Shehla.
It was a memorable show, nonetheless – for the glamour, painstaking attention to detail and designer clout it exuded. Flying solo is a hard thing to do – and Shehla Chatoor managed well.
Email