Time to hit Day three of the Karachi Literature Festival!
In case you missed out on our Day 2 coverage click here. You can also check out our recommendations for must see sessions here.
Team Images is here at KLF 2018 and we'll be giving you the lowdown of everything thats happening in real time. Stick with us to stay up to date.
---
5:00: Play 'Art'
Time to watch a play! Lahore Amateur Theatre Zealots presents Art: A Play by Yasmina Reza.
---
4:50: Launch of 'Uljhay Suljhay Anwar'
Writer Imrana Maqsood sits with Anwar Maqsood and moderator Asif Noorani.
---
4:50: Entrepreneurship today
Nadeem Hussain, Amir Adnan and Hareem Bari sit with moderator Vaqar Ahmed in session Entrepreneurship today: Start-ups and Angel Investors.
Hareem Bari has her toddler sitting with her and they look so adorable!
Says Amir Adnan, "When I was growing up, this word didn't exist. You'd either be a doctor or engineer, if you weren't intelligent enough, you did commerce and if things are really bad, you go into the arts."
Nadeem Hussain points out, "65% of people are under 25; there simply aren't enough jobs. We have to look towards entrepreneurship now otherwise we'll lose our demographic opportunity."
---
4:40: Book launch of 'Cityscapes of Violence in Karachi'
Author Nichola Khan sits with Arif Hasan, Nida Kirmani, Nadeem F. Paracha and Razeshta Sethna sit with moderator Kamran Asdar Ali to discuss book Cityscapes of Violence in Karachi: Publics and Counterpublics.
---
3:47: Salman Ahmed makes an important announcement
Salman Ahmed announces that Junoon will do a 25 year reunion this year!
He also performs live for the audience.
---
3:45: The Literary Traditions of Sindh
The session got rather delayed but participants Jami Chandio, Syed Sardar Shah and moderator Izhar Soomro are finally here.
Says Jami Chandio, "Most literary traditions are as dated as the language in which they are written. But unfortunately, we have no documentation of the earliest Sindhi literature. Our first records of Sindhi literature are from the Sumho Dynasty in the mid-11th century after the departure of Arabs from the region."
"With the arrival of English in the subcontinent, Sindhi lit saw an explosion of new ideas and topics, borrowed from English, French and Russian literature," says Chandio.
---
3:40: Sheeshay ka slipper
Zambeel Dramatic Readings perform on Ibn-e-Said's Mehwar and Roshniyoun Ka Shehar
---
3:35: The Impact of Pop Culture on Pakistani Society and the World
Amin Hashwani has a conversation with Salman Ahmad in session Dil Dil, Boom Boom, Jazba Junoon: The Impact of Pop Culture on Pakistani Society and the World.
"Growing up as a teen in America, I was cut off from Pakistani culture, so the first Pakistani hit I heard was Nazia Hassan's 'Aap Jaisa Koi'. If I hadn't seen her I wouldn't have considered being an artist," says Salman Ahmed.
Says Salman, "We have to decide as a nation, how do we define ourselves. We can't define ourselves by our nuclear bombs. We should define ourselves with our soft power, our music and humour and fashion and food and film."
---
3:30: When money talks
Ishrat Husain, Salim Raza, Y Venugopal Reddy sit with moderator Kaiser Bengali and this session has a surprisingly large male audience, more than usual. Hmmm.
---
2:30: Indian Poetry in English
Rosinka Chaudhuri sits with moderator Ilona Yusuf in session Does Indian Poetry in English have a History?: Reasons for Marginality
Says Rosinka on the importance of literary criticism, "Writing poetry and getting it published into individual volumes or compiled into anthologies is one thing. However, unless we have scholars interpreting and documenting those works of poetry, even poets don't have a sense of what they're part of."
---
2:21: Love thy neighbour
Mani Shankar Aiyar, Ashraf Jehangir Qazi and Asad Sayeed sit with moderator Khalida Ghaus to talk about relations between India and Pakistan.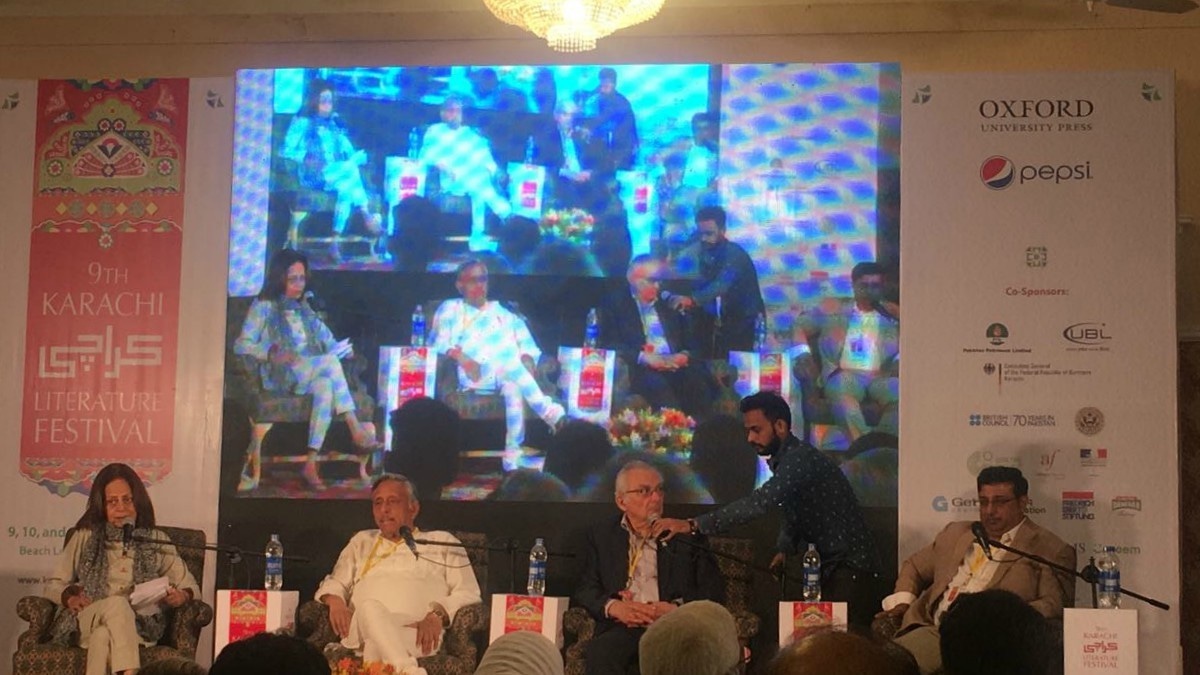 "It was about 20-25 years ago, that this sentence came to me that there is only one way to resolve India Pakistan issues and that is by uninterrupted and uninterruptible dialogue. And I'm very proud and half very sad that this phrase has been accepted as Pakistani policy but has not been accepted as Indian policy. With an audience in your country and not yet in my country," says Mani Shankar
---
2:15: Generation and Genres
Asif Raza Mir, Samina Ahmed, Zain Ahmed, Mehreen Jabbar, Sarmad Khoosat and Irfan Khoosat sit with moderator Khurshid Hyder to talk about drama and change.
Says Asif Raza Mir, "Actors don't get enough time with the script, you just get an outline. And when you finally start grasping the material, you find out that the show needs to go on air soon so you cant really do your characters justice, we're not doing teamwork and sitting down with the directors and producers."
Says Sarmad Khoosat, "20 years ago, we had all kinds of dramas and genres, now people aren't experimenting, they continue doing what gets the ratings. We are not evolved enough I feel."
---
1:45: Beloved Delhi
Arfa Sayeda Zehra sits with Saif Mahmood and Sania Saeed in session Sneak Preview: Beloved Delhi : A Mughal City and Her Greatest Poets by Saif Mahmood
According to Arfa, "There are lots of poets in our country, but no one can ever be Ghalib."
"The Mughal's knew one thing, how to give. They have us poets, they gave us themselves," says Arfa, adding, "I don't think Urdu belongs to a group, or a country, it's something the Mughals brought with them."
---
1:30: Book launch of 'From Mountains to Mangroves of Pakistan'
Author Rina Saeed Khan sits with Rab Nawaz, Babar Khan and Javed Jabbar to discuss book From Mountains to Mangroves of Pakistan: Protecting Pakistan's Natural Heritage.
Says the author, "I wrote this book for Pakistan's youth."
Adds the author, "The Khunjerab National Park used to be wildlife area but the newly renovated Karakoram Highway has increased traffic. Tourists are arriving in bigger numbers and leaving behind garbage, etc."
---
1:27: Book launch of 'The Quest Continues'
Author Amardeep Singh sits with moderator Zulfiqar Ali Kalhoro on his book The Quest Continues: Lost Heritage: The Sikh Legacy in Pakistan.
Says the author, "Partition did not just impact Hindus, Muslims, Sikhs, Parsis, Christians but also atheists."
He adds, "Documenting these books for future generations has been the most fulfilling journey."
Says Amardeep Singh, "I thank the people of Pakistan, they understood my quest, they embraced me. In a span of 30 days, I had traveled to 36 cities and villages in Pakistan. I call myself an accidental author. I was a finance professional and I just stumbled onto this journey. I really wondered, why hadn't anyone before me done this before?"
He says, "Im appealing to the government to save heritage sites, remember that heritage has no religion."
---
1:25: Book launch of 'The Impact of Afghan-Soviet War on Pakistan'
Author Imrana Begum sits with Asad Sayeed and moderator Sarosh Hashmat Lodhi to discuss new book.
Says the author, "My book is written on the crucial decade in the 80s when soviet troops entered Afghanistan. Afghanistan has always been a buffer state for Pakistan, but when soviet troops entered it was a buffer no more."
"Pakistan was central to the political economy created by the war effort in Afghanistan. American resources were supplemented by the drug trade. This has enhanced the informal economy in Pakistan. Obviously with American money and drug money there was nothing on the books," says Asad Sayeed.
---
12:50: A writer's Odyssey
Muneeza Shamsie has a conversation with Amit Chaudhuri.
---
12:40: Behnain aur Baatain
Bushra Ansari, Neelam Basheer, Asma Abbas and Sumbal Shahid sit with moderator Asif Farrukhi in session Chaar Chand: Behnain aur Baatain.
Says Neelam Muneer, "I'm not trying to be preachy, but I have kids too and I'd like to say, Don't keep your children away from art and culture, that's what softens their hearts."
---
12:30: The flames of separation
Anam Zakaria, Sheela Reddy and Nauman Naqvi sit with moderator Kamila Shamsie for this session.
"You cant escape Jinnah no matter which side of the border youre on, he continues to fascinate," says Sheela Reddy.
Kamila shamsie asks Sheela Reddy if it feels transgressive to be Indian and to be spending so much time investigating Jinnah, to which Sheela says yes.
Says Sheela, "Sheela: I remember growing up venerating Gandhi and then I read more, I read his letters and I realised he's not all I thought he was. And that was disconcerting."
About crossing the Wagah border, Sheela says, "You feel some kind of healing taking place when you physically connect with the other."
Nauman Naqvi says, "It would not be in the interest of any indigenous government to divide a country into a kind of apartheid... It is only a hallmark of colonial government."
A Pakistani Hindu raised an important question about the session and KLF as a whole; "Why are there no Pakistani Hindus in these panels?"
---
12:25: The Punjabi Muse
Harris Khalique sits with Amarjit Chandan, who is in Karachi for the first time!
"I've gained my rozi roti through English, but Punjabi is my passion," says Amarjit, adding, "I firmly believe poetry can only be written in your mother tongue."
Says Amit, "I look upon creative writing courses with suspicion because I myself am not a product of one."
---
12:15: Poetry from Germany
Arsalan Isa and José Oliver join session Sandscript – Poetry from Germany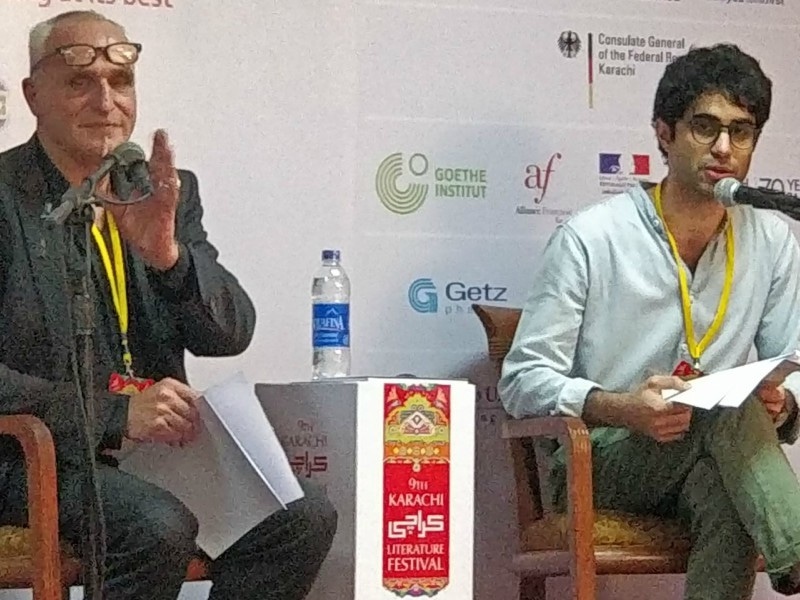 Says José, "In Pakistan, I have seen many smiles. On the German border, if I'm asked if I have anything to declare, I will say, yes, I think I brought back too many smiles from Pakistan and will see what they have to say. They'll call me a smuggler of smiles."
---
11:40: Book launch of 'Interior Design of Pakistan'
Author Maria Aslam sits with Shahid Abdullah, Naheed Mashooqullah and moderator Iftikhar Azam to discuss her book, Interior Design of Pakistan.
"With Interior design, we've only scratched the surface, people still haven't understood it, they see it as interior decoration," says Shahid.
Naheed adds, "Since I started architecture in '93, we've come a long way. There was little to no awareness, and now it's been doing remarkably well."
Author Maria says, "The book also scratches the surface, but people are thinking and the designers are thinking. So it's evolving."
She adds, "Interior design is an industry which is rapidly happening. Everyone is thinking about it. It is the consciousness we need to work on."
---
11:25: Italy Reads Pakistan Award
Omar Shahid's The Spinner's Tale is the winner of the Italy Reads Pakistan Award.
The author sat in a panel along with Anna Ruffino, Ameena Saiyid and moderator Bina Shah.
Says the winning author, "To make it believable you have to put yourself in tour characters' shoes. You have to go in a dark place and it's not always comfortable. But you want to do it because you want to do justice to your character."
Anna adds, "Don't stop yourself from humanising your characters and showing their dark side because at the end of the day we're all humans."
---
11:15: Adeeb ki gawahi
Asif Farrukhi has a conversation with popular TV writer Noorul Huda Shah in this session.
Asif Farrukhi asks why Noor has stuck to TV, didn't write a novel, to which she replies, "TV dramas are like a blanket that is difficult to leave."
An audience member asks Noor, "I feel that Sindhi and Urdu speakers need to be unified, like Nelson Mandela united black and white people. How can we unite our people?"
Noor answers, "I seek to eradicate those differences through my work. Urdu and Sindhi are both my languages. In India, Urdu is plagued by problems but it is blossoming in Sindh. In 70 years, one generation is almost gone and the second, third, fourth generation remains. We all have to move forward and embrace each other."