I learned how to roll sushi this weekend, and I can't wait to do it again
I'm a die hard foodie who loves to eat and likes to cook a little too, but the most fancy I have ever been in the kitchen was maybe that day when I made Chinese style pakoras off a YouTube tutorial.
I had always thought making something as intricate as sushi from scratch would require a lot of training, skill and years of practice. So when I found out that this new place called MasterClass Pakistan was offering a one day all-you-can-learn (and eat) sushi class, I was definitely intrigued.
I am all about fine dining and trying cuisines from all over the world, so devouring sushi was something that came almost naturally to me. Making it would not be so easy, and I was prepared for that.
MasterClass Pakistan, however, said they were offering a hands-on sushi-making experience that anyone can attempt at home as well, and this was a one-of-a-kind class that had not yet been done in Pakistan.
We would each get a fully equipped station with that signature MasterChef like feel. Instead of observing and taking notes, we would be doing every step all on our own – from boiling the rice to filleting the fish. At the end of the class, it was promised that we would walk away with five types of Nigiri, six variants of Maki, and even recipes for authentic sushi vinegar and Gari.
Not wanting to waste any time, my friend and I booked a slot each, eagerly looking forward to binge eating California maki and sake nigiri the following day.
The location
Nestled behind Bait-ul-Mukarram Mosque on Main University Road, the studio is conveniently located on the main street, and its red board is easy to spot from a distance.
Walking in, I wasn't prepared for what I saw – the studio was like a TV set come to life. The space had a modern, colourful aura and open feel, with individual shiny counters, complete with induction cook tops, tiny fridges and neon cake mixers.
We were welcomed by a team who took our names and directed us to our respective counters, where we shamelessly spent the next five minutes looking at all the equipment, and going giddy at things like a bright pink mixer and a yellow cutting board. All the ingredients to be used during the cook were also laid out on our counters.
As we were waiting, we decided to chat with Osama and Abdul Hadi – the duo who run the studio – and ask them why they made an investment in this venture which might be a risky bet in long term.
The concept
Right of the bat, these guys tell us that they are not affiliated with the global MasterChef franchise in any way. Both the co-founders have worked in the food and restaurant industry, and explained that they saw a gap in the market when it comes to learning the tricks of the trade from the true culinary pros.
According to them, this setup is one of a kind in Karachi, with top-of-the-line equipment, as well as internationally renowned chefs on board as instructors.
The fee for one sushi class – a whopping Rs9,500 – might be a deal breaker for many though. Is it really affordable for the general public, I ask the two.
"This class is not targeted to the masses, rather those who are serious about learning these techniques in a professional environment," says Osama. "We have some of the leading chefs in the industry giving individual attention to every participant cooking in the class. For this sushi class only, each station has equipment and ingredients worth at least Rs15,000. We are investing money in every class we conduct, and want to provide a premium experience to people who are committed to learning the art of cookery."
According to him, the space opened a little over two months ago, but the response has been phenomenal so far. Apart from sushi, the studio offers classes dedicated to baking, French and Italian basics, and even special classes for kids. There are no restrictions for amateurs or professionals, though they are planning to introduce advanced classes for more in-depth learning soon.
"We have had housewives, teenagers, and even heads of some of the most popular restaurants in Karachi taking a class here. Plus, it's great to see so many men interested in learning!"
Looking around, I can see that Osama had a point. Half of our class comprised of male participants, and everyone looked excited to get cracking. During the introduction, a few admitted they had never tried sushi before, but were still eager to learn.
"People are now getting more adventurous with food in Pakistan and are not scared to try out and experiment with new cuisines," says Chef Faizan Rehmat, our instructor for the class. "Even five years ago, there weren't many restaurants with sushi on the menu, and some really good places even had to shut down. Today, it's a different story altogether, Pan-Asian and Japanese are some of the hottest cuisines out there."
The class
There were 10 of us in the studio, and we were all amateur cooks with little to no Japanese cooking experience. The beginning of the class was focused on a bit of theory – getting familiar with ingredients like Wasabi and Gari, etiquette of serving and eating sushi, and how to use chop sticks. The chefs even gave tips on where to buy authentic ingredients, what kind of prices to expect, and how to choose fresh produce.
They first taught us how to clean and blanch the Ebi (prawns) and prepare them for our nigiri and maki. This was followed by making the sushi rice, an integral component of Japanese cooking.
Gorgeous fillets of Tuna, Red Snapper and Salmon were provided to us next, and we had to slice them for our nigiri platter. Japanese cuisine is all about precision, finesse and respecting your ingredients, and knife work is where I struggled the most. I have to give it to the chefs here - they were super patient and very helpful, making sure everyone was on the same page and learning the techniques correctly.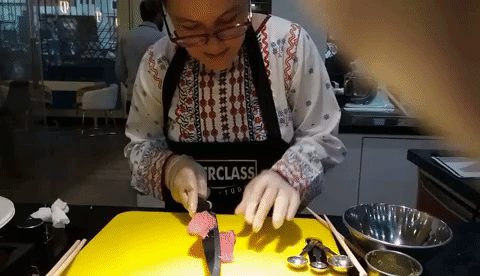 It goes without saying that we were "sampling" everything throughout and by that I mean we were sneaking. Can you blame us, though? The sushi fest was impossible to resist.
With nigiri out of the way, we moved on to the trickier lot - the maki. There was a lot of chopping and cutting, and this required a more detailed demonstration of using the sea weed and the sushi mat. Again, kudos to the chefs for doing individual training rounds with all 10 of us.
Verdict
It took six hours in total, before I returned home with a certificate, massive respect for sushi chefs around the globe, and a takeaway box of some delish sushi prepared by yours truly. Overall, it was an exhilarating, fun and therapeutic experience, and the individual attention and hands-on learning was unlike anything I had done before.
If I had any criticism, it would be that the class was way too long: it started at noon, and we got to leave around 6:30pm. The theory and initial demonstration bit was too lengthy. Perhaps it would have been a better idea to split this into two classes.
Also, the cost of the sushi class - Rs9,500 - might not be affordable for many. The other classes by the studio are relatively cheaper, but they mostly fall within the bracket of Rs3,500-7,000.
Did I enjoy it? Yes! Would I go back again? Definitely. I have my eyes on the bread and baking classes, where they are teaching not just cakes and pastry, but also French baguette and focaccia bread.
Details about the studio and the classes are on their Facebook page. I would highly recommend giving it a try, the experience of literally putting on a chef's hat is one that should not be missed!