Generation and Sania Maskatiya are a hit in this crowd
An individual's wardrobe is reflective of his or her lifestyle and nobody possibly understands this better than the working mother. Clothes need to be selected carefully so that they easily be dressed up or down, be comfortable enough for the school run while also applicable for the rushed meeting.
And if a woman has a career that keeps her in the spotlight, the demands of her wardrobe can become even more grueling.
Images talks to five women living high-profile, hectic lives in the limelight and how they balance out their wardrobes to suit their multiple roles as mothers and style-savvy career women…
Mahira Khan (actress):
Images: What are your daily wardrobe choices?
Mahira Khan (MK): When I am not working, you'll usually find my in jeans and a T-shirt. I can literally sleep in my jeans! I am likely to pass my days switching from one pair of jeans to the other, from blue to black to white, pairing them with comfortable T-shirts. At home, I am also usually in my pyjamas. I also wear a lot of shalwar kameez, especially all-white kurtas.
Even if I am going out in the evening, which is rare, I usually like to keep it casual. As an actress, so much of my time is spent being decked up in designer-wear and hair, makeup and clothes now feel like work to me. In my personal life, then, I rebel against my work persona! If I am going to a party, at most I may just wear heels!
Images: Where do you usually go to buy clothes?
MK: I often buy my Western-wear from abroad while I am traveling and it could be from any shop that I like. For my Eastern-wear, Generation has always been my go-to place since childhood. They have always had this all-white collection available that I love. I just make my routine visit there and get all the whites that I need for the season!
Images: How did your wardrobe choices change post motherhood?
MK: My wardrobe didn't change at all post motherhood! I have always believed in dressing comfortably and I continued to do so after my son was born. I think the only time my personal style went through a drastic change was when I started off my acting career.
Earlier, when I was VJ-ing, I had a very bohemian style and I liked wearing a lot of rings. Now, I am dressed up most of the time for work which is why I rarely ever accessorize in my personal time! I do like working on my personal style, though, when I am abroad on vacation!
Meesha Shafi (Singer/Actress)
Images: What are your daily wardrobe choices?
Meesha Shafi (MS): My day to day wardrobe depends on the weather and my to-do list. For instance, if I am just lounging about and being a homebody you'll find me wearing a lot of loose layered organic fabrics like cottons and muslins with leather chapals.
During the summer, I tend to go back to my bohemian roots and beat the heat with comfort and functionality. If it's cold, my daily sartorial choices tend to lean towards athleisure with a preference for track pants, sweatshirts, hoodies, bomber jackets, boots and sneakers.
Images: Where do you usually go to buy clothes?
MS: I don't frequent the same shops every time that I go shopping. It's good to explore and discover new boutiques around and curate an eclectic wardrobe. I prefer it to buying whatever is flooding the high street shelves per season. for me, the styling happens during the hunt.
Having said this, staples like Zara and Topshop offer great fillers and disposable trends which don't necessarily need to be investment pieces or be too timeless.
Images: How did your wardrobe choices change post motherhood?
MS: After becoming a mom, I've almost completely stopped wearing high heels save for when I am performing onstage or walking the red carpet. I also prefer belt bags and backpacks over shoulder bags so as to keep my hands free for all the inevitable multitasking and activity.
These changes, however, are not only when I am busy with the kids but also for when I am traveling or in the studio or working backstage.
Nina Kashif (General Manager at Urdu1):
Images: What are your daily wardrobe choices?
Nina Kashif (NK): For everyday wear I prefer pairing comfortable kurtas with straight pants or capris and sometimes jeans with a button-down shirt or loose t-shirt. For special occasions, I find it convenient to slip into a silk shirt or formal top paired with pants.
Images: Where do you usually go to buy clothes?
NK: In Pakistan, I usually just rush into Khaadi because it suits my taste and is very practical for daily wear as well as sometimes for occasions where I need to wear semi-formal clothes. For formals, I can always count on finding something I like at Sania Maskatiya.
Also, when I travel abroad I make sure I stock up at H&M and Zara.
Images: How did your wardrobe choices change post motherhood?
NK: My wardrobe choices didn't change much except that perhaps I have become more comfortable now with experimenting with my wardrobe. I feel that motherhood has made me braver and more confident about trying out new styles. Fortunately, my size hasn't changed much post-motherhood which I suppose works to my advantage.
Andleeb Rana (Chief Of Operations at My Fashion Fix):
Images: What are your daily wardrobe choices?
Andleeb Rana (AR): In the current heat spell burning through Karachi, nothing works except for lawn in a loose silhouette. It's all about comfort for me. I often pair short printed box kurtas and tunics with white pants. It has been a standard for years. I also find athleisure very comfortable, opting for yoga pants, track pajamas, color blocked tights and loose T-shirts with racerback sports bras.
For evening soirees and special occasions, I like lazy silhouettes: kaftans, tier dresses, one-shoulder togas – always in solid colors and heavily accessorized. I like wearing my chunky jewelry and quirky bags with solid colors.
Images: Where do you usually go to buy clothes?
AR: Whenever I am traveling, I pick a lot of basics from Uniqlo. They make the best ankle pants. Also, Abercrombie & Fitch and Zara dresses are more like tunics nowadays and can easily be worn in Pakistan with a smart trouser. In Karachi, I usually pick my ready-to-wear from Generation. I think Khadija Rehman of Generation has really punched in a lot of excitement in her collections; it's fun and fashion-forward everyday wear.
Images: How did your wardrobe choices change post motherhood?
AR: A lot has changed! I hardly get time for makeup, so a good red lipstick has become an essential – it's the easiest way to pep up a look! Comfort has become priority number one and thankfully, a neat pair of sneakers and espadrilles are considered fashionable these days because that's literally all I have in my wardrobe!
For some odd reason, I am also enjoying wearing a lot of black at the moment. It's so easy and forgiving. Besides, nothing's more classic than a LBD with red lips!
Sumrin Ali (Director domestic and retail at Al-Karam)
Images: What are your daily wardrobe choices?
Sumrin Ali (SA): I am obsessed with the colour black which can be quite liberating. I am a minimalist by nature but I do love pairing my blacks with one statement piece. I have a fetish for bags and shoes and invest frequently in both. When it comes to clothes, I usually go for anything which is less pretty and more androgynous.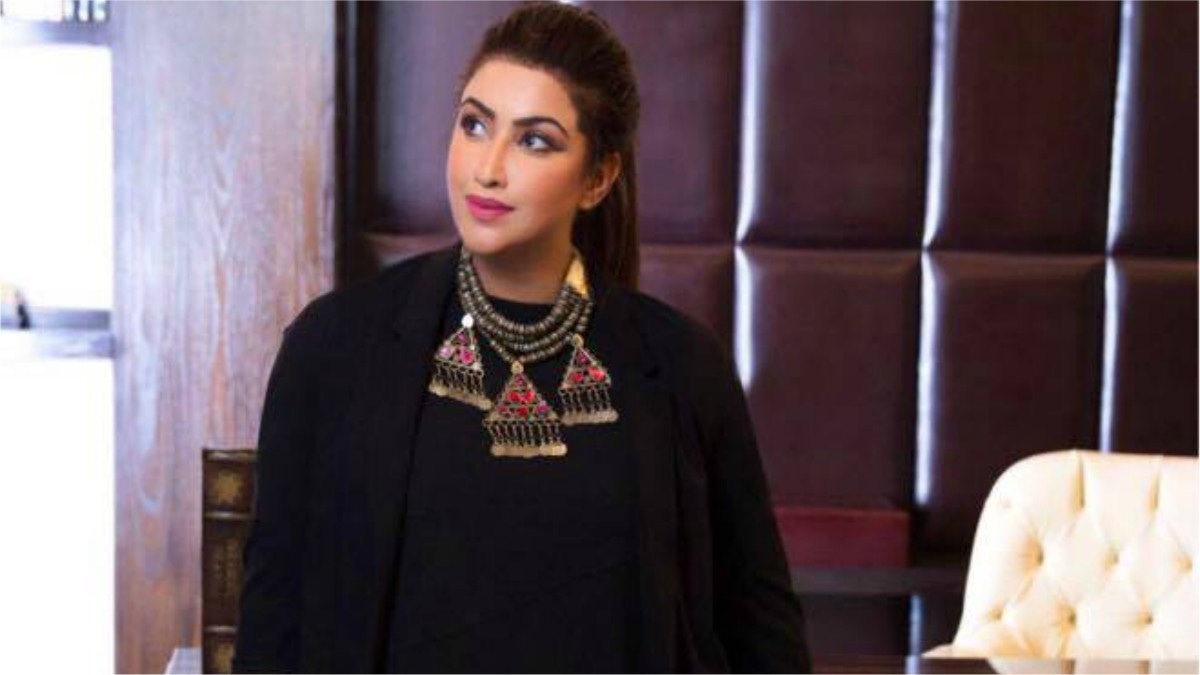 On a casual day, I'll go with a button-down shirt or kurti in a micro pattern or solid colored, paired with skinny slacks. For a formal occasion, I enjoy clothes with a bit of volume. The peplum, for instance, is a favorite.
Images: Where do you usually go to buy clothes?
SA: I often make my own clothes but when I go shopping, vintage stores are my favorite. My basics are often purchased from across the international high-street: Zara, Muji, Uniqlo, Asos, etc. I also enjoy blazers and Balmain makes the best blazers in the world. And yes, Chanel tweed can work any day, paired with a Maison Margiela clutch.
Images: How did your wardrobe choices change post motherhood?
SA: Style never changes- it's just the size that does! As clichéd as it may sound, style is eternal.
Sarwat Gilani (actress):
Images: What are your daily wardrobe choices?
Sarwat Gilani (SG): On a non-working day, you'll usually find me in a kurta paired with comfortable linen trousers or a T-shirt with tights.
Formally, I may opt for a dress or a well-cut trouser and top or, if I dabble into Eastern-wear, I'll pair a shirt with pants or gharara pants.
Images: Where do you usually go to buy clothes?
SG: In Pakistan, some of my favorite shops for designer-wear are Sania Maskatiya, Sonya Battla and Misha Lakhani. When I travel, I make sure I swing by Zara, Stuart Weitzman and Massimo Dutti.
Images: How did your wardrobe choices change post motherhood?
SG: My wardrobe didn't change much at all since I have always had a preference for comfortable, stylish clothes. In fact, having just had a baby, I am now enjoying getting back into my old wardrobe. It was only when I was pregnant that I had to revisit the size section but even then my style remained the same: smart casual.
Frieha Altaf (PR maven, choreographer, event organizer and red carpet siren extraordinaire)
Images: What are your daily wardrobe choices?
Frieha Altaf (FA): Comfort is key when I am deciding upon my work wardrobe. If I am not seeing a client I'll go without makeup and pair a shalwar with cotton tunics. My recent stock of cotton ready-to-wear has come from shops like Sana Safinaz, Zaheer Abbas and Sania Maskatiya. If I am meeting clients, I'll naturally wear makeup and wear a slightly more formal shalwar kameez or Western-wear.
I have also developed a love for kaftans and wear them often in the evenings. They're perfect for Karachi weather! My range of kaftans comes from design houses that vary from Michael Kors to Cavalli to Shehla Chatoor. Jumpsuits are another favorite of mine and local designers like Misha Lakhani and Maheen Karim make them so well.
When I travel, I make a beeline for my dresses. I only recently splurged out at Chloe and Kate Spade. In my line of work, there are plenty of special occasions that I have to attend. There are balls, conference dinners and awards shows and for them, I tend to opt for gowns.
Images: Where do you usually go to buy clothes?
FA: I rarely shop in Pakistan. When I have an event, I may venture into a mall to pick up something that will work. I loved Khaadi's Caravan collection this year at the PFDC Sunsilk Fashion Week and I have only recently been given a bespoke design from the lineup at cost from Shamoon and Saira Sultan.
I am very blessed that way because I often do get great gifts from designers like Tena Durrani, Asim Jofa, Sana Safinaz and Sania Maskatiya.
I travel a lot so I end up shopping from different countries. Dubai is my most-visited destination and I often find myself going to Harvey Nichols to find Zanotti or Charlotte Olympia shoes. I own about a hundred sunglasses and since I have never been afraid to experiment I usually find unusual shades before they become popular.
My latest acquisition are Lorre Rodkin shades. BCBG and Michael Kors are my favorite brands for dresses and recently I have happily discovered Sachin n Babi at Saks. Compared to Dubai and London, the shopping at Saks in New York is reasonable. Also, a fabulous high-end store that I enjoy going through is Toronto Holt Renfrew.
Images: How did your wardrobe choices change post motherhood?
FA: After having children, a woman's body changes and she has to dress accordingly. Luckily for me, I work out regularly and have managed to keep my weight in check. I am a very outdoorsy person and I love the sun and beach. I manage to maintain an even tan throughout the year.
I can't wear very fitted Lycra hugging clothes anymore but I am still not afraid of color. My daughter is a perfect fashionista and critic! When she goes shopping with me she always gives me feedback on what suits me and what doesn't. She also raids my cupboards and so I am hopeful that my expensive wardrobe will be in good hands in the future. I am a hoarder! I still have my vintage pieces designed by Maheen Khan, Rizwan Beyg, Faiza Sami, Shamaeel Ansari and Bunto Kazmi!
A lot of people say I dress young. My children and my spirit have kept me young! I have now scuba-dived in six of the top dive sites in the world, swam with sharks, stingrays and dolphins, climbed mountains and hiked in the Amazon jungle. I am proud that I can still wear shorts and I don't have any fear of ageing. I absolutely abhor the aunty style of clothing and I'll never be a conformist when it comes to fashion!