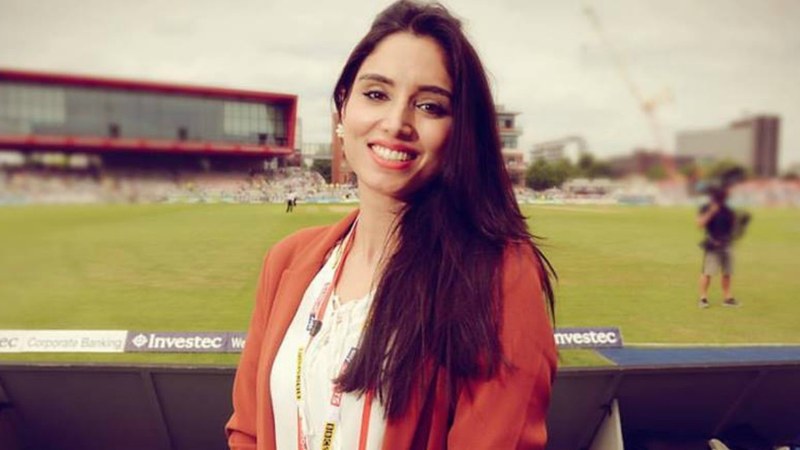 This year's Champion Trophy has been a roller coaster of cricket emotions. And with Pakistan vs India for the finals, everyone is extra pumped and excited.
Bringing in some much-needed levity to the cricket furore on social media has been popular sports anchor Zainab Abbas, whose infamous 'selfie curse' is the source of many hahas on Twitter. People believe that whichever cricketer Zainab takes a selfie with, loses the next match!
All in good humour... we hope.
Images decided to get in touch with Zainab to learn her views on the upcoming final, her experience in the world of cricket... and also this 'Selfie ka Waar'.
Images: Who played the most pivotal role in the team's turnaround after our disastrous match with India?
Zainab Abbas: I think credit must go to the bowling. The way they have bowled through out, restricted South Africa, Sri Lanka and England all under 250. Hasan Ali, for me, has been the pick of the bowlers. He has pace,variations and can skid the ball. More importantly, he possesses an intelligent mind. Being the highest wicket taker of the tournament, he has got Pakistan breakthroughs whenever they have required. Definitely one for the future.
Images: India has qualified for the final. Should Pakistan drop Shadab Khan and induct Rumman Raees? Why?
Zainab: Personally speaking, I would not drop Shadab. He has bowled beautifully throughout the tournament. As a leg-spinner, he has all the tricks of the trade, got a dangerous googly which is very hard to pick off his hand, all the variations and can spin it a long way. He got the all important wicket of Joe Root and had a catch dropped off his bowling against India.
Rumman also bowled very well against England and I would love to keep him in but if Amir is fully fit I believe he will make way for him.
Images: Is Fakhar Zaman the opener we've all been waiting for?
Zainab: I hope so. He certainly looks the part but I would never want to jump to conclusions simply because it's too early to say whether he will be a permanent feature in Pakistan cricket. He needs to be groomed.
When he first started, I think he was predominantly a leg side player but he has played some beautiful shots through the off side in this tournament. He has been hit on the helmet a few times, countered all the bouncers well mainly because he has a fantastic approach towards batting. Always comes out positively and takes the bowlers on, if he is groomed well and continues like this I think we might have an answer to our opening conundrum.
Images: What will the team be doing the night before the final? How do they prepare mentally or otherwise?
Zainab: The night before is normally a relaxing one for the players, all the preparation is done prior to the game itself.
Pakistan is high on morale right now and certainly has the momentum going. I think playing in a final has more to do with how you prepare yourself mentally and absorb the pressure. In any case, I do think this is a huge achievement for Pakistan to reach the finals of the Champions Trophy. They were written off before the start of the tournament and they have come out and made a strong statement.
Images: Out of the young players, who do you think has what it takes to be captain in the future?
Zainab: It's too soon to say right now. I think Sarfaraz has done a fine job so far, for anyone to be captain they first need to cement their place in the side first. At the moment Pakistan has a few young players and they need to perform consistently and prove themselves going forward.
Images: What opinion do British journalists and commentators hold about the Pakistan team in this tournament?
Zainab: Most journalists consider Pakistan to be extremely unpredictable but I did overhear a conversation where they were preferring to meet Sri Lanka in the semi finals rather than Pakistan just because with Pakistan you never know which Pakistan will turn up.
They are highly impressed with their bowling attack and feel they have the skill to bowl any team out. The batting is considered slightly fragile but we all know that anyway! However like I said, it was great to see Pakistan chase that target so comfortably against England. It will give our batting a lot of confidence going into the finals.
Images: As a sport, cricket is very much a boys' club. How do people respond to you, how have you found a space within this club, and have other women expressed an interest in following your example?
Zainab: I think I am very fortunate to have received a lot of positive feedback in this field. I prepare well for my shows and always do my research and that is key. Everyone is bound to make errors but you must be well informed as a journalist. It really helps to do what you love. Even as a child I was madly in love with this sport so for me to working in it is a privilege.
You do get a few sexist comments here and there, along with social media trolls. But I mean, if you're a public figure you would expect to be commented on in any way possible.
For me the best part is that as a woman I have inspired other young girls to take up this field. I have so many girls coming up to me and saying they follow me and want to do what I am doing in the future. I guess that is the best part, that you can make a difference in somebody's life.
The journalists I have met have always been appreciative of my work and I just want to keep evolving and keep improving, since I've always been an ambitious individual.
Images: What do you think of this 'selfie curse' that people are joking about?
Zainab: This selfie curse is hilarious. I try and read whatever I get but honestly for me it's just banter. People send you all kinds of memes, tag you in a lot of funny posts but I mean I literally just laugh it off because it is nothing more and there is no other way it should be taken.
Images: How do you handle unwanted attention - especially from men?
Zainab: Again, if it's just fans, they mostly request for pictures and I happily oblige. As far as men are concerned, I think I have it under control because I know where my boundaries lie, you have to appreciate the positive feedback and ignore the negative. Unless it is constructive obviously. But it doesn't bother me to be honest. I have a job to do and I'm focused on doing that.
Images: Any predictions for the final?
Zainab: Pakistan for the win obviously! I think somewhere inside me there is an eternal optimist, a relentless fan that will always hope that somehow miraculously we win. We have made it to the finals, we have got our rhythm going, it's time to bring back the trophy home!
Email