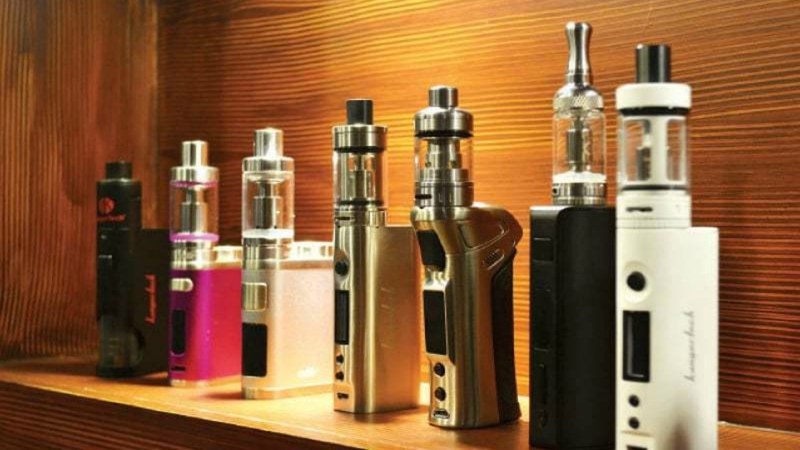 The last of the shishas have been extinguished in the capital, but at a swanky new retail outlet in F-11 Markaz, well-heeled men lean over a wood-panelled counter, inhaling what appears to be smoke from small electronic devices. But as they are quick to clarify, it is not smoke, but vapour.
Dense, white clouds are slowly exhaled, hanging in the air for a split second before dissipating, perfuming the room with a fruity scent.
The walls are lined with shelves displaying hundreds of tiny bottles. Each contains a colourful liquid and bears a curious label, such as Swedish Gummy, Abominable Snowman, Crunchy Cream Donuts and Berry Delight.
This shop is among a handful of new outlets catering to a growing demand for electronic cigarettes and vaporisers in the city. In one plaza alone, there are two shops specialising in the sale of e-cigarettes.
These devices function by using an electronic battery to heat up a solution of nicotine and flavouring and convert it to vapour, which the user can inhale.
While the subculture around 'vaping', as the phenomenon is widely known, might make it seem like a hobby, the case for going electronic is quite convincing.
The case for going electronic
The demand for e-cigarettes has been spurred by the optimism that they are a less risky alternative to smoking; allowing the inhalation of nicotine without the tar and carbon monoxide produced by burning tobacco.
Nasir Mehmood had been a smoker for 25 years before he switched to a vaporiser.
"Two years ago, at the age of 46, I had to undergo an angioplasty. That's when I knew I couldn't smoke cigarettes anymore," he said.
But after smoking a-pack-a-day for most of one's life, quitting isn't easy.
"I couldn't quit cold turkey, so I decided to give e-cigarettes a shot," said Mr Mehmood. Within a few months, he said, his senses of smell and taste, as well as his stamina, had improved.
He has no illusions about how safe his new habit is. "I don't think e-cigarettes are harmless; they may be less harmful that cigarettes," he muses.
Here's the catch
Proliferation of e-cigarette shops provides capital's smokers an alternative, but is it any less harmful than cigarettes?
Many share Mr Mehmood's concerns about the safety of using e-cigarettes and vaporisers. While horror stories about exploding batteries abound, many hesitate to give up a certain evil for an uncertain one.
Bilal Saleem works at another store that sells e-cigarettes and liquids made by brands in the US and UAE. "The e-cigarette models we sell come with a chip which cuts off power supply to prevent the battery from exploding. It's the mechanical models that explode," he argues.
Doctors, researchers and public health regulators across the world stand divided on the safety of e-cigarettes.
Doctors, researchers and public health regulators across the world stand divided on the safety of e-cigarettes. In Pakistan, the e-cigarette market remains unregulated, which means that the quality of the e-liquids on the market have not been checked by a public health body.
Countries such as Norway, Brazil and Singapore have banned the sale of these devices, while in other places such as the UK, e-cigarettes are being viewed as an effective way to wean smoker off the habit, and may soon be prescribed by the UK's National Health Service (NHS).
In Pakistan, the e-cigarette market remains unregulated, which means that the quality of the e-liquids on the market have not been checked by a public health body.
Khurram Hashmi, national coordinator for the Coalition for Tobacco Control, told Dawn that e-cigarette vendors were resisting attempts at regulation.
"The current anti-smoking laws cover the use of tobacco in any form. Since nicotine is derived from tobacco leaves, it should technically fall under the purview of existing laws."
But Fahad Khan, who owns a vape store, contends that the e-liquids sold at his store are safe.
"They are usually made up of liquid nicotine (in varying quantities), medical grade Propylene Glycol, Vegetable Glycerine and food flavours," he said.
Mr Khan laments that the authorities do not understand the use of e-cigarettes. "Police come to our shops because they confuse e-cigarettes with shisha, they see the couches and think it's a shisha café," he complains.
Which e-cigarette is right for you?
Waqas Jamil, a salesman at Mr Khan's shop, is himself a former smoker. He advises customers on how to choose the right device or nicotine strength according to the number of cigarettes they smoke in a day.
"Most people start with a high concentration of nicotine such as 8mg or 16 mg and eventually move to lower strengths such as 4mg to 2mg, with some settling for liquids with zero nicotine," he said.
This, says Mr Hashmi, is the real danger.
"E-cigarettes allow the user to adjust the amount of nicotine they consume, which is something that should be done by a licenced medical practitioner. Even in the UK, where the NHS is using e-cigarettes to wean people off smoking, such treatments are regulated by medical professionals. What is happening here is tantamount to self-dosing, which can be very harmful," he said.
While the users of e-cigarettes come from all age groups, the prices of these devices – which can range from Rs2,000 to Rs20,000 – keep them out of the reach of many smokers in Pakistan.
Mohammad Talha, 25, has also been using e-cigarettes for two years now. "Although I had been smoking 10-15 cigarettes a day for five years, the switch was easy. In the beginning, you get the occasional urge to smoke a cigarette, but eventually you don't miss it at all," he said.
Like Mr Mehmood, Talha has also seen an improvement in his health. He said that his senses of taste and smell have improved.
He started vaping with flavoured e-liquids and later began experimenting with other flavours. "Most shops let you sample the flavours. I mostly prefer fruity e-liquids now," he adds.
But Nasir Mehmood said he is no longer interested in trying new flavours. "After a while, they all begin to taste the same," he says with a chuckle.
---
Originally published in Dawn, February 27th, 2017
Email