Her appearance was memorable, as were the showcases of Nida Azwer, Deepak & Fahad and Nauman Arfeen
The highest point of the third day of Fashion Pakistan Week (FPW) – and even, of the entire event – was when Mukhtaran Mai came onto the catwalk.
Shy and unpretentious, head draped, wearing a beautiful embroidered kameez shalwar, she was taken by the hand by designer Rozina Munib when the latter came out for her final bow. Together, they walked down the runway.
How could the crowd not given Mukhtaran a standing ovation? How could people not have waited in anticipation for Rozina's showcase, the second last of the day, when otherwise, a first-time showcase never elicits much curiosity?
Fashion weeks can be brilliant business events and present high fashion moments but the petty egos that litter them can get tiring. One wanted to cheer wholeheartedly for Mukhtaran, a survivor standing up for what's right.
Here's what we thought of Day 3:
Nida Azwer
Admittedly, Nida Azwer won us over immediately when she had Ali Sethi coming onto the catwalk at the onset of her show and then staying there for a large part of it, singing some of his hit numbers. Ali wore all red but what truly held the eyes was the shawl he had draped around his shoulders, featuring a menagerie of animals, figures, palaces, Mughal kings and scenery, in the daintiest of thread embroideries. It set the mood for the show, where typically, craft was the highlight.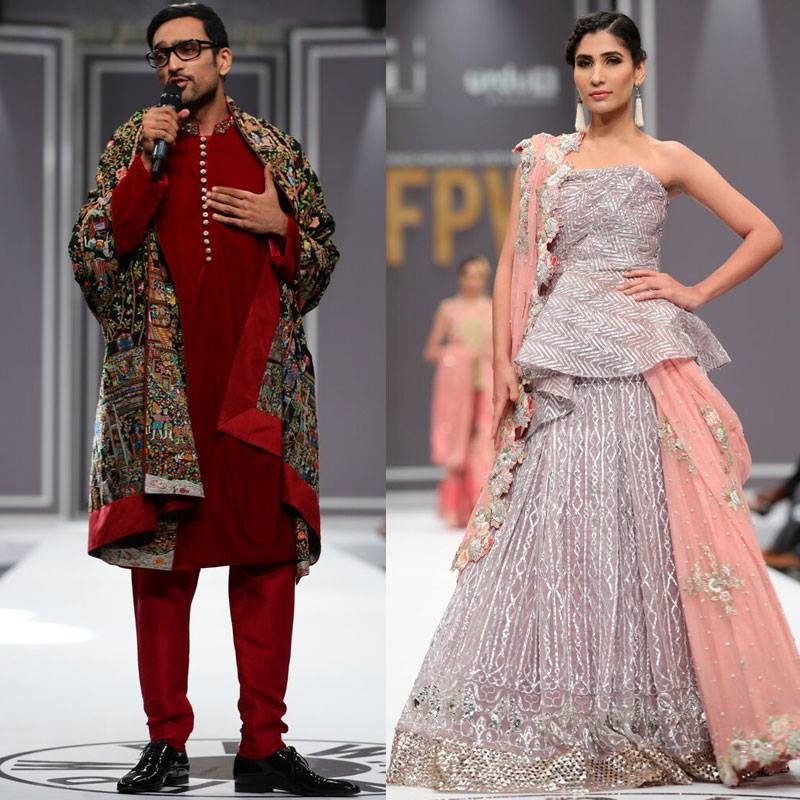 Nida's penchant for flora, fauna and hunting scenes was etched beautifully with antique zardozi merged with sequins, crystal and detailed thread work.
The silhouettes were mostly modern running the gamut from structured jackets with interesting origami details to organza wraps, culottes, off-shoulder blouses, peek-a-boo peplums and inevitably, lehngas. Perhaps the cut of the clothes could have been finer but overall, Nida's 'Alankara' was a winner.
Saira Rizwan
Designing wedding-wear is tricky, simply because one has to strike a balance between the edgy and the retail-friendly. Slip too much into mass-centric elements and the clothes look pedestrian; delve too deeply into the cutting-edge and the conventional requirements of your clientele don't get appeased.
One understands that Saira Rizwan has a burgeoning market for her wedding wear but for fashion week, she should have moved beyond what she sells and innovated with craft or silhouette. Her designs failed to make an impression.
Deepak & Fahad
One has observed Deepak & Fahad showcasing collections fashion week after fashion week, dabbling into Eastern inspirations and Western, sometimes teetering far too much towards the metrosexual, weathering bad reviews but bouncing back again resiliently.
It was, therefore, heartening to see the collection they put out this FPW. Sophisticated kurtas, coats and sherwanis were structured in a predominantly restrained palette comprising ivories, whites, dull greens, greys and tea pinks.
While the pleated long kurtas were a bit too frippery for our taste, the variety of lowers was interesting, ranging from the staid straight pajama to the chooridar, the dhoti shalwar and the tulip.
One also enjoyed some of the looks on the catwalk; an all-blue kurta and chooridar set paired with a printed waistcoat in the same colour or Shehzad Noor in a white kurta with a blue dhoti shalwar and matching blazer. Quite wearable for the man who wants to look funky but keep the look subtle.
Showstopper Mohsin Abbas Haider looked great in all-white with a cream-colored waistcoat. The clothes worn by the other showstopper – Faysal Qureshi – weren't as impressive. The all-biege sherwani and kurta combo has been done to death and by the third day of FPW, one was truly sick of seeing maroon velvet shawls.
Another glaring glitch was the fit of the clothes. Good fitting is imperative to menswear and Deepak & Fahad fumbled quite a bit with oversized shoulders and pants that didn't fall well. Their design aesthetic has certainly evolved, now Deepak & Fahad need to take it further.
Republic Womenswear
What a heavy duty bridal collection this was! Luxe fabrics were laden with swathes of embroidery on a mostly gray palette, traversing the valima jora and very formal trousseau.
Republic Womenswear may be a fledgling brand, launched by Omar Farooq of Republic menswear fame, but it has gained a stronghold over its market fairly quickly. The brand even provides the option of purchasing formal wedding wear right off the rack – Omar Farooq is nothing if not retail savvy! One also hears that the label's prices are very affordable compared to other designer brands.
Having said this, Republic Womenswear's FPW line was far too familiar: the boleros, peplums, dupattas tucked into belts and even the palette has been seen umpteen times before. The embroidery may have been intricate but again, there was nothing new about it.
This brand has certainly gained people's attention, now it needs to innovate and develop its own signature so that their audience stays riveted in the long run.
Rozina Munib
Rozina Munib needs to be applauded for foregoing celebrity showstoppers and instead, highlighting Mukhtara Mai in her fashion week debut. One wishes that she had also tried to up the ante with her designs.
The capes, tulip shalwars, lehngas, cigarette pants and flared pants will sell well but lacked the cutting edge elements that make a collection stand out.
Also, the collection should have been conceived with greater sensitivity. There were plenty of bare navels, off-shoulder tops and skimpy saris in Rozina's designs.
Mukhtaran, standing with head covered on one side of the catwalk, seemed completely out of place as the models trooped out.
Rozina had a fabulous chance to debut and make waves. She didn't really manage to.
Nauman Arfeen
And for the finale, there was Nauman Arfeen, characteristically opening his show with some adorable children who were happily up long past their bedtimes. The little girls wore matha-pattis and lehngas; the little boys came in miniature turbans and sherwanis. The cellphone cameras clicked and Instagram buzzed – what better way to enamor your audience?
The designer has increasingly managed to present menswear that is retail friendly and yet easy on the eyes. Nauman's groomswear was elegant, in a subdued palette, sans an embroidery overdose. The voluminous cowl shalwars and dhotis made the clothes more distinctive, as did the matching turbans. The use of jamawar and print accentuated the more formal designs and while one got cock-eyed by the rampant use of red velvet at FPW, Shahzad Noor cut a very fine figure in it.
One can also see the retail potential in the wedding wear worn by the little boys. Eastern wedding wear for children is certainly a lucrative market and Nauman has realised this. Much less interesting were the clothes worn by the little girls. Nor was the womanswear impressive, struggling through fitting issues and embroideries that played it far too 'safe'.