From quarrels with mother about decor to childhood diary entries, this Sanat Gallery show let artists tell their stories
It is always exciting to walk into a show without a clearly set out statement preemptively telling the viewer how to view it. A show where a group of young artists display their latest works, present diverse new ideas in diverse fashions and make you look at things from new perspectives.
Agogic Accents, which opened at Sanat Initiative on the 13th of May, was one such show. Curated by Muhammad Zeeshan, this is the second of two shows showcasing the works of fresh graduates from NCA and the Indus Valley School, the first being "Neon", which also took place recently at Sanat Initiative.
While the works don't have any obvious connection, the curator admits that he was looking at minute similarities or in some cases comparisons that struck him as ironic when deciding which works to include. He said, "I am not a curator, that is not my job", but as an artist he knows what works well together and what interests him, such as parallels drawn between Anum Ashraf's watercolor "landscapes" and Raazia Batool's abstract pieces suggestive of landscapes.
The most intriguing pieces are probably by Affan Baghpati, whose work is presented as a negotiation of two very different aesthetics. According to Baghpati, he would always argue with his mother about appropriate drawing room décor, as they have very conflicting ideas of what is aesthetically pleasing. She would be vehemently opposed to depictions of any living creature, while the artist couldn't see the point of displaying a regular item as is. The result is taxidermy animals fused with antique items of décor, such as an old metal lota with half a parrot attached in "Parrot on Lota", or a goat's head growing out the side of a decorative surahi in "Goat of Surahi". It seems a combination of the elegantly quaint and the modernly absurd, and the effect is pleasantly bizarre, with each piece radiating a completely new personality independent from the objects that form it.
Even though it is claimed to be a "negotiation" between these aesthetics, (and in a visually literal sense it truly is), it rather emerges as a commentary on the disparity between the sensibilities of an artist and, for want of a better word, a non-artist. It somehow brings to mind all those times someone may buy an artwork to match their curtains without thinking about its deeper narrative, or when no one would buy an artist's work as it may make for some awkward dinner parties.
Another exciting body of work was by Raazia Batool, an NCA graduate based in Quetta. Her work takes an abstract shape but originates in calligraphy, and slowly evolves through layers of experimentation into its final form. There is an interesting texture to her work built with intricate broken letters forming abstract shapes in shades of monotone. She has always had an interest in calligraphy and in writing, maintaining a diary from an early age, the contents of which, her thoughts, experiences and her poetry, are very personal. This is why the words, written in Urdu script, are unreadable in her works. In certain pieces, such as "Amal" (below), the letters are completely broken into mere lines and dots.
"They might show those intense moments of my life when I had been broken in some way, but then I adjusted to jot myself down once again for some new beginning. But of course, the new me is a much complex and abstract form," says Batool. The artist wanted to share her feelings, turning them into visuals without giving away the actual contents, and possibly communicate the emotions that the words carried, "My words are a secret, so everything they transfer into will carry the essence."
Maryam Baniasadi, on the other hand, combines traditional miniature technique with modern imagery of ordinary scenes from her own personal experiences, much like traditional miniaturists documented life around them specific to that time. Baniasadi is originally from Iran, and through her work she depicts "..landmarks of my own journey, by which I want to record my past and the places that I have been to.."
Her work shows characters in modern clothing, indulged in everyday activities, but depicted using the miniature aesthetics, stylization, perspective and composition. For example, in "A girl after workout", the woman is depicted in her workout clothes and a towel on her hand standing in the middle of the frame, with her tiny dumbbells on the floor, much like a Mughal princess may be shown awaiting a lover.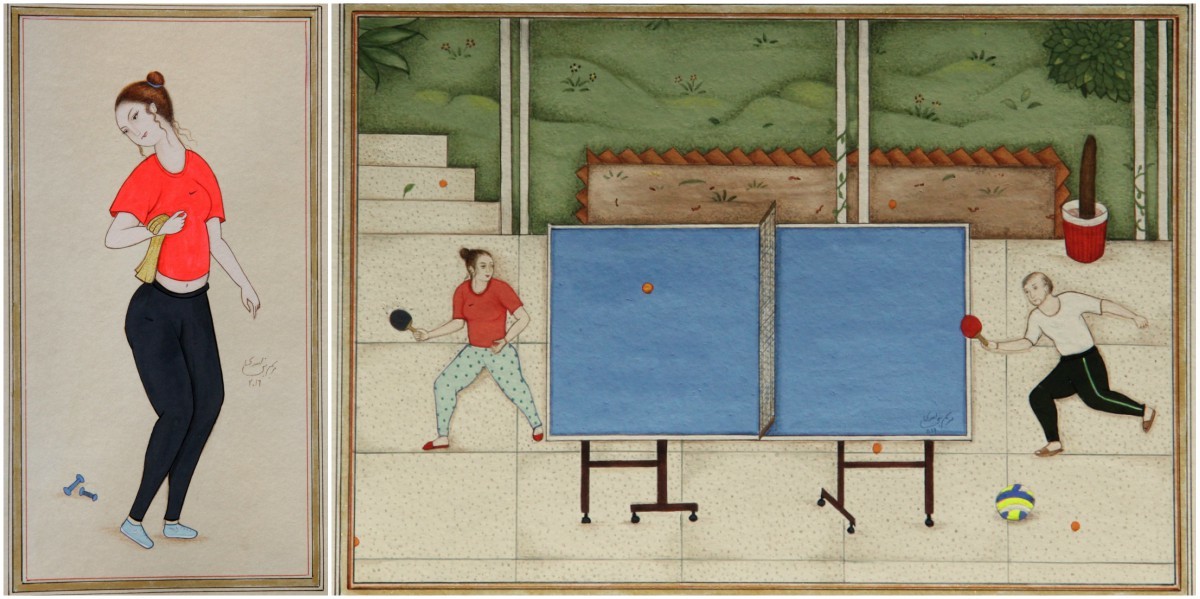 In "Lahore I" and "Lahore II" she shows scenes from around Lahore of the widespread construction now becoming a concern of every artist's proverbial paintbrush. Even though the execution and result of her works are engaging, one cannot help but draw connections with dozens of other contemporary miniature artists working with similar ideas of twisting and subverting the idea of traditional miniatures with modern everyday themes.
In Mir Dostak's dark and morbid "Xrays", bullets lodged in abdomens and knives planted in femurs are laid bare. He removes the top layer that hides physical manifestations of our inner tragedies and makes them starkly apparent. These violent acts of terrorism have affected all of us in some way or another; we are all victims, but we all hide this well under our clothes, under our skins, and under the facades of our daily lives, and Dostak's work brings this across successfully. The Xrays serve to remove all identifiers of race, religion, class, and gender, making the work relatable to a wider audience; this could be anyone and everyone.
Anum Ashraf deals with the idea of being lost and searching for answers. Her soft and eerie watercolors relate this idea well, showing a maze of barren trees where faceless children lurk, curious and in search. In a way we all still have this child within us, trying to find our way, stumbling around and unsure of who we're supposed to be. The muted bluish grey and earthy color palette and the fuzzy, fading backgrounds strip the scene of specifics; you don't know where or when this is. Perhaps it is not really a physical space at all, but a state of mind, your infantile thoughts trying to make sense of a chaotic world.
All artists in this show work with very diverse mediums and techniques, and speak about subjects ranging from simple to complex, from highly personal to universal or sociopolitical. This array of differing works lends the show a dynamic diversity. It is invigorating to see new artists joining the professional art world with fresh ideas and that is exactly the purpose the show sets out to serve.
---
Header image: A man smoking a cigarette, Maryam Baniasadi, gouache on wasli, 19 x 10 cm, 2016