This play is a step in the right direction, but there's still a lot of ground to cover
Yesterday I went to watch Suno!, a play by Hamza Bangash in collaboration with Taskeen, an organisation that seeks to create awareness about mental illness in Pakistan.
I was aware the play would be about mental illness, and though this is a refreshing development, I was also a little worried: as open discussions about mental illness are still new to Pakistan I figured I'd see a lot of rookie mistakes in the play.
And while the play had a lot of positives, there were some drawbacks that might be worth mentioning.
The play revolves around Gulzar, a boy with bipolar disorder, his parents, Sohail and Afia, and friends Sofiya and Murtaza.
Here's what worked in Suno! — and what didn't.
What worked: the play showed mental illness is still a taboo subject in Pakistan
In Pakistan, if you need to see a psychiatrist, you must be crazy.
This attitude is wrong, and many are starting to see that, but it is embedded deep in our mindsets. Suno! depicts this well, with the father outraged when the grandmother suggests Gulzar needs therapy. The father would prefer to believe his son is possessed rather than face the fact that a psychiatrist should be called into treat him. The mother also talks of how therapy implies her son is 'insane'.
That this view persists in society in undeniable, but to right it, we need to at least address it and Bangash is correct to point it out.
Also read: Why Deepika's fearless disclosure is important for South Asia
What didn't work: the characters showed a lack of empathy during a funeral
No one seemed to be reacting appropriately to the death of a relative.
The play opens with the janaaza of Gulzar's grandfather. I cannot comprehend comic relief during a funeral. Sofiya's mother Shehla is complaining about how 'achaanak janaaza rakh diya' and how she couldn't find anything to wear while commenting on Afia's dressing. It's a janaaza, people!
Even if people don't care about the person who died, it's difficult to imagine anyone in this society having such an attitude.
What worked: the play correctly pointed out how we undervalue communication
Too much distance between a parent and child is never a good thing.
Sohail refuses to listen to his son, to the point that he is violent and Gulzar feels isolated due to this. Both parents, upon seeing him disturbed, conclude that he must be worried about his exams. By the time Afia (played by Syeda Danya Zaidi) decides to ask Gulzar if something else is bothering him, he has already pushed them away. A major cause of most mental illnesses is lack of communication and a sense of isolation.
The play does well to introduce this concept in the beginning so that one can connect the effect with the cause.
What didn't work: the play didn't seem to portray the illness in question properly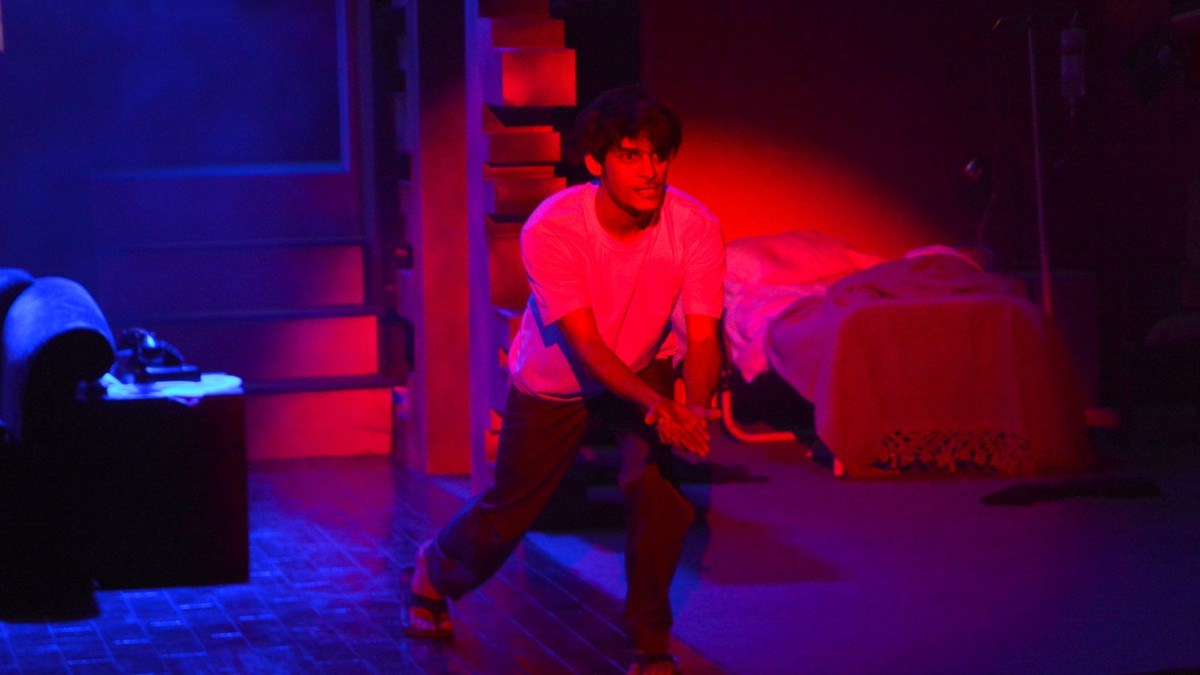 Bipolar disorder is a serious disease, but Gulzar's affliction often seemed more like teen angst.
The manic episodes that characterize bipolar disorder weren't present, for example. I also didn't see any of the anxiety or paranoia that bipolar disorder is said to bring on.
Perhaps it was lack of acting skills or dialogues, but it was not convincing enough.
What worked: the play showed how one person's illness can affect the whole family
A family also suffers due to one person's mental illness; it's important to understand how.
Sohail (played by Hammad Siddiq) shows us how a family can have complex reactions to depression or other mental illnesses in their midst. He lets the audience know he can't face his son while he's in the hospital and we're also shown how the family is almost ostracized due to Gulzar being seen as 'crazy.' However, the family continues to support Gulzar and his treatment, which is how it should be.
What didn't work: the psychiatrist's character ruined the purpose of the play
So, according to the play's characterisation, the psychiatrist that the grandmother calls for Gulzar needed a psychiatrist himself.
He was an unnecessarily comical figure who was more annoying than helpful. This was actually the worst thing about the play. What was the point of showing a psychiatrist playing with his phone during a session? That even if you decide to seek therapy, it won't help because they're crazy too?
What the play should've shown was a sympathetic, competent healthcare professional who anyone would've felt comfortable opening up to.
Suno! was a good attempt to highlight an issue that needs to be discussed more in Pakistan. Any faults it had, I would blame them on the technicalities of producing a theater play. Perhaps if the acting skills of the cast and the script had been stronger, this play would have been a wonderful experience. However, the message is still there and I was glad to see an effort like this being made.