This fashion week may yield more in the way of business opportunities
On its first day, Fashion Pakistan Week (FPW) commenced with a whole lot of razzmatazz.
Some credit for this goes to the designer line-up for the day, which included some of Karachi's most well-loved brands. Also, one has to acknowledge that the Fashion Pakistan Council has been playing quite a few of its cards right: a social media team that has been making sure that enough buzz is generated on Instagram and Twitter, some regular sponsors in place, a strong media attendance and Nabila's N-Pro playing magician backstage.
It doesn't mean, though, that Day One was fabulous.
Yes, some of the opening acts were great but following them, there were bouts of run-of-the-mill fashion liberally splattered throughout the line-up. The show started extremely late which always manages to put a spanner into all the excitement that has hitherto built up. The audience fidgeted as the clock inched towards an exhausting 11 pm and one wondered precisely how the foreigners in attendance were coping with the late timings.
FPW this season is taking place in collaboration with the Trade Development Authority Pakistan (TDAP) and visitors of the ongoing TEXPO formed a large proportion of the first day's attendees. This meant that many of them actually hailed from textile backgrounds – a pleasant change from previous such events where businessmen from pharmaceutical and agricultural fields would be invited to see our much-hackneyed 'softer side'.
It is hoped that some business deals – or at least related talks – could be struck following FPW.
Quite a bit of focus was on Oliver Lapidus from France – son to the well-known Ted Lapidus although he says that he isn't involved with the brand anymore. Seated in the front row with TDAP's Rabiya Javeri one wonders what he thought of the day's fashion fluctuations.
Aside from the fashion, perhaps the foreign contingent would have been more impressed had the show started on time and consequently, ended on time.
Needless to say, it would certainly have impressed us.
To be fair, though, there were some definite fashion highs in Day One … and then some lows. Here's what we thought:
Deepak Perwani
Deepak Perwani's 'Fix It' collection from the PFDC Sunsilk Fashion Week (PSFW) was tweaked and extended for the runway, and it depicted the designer in his element.
Vibrant, modern and tongue-in-cheek, this was quintessential Deepak Perwani. His political rhetoric played out on shirts with varying hemlines, pants, hooded jackets, sleeves and capes merged with bright pops of color and some very funky prints. There were wraps and one-shoulder kaftans, crop-tops and tunics cinched at one side – clothes that caught the eye while also being retail-friendly.
Showstoppers Sarwat Gillani and Sikander Rizvi served as the icing on the cake.
One wishes Deepak had simply not shown 'Fix It' a few weeks ago in Lahore. With its Karachi-centric political innuendo, it could have made a much bigger splash at FPW. It certainly still got noticed. By reinventing certain elements within the design, Deepak gave the collection a cool new vibe and there's a good chance that it's going to become a red carpet favorite in the days to come.
Wardha Saleem
Wardha Saleem has a penchant for color and she ran with it in this bright, edgy, very cohesive line-up. Flora, fauna and splashes of paint stood out over a muted background; there was quilted fabric, long lines of buttons, different variations of the shalwar, laser-cutting, tiny sequins that winked from a distance and the most gorgeous array of painted leather bags, created in collaboration with leather brand Jafferjees.
Originally shown at London Fashion Week, there were some unfortunate moments when the collection seemed too wintry for a Spring/Summer fashion show.
Then again, the bright color palette and predominant use of silk and cottons could slot these clothes in the luxury evening-wear category. Most of the bags on the runway are apparently already sold out and the clothes – among them, boot-leg pants, high-collared tunics and the finale dress, quilted and beautifully painted – are going to bowl over customers just as easily.
Lala Textiles
Textile brands often go askew with their fashion week shows when they try to marry their flair for fabric with silhouettes that try hard to be fashion-forward. What often results are lineups that are over-styled, with no distinctive identity of their own.
Case in point: The Lala Textiles show at FPW where bling ran into beads ran into lace ran into cutwork ran into uninspiring design. Actress Aiza Khan walked as the showstopper but even she couldn't do much for this show.
Bank Alfalah Rising Talent
Syeda Urmia Abbas Naqvi dabbled with exaggerated monochromatic combinations and Uzair Sardar was all for recycling with a trail fashioned from safety pins, a dress with bird cages attached to it and a shrug fashioned from bottle caps.
Slightly more plausible were Shanza Jamil's cut worked trails and prints with intersecting zig zags. Nida Sohail's gold printing over a black backdrop had its pretty moments but it was nothing one hadn't seen before.
As if often is, there wasn't much that was memorable about this show. One wonders when students will wake up and realize that the Bank Alfalah Rising Talent show is an ideal opportunity for them to make waves and get their prospective designing careers rolling. Time and again, student-line experimental collections that don't make any retail sense walk the Rising Talent platform and it is then, no wonder that most of these designers simply fade into the shadows afterwards.
Kayseria
Kayseria, announcing the launch of its luxury-pret, laid focus on intricate marori-work with a very traditional line-up.
It boiled down to a collection that may have been high on craft but low on fashion quotient. Kayseria is a brand that believes in sticking to its ethnic roots but a fashion week line-up needs to stand out in order to make impact. A play of silhouette, color or at the least, styling needs to be implemented which can then trickle down to the retail-friendly ghararas, kurtas and lowers that prevailed throughout the collection.
It's a tricky balancing act but not one that Kayseria hasn't mastered before – one remembers the very funky Kayseria lawn collection a few years ago where models held lawn-printed umbrellas on the catwalk. It's appreciable that Kayseria stuck to its identity rather than try to replicate another brand. It now needs to get some of that funky vibe back.
Trend shows: Maheen Karim, Obaid Sheikh, Sanam Chaudhri, Delphi
One wishes that Maheen, Sanam and Nida Tapal of Delphi had created entire showcases instead of capsules but nevertheless, their combined trend show, featuring four designs per designer, had plenty of wow moments.
Variety was king here. There was Maheen Karim, who has a flair for evening glamour. Capes, off-shoulders and a perfect little short dress exemplified something that we know of Maheen already – she knows how to cut a dress. That being said, one was disappointed by the use of botanical prints, regardless of how vivacious they were. We've seen them on far too many catwalks in recent times and they just diminished the strength of Maheen's design.
Delphi's forte lies with crochet and whenever it shows at fashion week, it simply manipulates the tricky fabric into diverse silhouettes. The dresses, long jackets and capes in their capsule line were typically elegant - although hardly unexpected.
Quite at the other end of the spectrum were Sanam Chaudhri's bold color palette and classy silhouettes. One expects to see the prints translate to Sanam's regular line-up of tunics.
Obaid Shiekh's multi-colored menswear didn't really do much for him. The fit lacked finesse, the inspirations were nothing new. Perhaps Obaid's clientele likes the bright color palette but it didn't look that great on the catwalk.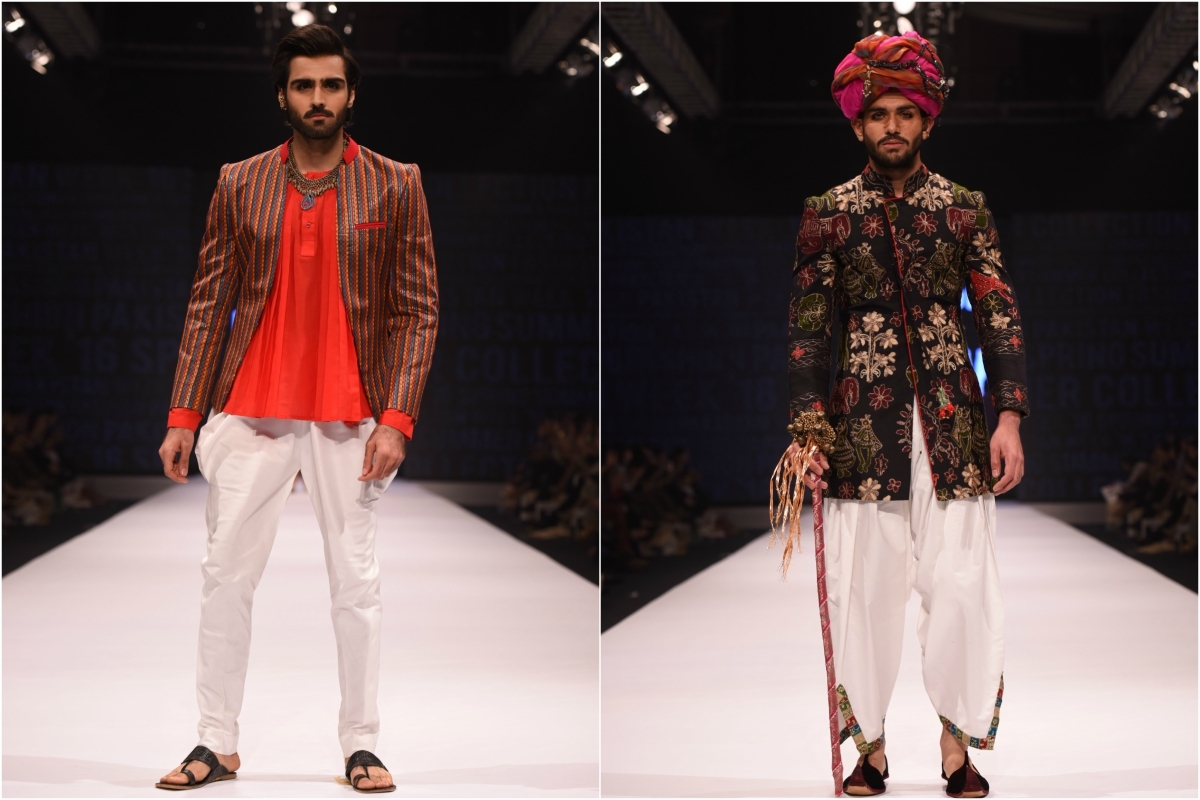 Gulabo
And even as the day yawned on to an unfathomably late hour, Gulabo tripped down the catwalk and infused it with characteristic energy.
This was 'I am Karachi' where architectural outlines fused with art on shalwars, capes, jumpsuits, tunics with asymmetric hems and menswear. A shirt with flirty hemlines pronounced 'Khatra', another declared 'Wah!' and there were plenty of nut-and-bolt prints strewn about – who's betting we're going to be seeing plenty of these retailing in the days to come?
Complementing the collection was funky statement jewelry molded with wires, screws, nuts and bolts. Created by stylist Aarij Hashmi, this is one jewelry line to watch out for should the designer choose to pursue it further.
Together, the two combined to make a stellar finale for Day 1, redeeming to some extent the day's fashion slumps.
---
All photographs by Tapu Javeri