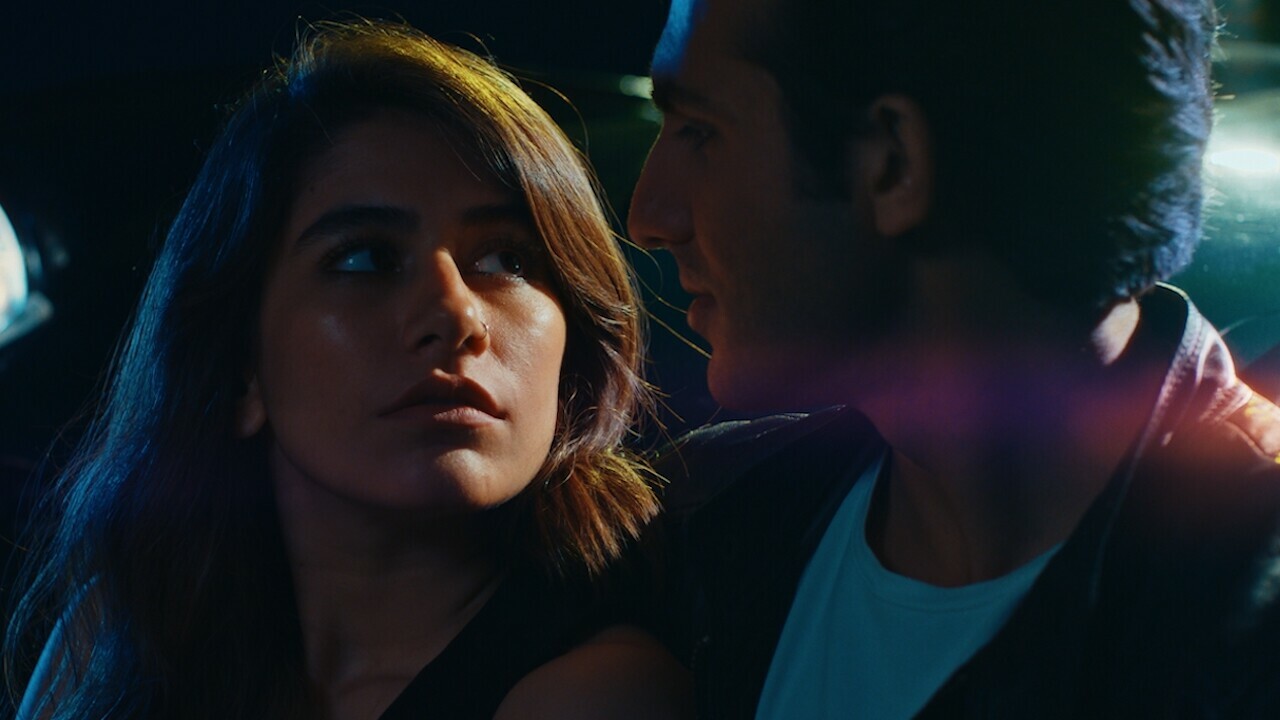 The movie heralds the arrival of a bright young filmmaker — welcome Essa Khan, because you deserve the applause.
"I know I am difficult. I have issues. But you stay the same. I don't need cars, or houses made of stars. Promise me you will not leave me," Sabiha (Syra Yusuf) tells Omer (Shehroz Sabzwari), with her gaze fixed right into his eyes.
There is little choice but to believe her words. The two are alone in a field right out of a Yash Chopra Bollywood film, making a promise of unconditional love between the only people who matter — themselves.
Sabiha and Omer's romance feels binding and absolute, but only for a minute, because the reverie shatters into a million piece as we tumble face-first into reality. "Romance turns into arguments. She says something, I hear something else," Omer narrates as all hell breaks loose on the screen.
When writer-director Essa Khan's Babylicious opens, the tranquil, steady heartbeat of the romance has already escalated into a wretched heart attack. The romance died long ago and the declaration of love we saw mere seconds ago turns out to be a delusion — a mirage cooked-up by innocence and pigheadedness.
Omer, an architecture student, is a naïve loser who has love in his brain when it should've been crammed with Young's Modulus theory. His thesis project, Sabiha Mahal, is a tourist attraction for romantics, designed out of blind infantile devotion; the 'dream destination' is built on his and Sabiha's graves and forgets to add necessary architectural elements like stairs and fire escapes.
Obviously, he gets ridiculed by his teachers, his parents (Adnan Jaffer and Laila Wasti) and his classmates (we'll get to them in a minute). We, on the other hand, only see the arguments and tantrums from Sabiha and hear of the love from Omer.
The arguments reek of childish impulses. When she loses it — and she does quite often — he couriers antibacterial skin-ointments and menstrual pads to her place. At times he doesn't get her, but there are also times he does; she coos when he brings her Subway cookies or mixes (that is: burns a CD of) Coke Studio tracks.
Omer is the personification of Essa Khan — or as he's also called Omer Essa, or Omer Essa Khan, take your pick (we'll stick with Essa for now). Babylicious is Essa's real-life story, given a happy ending, so you know things will turn out for the best. Probably. This is a bitingly funny, cool, love-story of the privileged. Call it the burger bacchon ki love story, whose believability will stay on the rich side of the tracks where teenagers zoom around in fancy cars, their parents fly away for days for business leaving behind credit cards with sky-high limits, and they shun clothing brands that cater to the semi-rich.
The world Essa creates is an amalgamation of Pakistan and the United States. It is at once liberal and conservative, serious and slapstick, real and dreamlike. One of the characters keeps calling upon God to get her out of predicaments — or kill her on the spot — while her mom is distressed the she doesn't have boyfriends who climb into her balcony at night (the mom kinda gets her wish in one of the funnier bits of the film).
Essa's world intersperses the frolics of traditional weddings and spoilt-rich kids' parties where alcohol free flows and walls are lit by edgy neon glows out of a cyberpunk or neo-noir story. The ambiance feels as if someone is twisting the wires of reality into a makeshift connection and fastened it by tape. This fragility of reality lends an unexpected tangibility to the tale of a weirdo loser and the sensible girl who has moved on.
Essa's film is infectious in its one-sided innocence; actually, Babylicious feels as if the comic book character Archie and his pals are thrust into an alternate reality in the Defences and Cliftons of Pakistan (please: no one bring up the show Riverdale in this conversation).
I kid you not — the Archie parallel is just too difficult to ignore.
In the comics, Archie is a loser who is often in love with the rich, spoilt and tantrum-y Veronica, who habitually falls for the next handsome hunk she spots. Her best friend is Betty who, despite being in love with Archie, helps him woo Veronica when he is desperately pining for her. Archie's best friend is the smart, laidback loser Jughead, who can just be as dumb at times. His other 'pal' is Reggie — an egotistical prick who gives into vices and bad decisions at the drop of a hat. Veronica also has a dad, Hiram Lodge, who enjoys throwing Archie out of the house, as well as a butler, Mr Smithers, who sometimes beats the lover-boy to a pulp.
In the film, Omer is Archie (Shehroz), Sabiha is Veronica (Syra), Arwa is Betty (Shehzeen Rahat). Nido is Jughead — though by a long-shot (Mohi Abro); his girlfriend is the equally insufferable character Annie, played by Sabeena Syed, Aadi Amjad is the loser-version of Reggie, Hiram Lodge is played by Aamir Qureshi, and Mani, a manual labor supplier for weddings and cheap hoodlum for hire is a stand-in for Mr Smithers.
Speaking of Mani, this is, by far, his most effective character play to date. This includes his stints in Money Back Guarantee and Teri Meri Kahaniyaan. The man lands his jokes better than any other film, and performs just as adequately. Although just written as a throwaway jest in the story, and then utilised intelligently until the very Bollywood-ish climax, he is the scene-stealer and the comedic relief Babylicious needed — especially when the story doesn't seem to be leading anywhere.
The entire supporting ensemble — with Shehzeen Rahat standing out in a noteworthy character — hold the screen well when the story dips in the second half, where a very unbecoming gag-cum-subplot of a prostitute that's unfortunately tightly weaved into the story pops-up to change the mood of the film from the warm wholesomeness of the Archies to the raunchiness of American Pie.
Even at the low points, the film belongs to three people — Shehroz, Syra, Essa and the soundtrack; make that three people and the music.
Babylicious' soundtrack, credited to Adrian David Emmanuel and Kashan Admani who also directed Carma last year, is the porridge Goldilocks gulps in the three bears' house. It fits the story, understanding the emotion — even triggers it in one scene — while being easy on the ears. Out of the five tracks, 'Ussay Jee Raha Hoon' by Sherry Khattak and Maria Unera, 'Alvida' by Richie Robinson and 'Mann Ranjhan' by Nauman Shafi and Rahma Ali should make it to playlists that run on loop.
One of the songs plays an integral part in changing Sabiha's viewpoint in the latter half of the film; it makes her human when, from the start, she was an insufferable young woman who bags the worst aspects of Veronica. Sabiha had chosen the handsome hunk Nabeel (Indian-American actor Ankur Rathee in a likeable role) because he's a kind man who would make her life financially secure.
As someone who didn't have an opinion about Syra's prior performances in her films — she ranged from mediocre to invisible in Chalay Thay Saath and Project Ghazi — her work in Babylicious is nothing short of eye-opening. Syra proves what a good actor can do with the right material, because one hates Sabiha's incessantly materialistic mindset and her constant blunt dismissal of Omer's puppy-love.
One notices the minute, nuanced work Syra puts in as a woman who walked away from what she considered a toxic, immature relationship — Sabiha has a few good reasons, which I won't spoil here. There is little to no display of overplay of body and facial expressions in Syra's actions, and they leave no room for one to believe that Sabiha has matured and grown out of love.
In a complete 180-degree from Sabiha stands Omer, whose embodiment by Shehroz makes me almost forget his performance in Chain Aaye Na.
Shehroz plays the loser with startling, applause-worthy purity and ingenuousness. When, late in the film, Omer says, "My life with you is far better than any Coke Studio song," one believes it. More often though, one wants to scream commonsense into the stupid young boy, who can turn his predicament over if he just wisened up. Then, when you least expect it in a key scene as the camera slowly orbits Omer, Shehroz morphs him into a man with the subtlest of gestures. It was a defining moment for Babylicious, that could have taken the narrative to a different direction — but Essa had other plans.
Omer works as a character, firstly because he gets the spotlight in an adaptation of Essa's own lifestory, and secondly, because of Essa's absolute trust in Shehroz's performance.
Shehroz, and the ear-catching dialogues, are the glue that bind Essa's uncomplicated, routine love story, that's anted-up as a near-excellent motion picture. Despite some very minor creative and technical hitches — hitches casual audiences won't even note — Babylicious heralds the arrival of a bright young filmmaker. Welcome Essa Khan, because he deserves the applause.
Babylicious is certified with a U-rating in Sindh and is playing in cinemas Pakistan-wide.