The rom-com follows a typical Punjabi family on a journey to strengthen its crisscrossing relationships.
Tich Button, as the name implies, is a tale of interlocking relationships. Imperfect and demanding as they may be, they're fulfilling, nonetheless. Written by Faiza Iftikhar, the movie is a classic rom-com that imparts the lesson as to how, with love, compassion, trust and generosity, we can fasten a tich button and strengthen our own relationships.
The movie revolves around a typical Punjabi family dwelling in a red brick-walled mansion in Lahore called Noor Haveli. This is a family of seven individuals — daada, daadi [grandfather and grandmother], chacha, chachi [aunt and uncle], bewa maa [widowed mother] and do gabru jawan munday [two youthful lads]. One is overly sweet (Kaka sahab, played by Farhan Saeed) and the other slightly manipulative and self-serving with a subtle hint of empathy (Saqib, played by Feroze Khan).
Within this testosterone-fuelled family butts in a nosy phuppo [paternal aunt], who often comes to her parents' home with her daughter Shakeela (played by Sonya Hussyn) and creates a ruckus. With her borderline insane yet innocently presented demands, she asks things like why can't there be an AC in a courtyard? And our thoughts are the same as Kaka's:
"Faslon mein sundi or ghar mein phuppi ek baar control kar leni chahye warna kuch nahi buchta [Pests in crop fields and aunts at home should be controlled at once or else nothing remains]."
Shakeela is engaged to her Turkey-based cousin Saqib but the latter has no interest in his buchpun ki mung [childhood sweetheart, for the lack of a better word], so he seeks Kaka's help in shaking her off. But what follows is drama, filled with chappairs [slaps], chest-thumping wailings for ghar ki izzat [honour] and profound haww-haye moments. And to add a touch of spice to this simmering pot of family drama enters Leena (played by Iman Ali), Saqib's friend from Turkey.
Starring Ali, Saeed, Hussyn and Khan in leading roles, Tich Button is a heartfelt production and a kaleidoscope of bursting colours, with brilliant acting chops and excellent cinematography. This also marks the feature film directorial debut of Qasim Ali Mureed, known for a hit drama serial Mere Humsafar.
The movie has all the condiments you typically expect in a stirring love story — a studly Pakistani son being belligerently judged next to his foreign-based cousin, a snooping aunt, the desire for a gori bahu [white daughter-in-law], rain sequences, lush fairways of Punjab and, of course, mela [fair] scenes — featuring a ferris wheel and local retail strips — with the sauciness of Bollywood dripping down the side of the hotpot.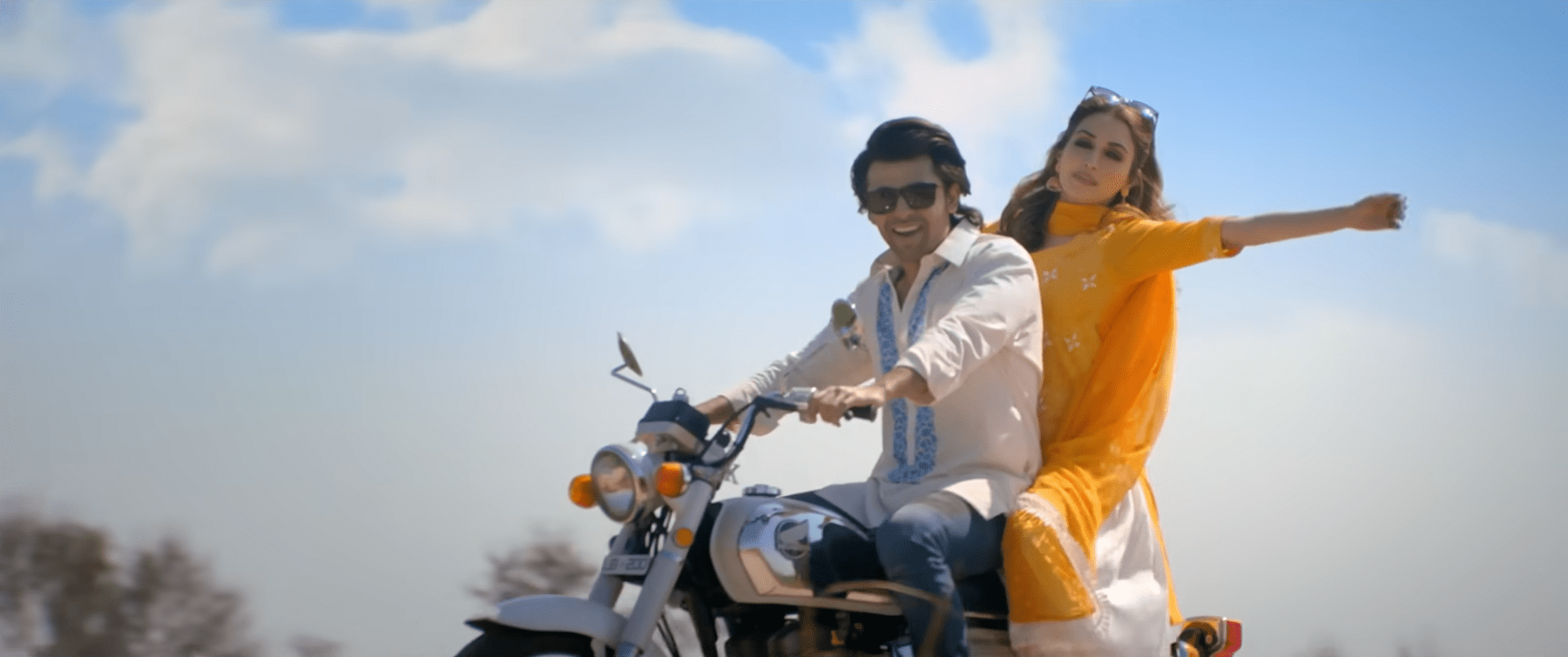 Tich Button has also made an attempt to discuss the brouhaha surrounding divorce, which I found extremely welcoming, given the stature of the movie. Similarly, it touched upon the toxicity of corporate culture, which again is an extremely important debate, particularly during these unprecedented times. Ali echoes our emotions when she says, "Jis admi ko nauker or worker ka farq nahi pata, main wahan kaam nahi karti [I don't want to work somewhere where they don't know the difference between a servant and a worker]."
But all loveliness aside, the movie is too lengthy with its second half seeming to have been lost in oblivion, straying away from its core narrative. There is also an item song with hidden sexual connotations, jumping on the bandwagon of similar songs in Pakistani cinema.
Another thing that I found concerning was the choice of singers for songs such as 'Jutt' and 'Ehsaan Hai Tumhara'. Along with Saeed and Bilal Wajid, the film features singers Jonita Gandhi and Mika Singh. I believe mainstream movies like Tich Button should make more of an effort and focus on showcasing local talent.
All in all, Tich Button is a welcome reprieve.