Hussain is passionate enough about his work to celebrate it with a live show rather than merely on Instagram and we need more of this passion in Pakistani fashion today.
In the late evening, with a very slight nip settling into the air, Lahore's Shalimar Gardens came alive with a fashion show. Part of the allure of Hussain Rehar's solo showcase, Moraan Sarkaar, was the sharp contrast between Lahore's fashion set and the crowd that milled about the gardens. A raised pool and fountains surrounded by ageing Mughal arches formed the show's venue. Surrounding it, in the garden below, stood juice stands, popcorn-waalas and plastic tables and chairs. A few half-covered tents served as backstage where the models dressed, their dupattas splayed out just so by stylist Yasser Dar, the team at Nabila's perfecting their hair and makeup, oblivious to the curious crowds peering at them.
Yin and yang, a centuries old Mughal garden and the newness of cutting edge design, the high gloss of fashion and the pedestrian appeal of a public place on a weekend — the disparity emulated Lahore itself, encompassing the colourful crowd and the high fashion echelon which all somehow fit into the cultural essence of the city.
With the show underway, passers-by gathered to stare up at the platform from the garden below or from the slightly more elevated winding walks and terraces. Mobile phones in hand, they recorded videos of the models walking on the uneven brick path surrounding the fountains which served as the runway. The photographs and videos filtering out on social media a little later featured this crowd in the backdrop, gathered to watch a show that they had chanced upon while spending their day off in one of Lahore's oldest picnic spots.
It reminded me of Bollywood songs from the 80s where you would see huge crowds gathered around the shoot, getting caught on screen as they watched Amitabh Bachchan and Zeenat Aman move to a punchy song.
There was nothing 80s, though, about Hussain Rehar's solo offering which, incidentally, has been the only fashion show to take place in Pakistan this year (provided you disregard a mish-mash of bling called Kashee's from some weeks ago). The select audience consisted of well-known names from Lahore's fashion fraternity and the designs orbiting the ancient fountains offered wedding-wear options for the modern woman who incidentally forms a large chunk of Hussain's clientele.
Five years ago, Hussain Rehar debuted with a splash of colour and psychedelia, presenting luxury-wear collections on the fashion week catwalk. Since then, he has honed his signature, streamlining his edgy aesthetic on to the conventional, lucrative boundaries of the long kameez, the shalwar, the bridal lehnga, the unstitched formals collection. His strongest selling point remains his unconventional take on colour, placement and pattern, which adds a punch to even the most traditional silhouettes. Now, celebrating 'Five Years of Hussain Rehar' at the Shalimar Gardens, he added the same twists to his wedding-wear line, little details that could elevate a kameez, a lehnga, a long shirt or a sari into something more.
There were certain designs from the 36-piece collection that stood out. A four-yard dupatta glistening with gota came paired with an ivory layered lehnga and choli stitched from 30 yards of chanderi silk. Long shirts in black and maroon were paired with palazzo pants and etched with unique floral patterns. Bridal lehngas in crimson and vermillion came layered with panels of embroideries. Embroidered blazers were worn over easy breezy velvet pants. Off-shoulder, fitted velvet dresses had embroidery tapering down their side. A gorgeous array of whites dabbled with a range of silhouettes — long shirts gathered at the waist, layered skirts, a jacket worn over a fully layered skirt fashioned from yards upon yards of hand-woven chanderi silk with floral motifs; a mélange of silver and gold, gota, sequins and handwork.
There were details that glistened in the evening sunlight and that you could admire later, when you zoomed in on the pictures — the unique floral patterns, the gota meshed thickly together, the long capes, the glittering embellishment on the white jacket with the matching large clutch.
Showstopper Maya Ali wore cardinal red, worked with thick swathes of embroidery, and complemented by a heavily bordered dupatta.
Ayesha Fazli, also walking the runway, wore a fully embroidered sari with kiran lining the border.
Two years ago, Hussain had put out a debut solo show that had similarly played with colour and technique, mixing hand embroideries with machine-work and keeping an eye out for commerce. Now, he once again put forward a line that was commercially viable but which also gave testament to how he has grown as a designer — the clothes were predominantly hand-embellished, the finishing was neater and some of the silhouettes reset the domains of wedding-wear with experimental tweaks here and there.
The styling and hair and makeup amped up the looks; models wore brightly coloured fez hats, parandas set off by shiny golden pompoms were woven into long braids and there were statement earrings and hair accessories, crafted from pearls, golden chaand-tara patterns and kundan.
The setting of the show, on the other hand, could have benefitted from a swift clean-up. The Shalimar Gardens may have their old-world allure but nothing more was done in terms of décor. A smattering of rose petals in the fountain area or floral garlands hanging around the central arches could have perhaps helped in creating grander visuals. And while the red brick path surrounding the fountains was wide enough to masquerade as a runway, it was also bumpy and many a model stumbled here and there — but didn't fall, at least. An even catwalk set up over the path would have made the show flow more smoothly.
Then again, based on my experience of his show from two years ago, this is how Hussain Rehar prefers to roll out his collections. He selects a venue, gathers together an A-list modelling pool, sends out the invites and lets the clothes take centre stage. Background, music, theatrics and the unnecessary expenditures associated with them are sidelined. In a world still reeling from the post-pandemic economic crunch, it makes sense. The priority needs to be to put out a show, to showcase a collection where the audience is able to appreciate the design, to make sure that the styling is on-point and to eliminate unnecessary fripperies.
A show doesn't need to be an all-out elaborate demonstration of pomp and wealth. It can be simple and tasteful and make waves simply on the basis of designing clout. Sadly, no one else in Pakistan's fashion fraternity seems to understand this now. Designers are more than happy shooting generic images of commercially viable, repetitive clothes and earning profits by floating them out on their Instagram feeds and e-stores. Fashion shows have receded completely into the shadows. The fact that Hussain, only five years into his career, still wants to celebrate his work by showcasing it all on his own, in a solo show, is commendable.
The thing about a solo show, though, is that it puts a designer completely in the spotlight. Hussain's collection was beautiful overall and while some designs were reminiscent of his recent unstitched and stitched festive lines, the show was an overall representation of his updated vision for the festive year ahead. However, the most memorable designs were the small smattering that pushed the sartorial envelope. A few more of these would have really added to the show.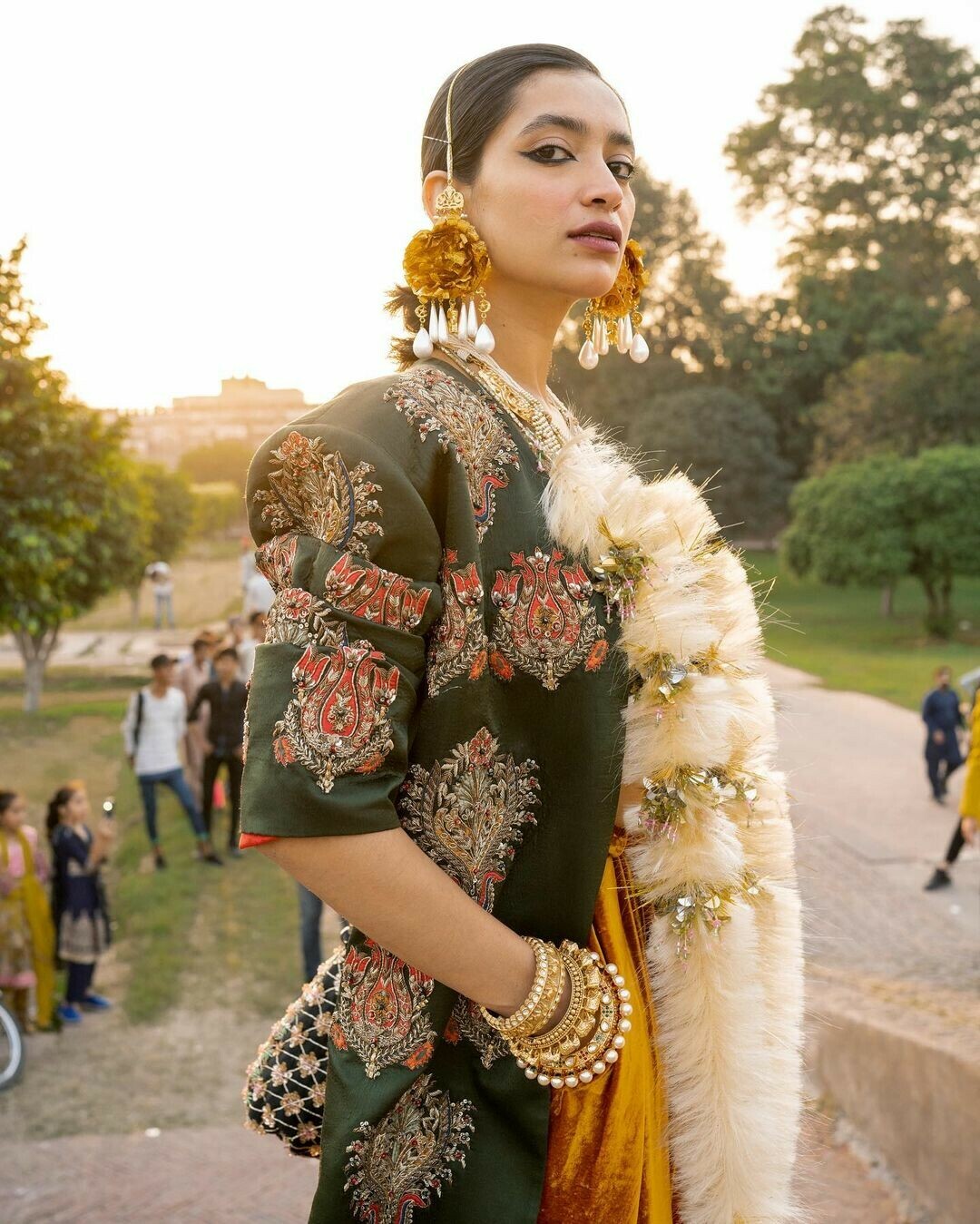 The desi customer is a stickler for glittering paisleys and of course, nothing sells better than an elaborate red, white and pastel pink bridal, but what stands out in a show are the designs that are more experimental. There may have been some interesting elements to Hussain's conventional designs but the off-shoulder gown, the blazers, capes and full skirts were really something else. They represented the show's 'wow' moments and it wouldn't have hurt to have a few more of those.
But to deliver any 'wow' moments at all, at a time when fashion at large is toeing boring, retail-friendly lines, is a feat indeed. Hussain Rehar has carved an identity for himself by balancing retail with distinctive design. From out-of-the-box shoots to vivacious design, his atelier in one in the very few that are still presenting options that are fashion forward. And he is passionate enough about his work to celebrate it with a show, showcasing to a live audience rather than merely to the dispassionate viewers surfing through Instagram.
More of this passion is so direly needed in Pakistani fashion today.