The Hollywood star won the case against his ex-wife for defamation claims over an op-ed she wrote in 2018.
After weeks of court hearings and a full day of deliberations, a jury ruled in favour of actor Johnny Depp and said fellow actor and ex-wife Amber Heard defamed him in an op-ed published in The Washington Post in 2018.
The widely-viewed six-week trial featured explicit and graphic evidence and testimony detailing the former Hollywood couple's soured relationship.
The Virginia jury also ruled in favour of Heard in some aspects of her counter-suit against Depp. The jury awarded Depp $15 million in damages from Heard. The panel awarded Heard $2 million in damages.
In a rather celebratory manner, many celebrities shared the news all over social media, including Khaani actor Sana Javed, who had been sharing clips of herself closely following the case. This time she shared a photo of the Pirates of the Caribbean actor Depp and announced that he has "won" the case.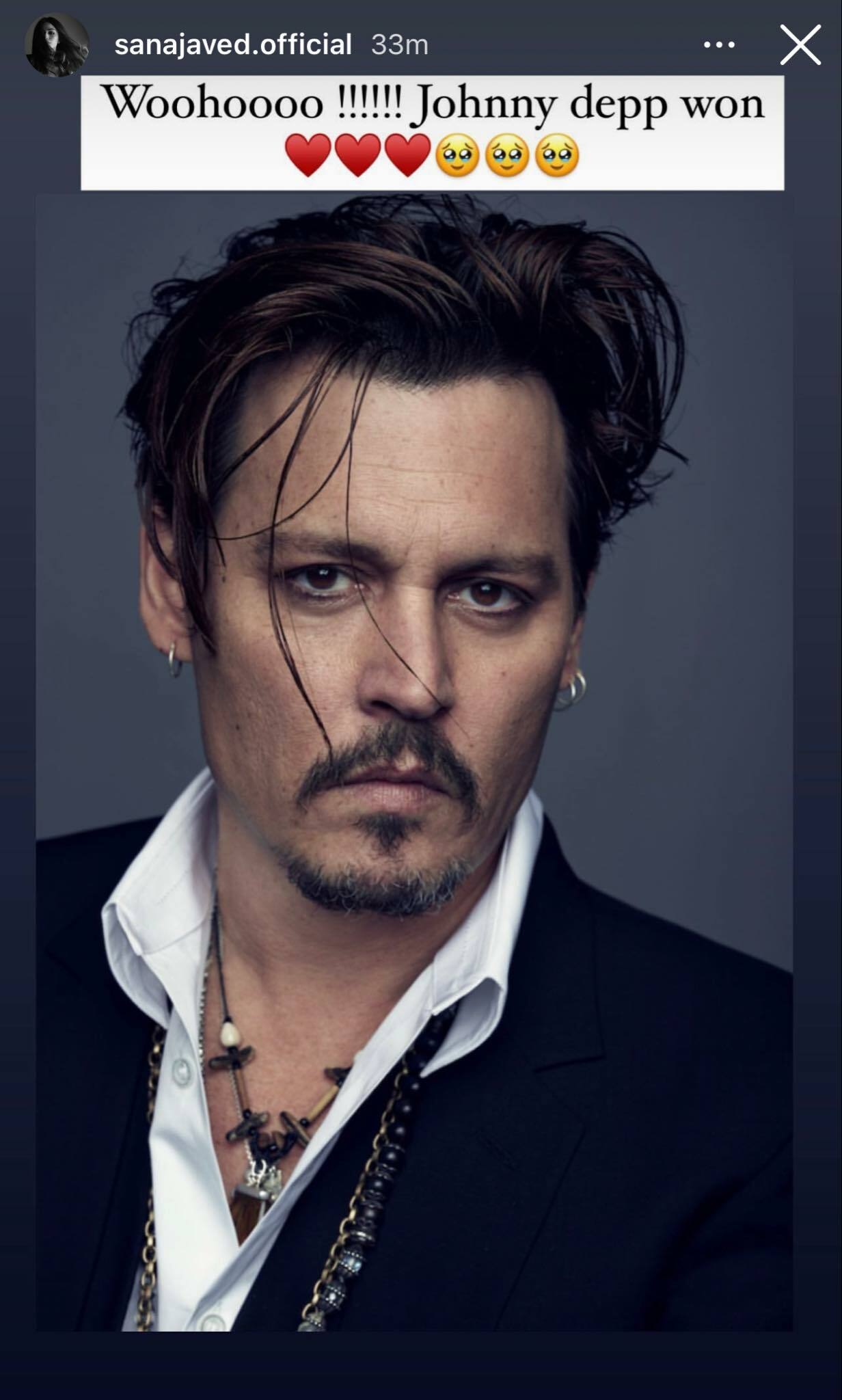 Actor Mansha Pasha took to Twitter and wrote, "Abuse has no gender. June off to a good start."
Actor Armeena Khan also shared her thoughts on the win. She wrote in a tweet that she's "happy for victims of DV (Domestic Violence) everywhere". In additional tweet, she also mentioned what she disliked the most about the case and that was the "vile, misogynistic abuse (online)" directed towards Heard. "I read some truly despicable things" she wrote.
Singer and actor Ali Zafar retweeted a fan's video collage of him and Depp and wrote, "Even a true empath could only understand a small percentage of what Johnny Depp must've gone through." According to Zafar, no verdict or amount of money can "bring him (Depp) back 6 prime years of his life, the art he could've produced and smiles he could've brought."
But for Osman Khalid Butt, the very public trial wasn't a good thing. Quoting Stanford Law professor Michele Dauber, Butt called the trial, "the single worst decision I can think of in the context of intimate partner violence and sexual violence in recent history." He said she was right.
Jemima Goldsmith, the ex-wife of former prime minister Imran Khan, also took to Twitter and suggested that Depp "waive off Amber Heard's damages" saying that it was never about the money and urge "trolls to stand down and wish her well."
Depp, the 58-year-old Fantastic Beasts star sued Heard for $50 million and argued that she defamed him when she called herself "a public figure representing domestic abuse" in The Washington Post opinion piece. Heard, 36, countersued for $100 million, saying Depp smeared her when his lawyer called her accusations a "hoax".
Depp and Heard met in 2011 while filming The Rum Diary and wed in February 2015. Their divorce was finalised about two years later.