Covid made weddings smaller and more intimate but even it couldn't change the forceful orchestration of desi wedding 'gram.
Now that wedding season is finally over, I come here to dissect all the madness — the extravagant 10-day wedding fiestas, long spells of qawwalis and ghazal nights, outfit inspos and faux pas. From debates about women upstaging the bride to reaching home amidst the deadly smog, rushing to the doctor to cure the inevitable cough and being told one should avoid being outside and then merrily rushing off to event number 366 and ignoring the doctor's orders — this is what Pakistani wedding season is all about.
Our brains are overstimulated with all that needs to be achieved and some of us feel the pressing urge to crawl into a quiet corner and read something soulful to combat the hyper-active exhibitionism.
The structure of our wedding industry is similar to the Bermuda Triangle that draws you in with its magnetic force. You can't unravel the marvels of this industry in one attempt so we're going to be diving in to one of the most significant components of this giant — Instagram. Mark Zuckerberg doesn't have anything on desi wedding Instagram. This term denotes all the braggadocio that has become an integral part of desi wedding culture packaged perfectly for the 'gram.
Desi 'gram comprises several 'lit' photographers and blogger accounts who navigate this culture. If your wedding was featured on their page and your hashtag trended for two days, congratulations, you hit a major milestone!
That's one of the many things people wish to achieve with their wedding these days. Their wedding hashtags (think Bennifer or Kimye) are basically an attempt to immortalise their weddings online, I suppose. It must be creative, funny, relevant and should incorporate both the names of the bride and groom with a witty twist. If you're familiar with this genre of Instagram, you would know about the 'raw' and 'candid clips' that often circulate across the platform and accumulate lots of awws and sighs. What this also results in is people making mental notes on how they can recreate these scenarios at their own weddings.
You pick up these things subconsciously and try to emulate them. So, in a way, everyone jumps on this bandwagon to have the next it wedding.
"Instagram definitely has a major impact. Trends are shifting towards more editorial style couple shoots as opposed to your conventional timeless type poses," says Mutahir Mehmood, who runs the very popular Karachi-based photography service OShoot. "Before Instagram, it was all about unposed, genuine candid moments and people would have more fun at events. Now they pose solely for the 'gram and people want their weddings to be posted online. There are very few events now where couples and families enjoy their festivities for memories as opposed to Instagram specific shots."
Desi weddings seem to have gone through a major shift and the emphasis is now on how everything appears as opposed to how it actually is. Covid shook up the wedding industry and forced people to have more intimate affairs in the cozy settings of their homes — and what a refreshing treat it was. But as life went back to our new normal, the wedding industry went back to its old grandeur. Mehmood believes that even though the scale of most weddings may have gotten smaller during Covid, emotions somehow got bigger and better.
"With the Instagram trend and Covid happening, the focus shifted to home-based low-key weddings, which was a very positive change. Our weddings have always had all the ingredients, like real laughter, joy, dancing, singing and all kinds of emotions and pre-Covid they just got bigger and bigger," he explains.
"However, the pandemic shifted the focus back to low-key weddings where people would have a better and more personal intimate experience in their backyards. So in comparison, a low-key home wedding was definitely a better experience than the larger than life weddings that we were used to seeing. The key difference was people were enjoying themselves more at home weddings as opposed to the big ones for the 'gram."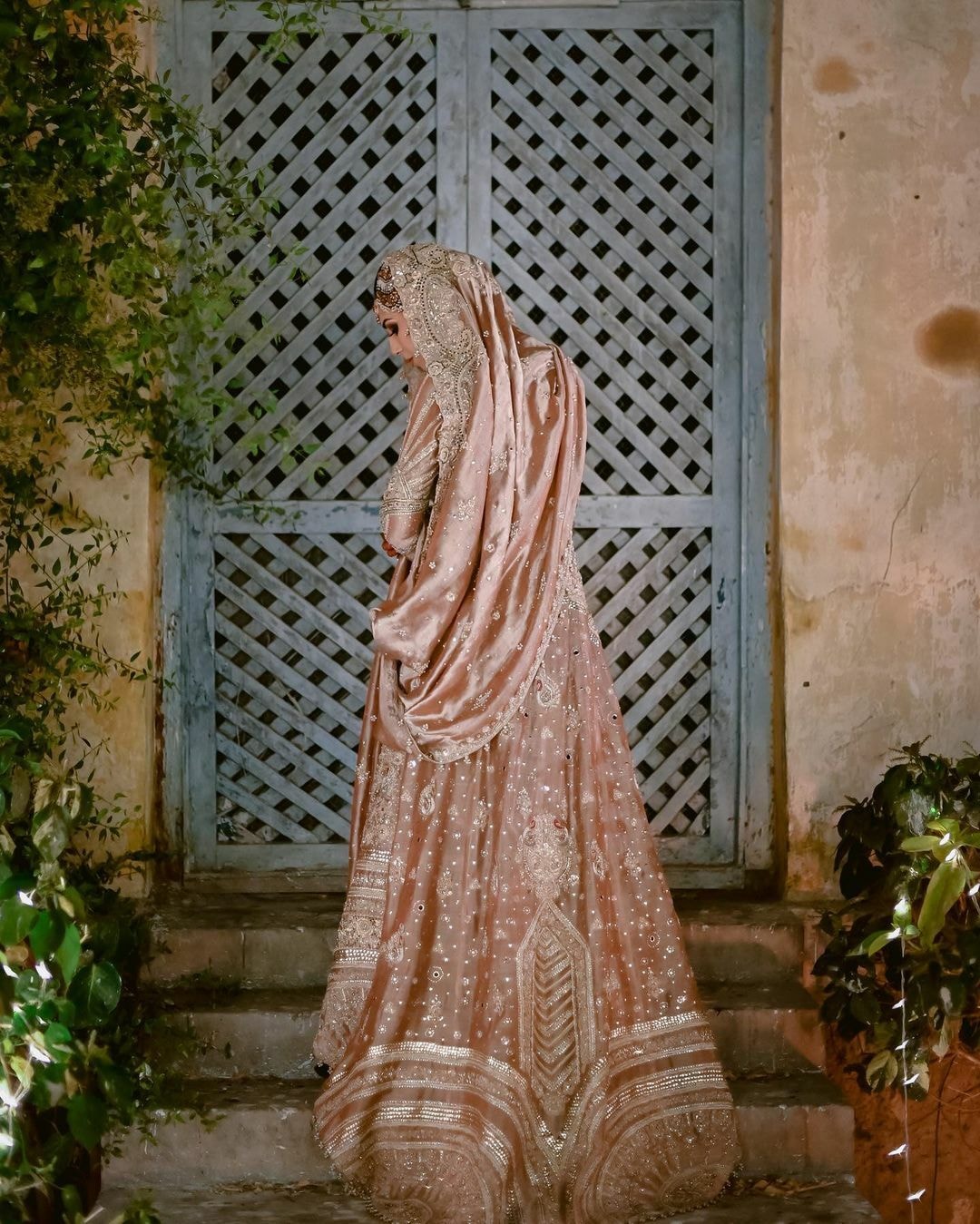 Ali Khurshid, another well-known Karachi-based photographer known for his aesthetic and refreshing approach to wedding photography, observes, "Instagram has really changed the game. You tag people, you tag the designers, event planners and that creates a vibe throughout the internet. When people start sharing, all these networks come to life and that creates a lot of buzz for the photography business — that's how it works!"
More people have begun asking him why he doesn't upload their pictures. "At first it used to be 'why did you upload our photographs, you have breached our privacy'. Very few people are like that now, even though it's coming up again, the privacy issue. But mostly, people are asking now 'why did you not upload our photos to your grid?'"
Khurshid, however, has other reflections on Covid weddings. "The intimate weddings at home were nice but a lot of the charm was taken away by the fact that people had to wear masks. I took a two-year break to reflect on life, focus on my running, cycling, and produce art and had a great time doing that. Now that the weddings are back, I'm really enjoying shooting again because I'm mostly the only one wearing a mask at the wedding but that's because I'm more scared of the flu than Covid, which I already got but due to the vaccine, nothing really happened to me," he explains.
Paiman Hussain, the head photographer of an uber-chic photography service with a rather eccentric name, Lollipop and Laddu, built on this point. "I think personally, Instagram has changed everything everywhere worldwide, not just weddings. Facebook has bought the two biggest juggernauts in the world, Instagram and WhatsApp. This has led to them shifting the whole dynamics of the tech world. People were already too fed up with Facebook with the passing of time due to poor privacy and other issues. In the last two years, Instagram has filled that gap people were longing for," he explains.
"Covid really opened everyone's eyes that home is where the heart is"
"Most of our business used to come through Facebook but now it has shifted more towards Instagram. Although our YouTube audience is still intact, Instagram has definitely caused a shift."
But it isn't all for the better. "Now in such a tiny square layout, no one company stands out in terms of quality," reasons Hussain. "People just browse quickly without even knowing who's behind the art. Because of that, the whole online wedding space has become very saturated, I believe. Brides feel more intimate and connected when they approach us on Instagram. Going back to the same point before, privacy. Individuals somehow feel they are more secure on Instagram, compared to Facebook so most brides are doing their homework on the 'gram."
Covid hit wedding photographers just like it hit everyone else. "Unfortunately, restaurants and other industries had a lot of say in terms of timings and [other] things during the lockdowns. The government gave zero support to our industry. No sort of compensation in terms of timings or allowance was given. The food industry had a huge say whenever there was a lockdown announced or any other decision laid out for that matter. We were completely in the dark and just followed the waiting game," he says.
The silver lining was the home weddings they got to cover. "I can't go back to the traditional hall weddings now. The environment and intimacy while shooting inside the house was something we strived for in the first place. It gave us a chance to shoot weddings like film, which was our initial plan when we set out all those years ago. I never was a fan of halls. Covid really opened everyone's eyes that home is where the heart is."
Becoming 'Insta famous'
The concept of privacy has evolved thanks to Instagram. The underlying reason remains the very logic that made people frantic about the number of likes and comments under their Facebook photos — validation. Suddenly, your best-looking moments can now be broadcast on these carefully curated platforms which then garner you praise from strangers and make you feel like celebrity.
You'll see big wedding after big wedding trying to top other society weddings in an infinite loop. At times, what we're seeing on our feeds is raw emotions but at other times, it's a forceful orchestration solely for the 'gram. Some will do their baraat entry in a cake floating in an artificially created stream in the middle of a wedding venue while others will host an Ertugrul-themed extravaganza complete with horses and men in amour doing salutations and war poses. This theme had been done quite a lot by grooms but recently, a bride pulled it off in her 30kg outfit. I'm currently waiting for someone to top this.
There are very raw emotions on Instagram but most of desi wedding 'gram has become forceful orchestration and the driving force remains the need to standout and be remembered. Thanks to Instagram, we can all have a sliver of the fame pie that makes people feel like they matter in the grander scheme of things, even if it's just for a day.