Pakistanis are still getting married in lavish ceremonies surrounded by hundreds of their nearest and dearest.
On a cool winter afternoon, the street outside Qasr-e-Noor, a wedding hall in Lahore's RA Bazaar echoes with the sharp staccato of banging drums. The metallic blare of trumpets follows not long after. The rumble of the engines of cars passing by and the discordant honks of their horns are no match for the music blaring out of the hall. Arooj Ismail and Ahmed Khan are to be wed inside.
The wedding hall is large and difficult to miss — its tall stone pillars and marble steps glint in the sunlight. Inside the hall itself, nearly everything is golden; little golden lights are dotted across the ceiling, the hall's cream-coloured walls are decorated with ornate gold gilt, the tables and chairs scattered across the red carpeted floor are covered in gold embellishments. A long wooden pathway cuts across the floor, directed towards the bride and groom's throne — a set of white and gold satin sofas. Right in the centre of the hall, between the wooden pathway and the couple's throne, enveloped in blue and purple lights, is a wide dance floor. Sparkling, floral streamers dangle from the ceiling directly above it.
People dressed in brightly coloured traditional clothes buzz with excitement; many are sitting around tables,their plates piled high with biryani and chicken korma. Children play hide-and-seek behind the tables and chairs. But most people are gathered around the dance floor as upbeat Bollywood songs begin to boom from loudspeakers placed strategically nearby.
This scene could have been a memory from a pre-Covid world had it not been for the black masks worn by the people gathered inside the wedding hall. The group of 12 on the dance floor, standing inches away from each other, have concealed their faces behind these masks. Those in the audience, sitting elbow to elbow, some wearing white latex gloves, have done the same.
This celebration is one of many events people across Pakistan held during the winter wedding season, smack in the middle of the coronavirus pandemic. These Covid weddings are similar to traditional Pakistani weddings in the way that they are celebrated, except for the inclusion of a few pandemic-related Standard Operating Procedures, such as wearing masks, to give the celebration a thumb's up from the government.
"It is not like people were afraid of the coronavirus and decided not to celebrate their weddings. Many people willingly went ahead with their wedding celebrations this season," said Khalid Idrees Bhatti, president of the All Punjab Marriage Halls Association.
While there have been thousands of event cancellations this past year, Bhatti shared that halls have still hosted an ample amount of weddings. Even during the recent peak in Covid-19 cases, he said, marriage halls were packed day in and day out with wedding functions.
It is not always easy to postpone a wedding, said Shahrez Haq, bride Arooj Ismail's 20-year-old nephew. According to him, since many wedding guests lived abroad, the timeframe in which the wedding could be held was very narrow. The most convenient time was near January 2021.
The uncertainty around how long the threat of the pandemic was going to linger played a major role in the decision to hold weddings this season. "[The pandemic] isn't going anywhere, it's here to stay," said Javeria Khan, whose wedding was held at the end of December 2020. She and her family decided that since it did not seem like the pandemic was going to end any time soon, there was no point to postponing the wedding.
Adjusting the dates of a wedding can be a serious logistical issue too. The event hall for Naghma Raheel's son's ceremony had to be booked 10 months in advance. Her son, Raad, was married in November 2020. There is always a long waiting list for wedding venues in the country, she explained.
Similarly, Zonera Ahmed had planned out her daughter's wedding a year before it was supposed to be held. When the pandemic hit, Ahmed said the plans they had been working on for so long started falling apart. She had to change the wedding venue several times, booking and rebooking places according to the pandemic situation and changing Covid restrictions.
Since moving the dates of the wedding would be a logistical nightmare, her family decided it would be better to stick to their original dates, said Ahmed. Her daughter's wedding was celebrated in December 2020, with six events.
Marriage halls like Qasr-e-Noor remained closed until September 2020 due to the pandemic. After reopening, the government released a set of guidelines for pandemic weddings, including restrictions on the number of guests (the latest allows a maximum of 300 people), social distancing and making it mandatory for guests to wear masks. According to Bhatti, wedding halls strictly imposed and followed SOPs but did not charge extra for these measures.
"There was a mandate on wearing masks. If you were not wearing a mask, you would not be let inside [the event]," said Haq. According to him, at Ismail's wedding, tables were also spaced out six feet apart and a maximum of four seats were placed around each table. Most importantly, Haq said they brought the guest list down from over 1,000 people to around 300.
"Due to Covid, [wedding halls] had reduced their regular capacity by half," said Ahmed. This restriction, she said, meant that there could be a maximum of 300 people per hall. For her daughter's wedding, Ahmed booked two halls and 400 people attended the event.
It is, however, very difficult to maintain precautionary measures at a large family event such as a wedding, according to Raad Raheel, who got married in November. "The plan was to not hug or shake hands, but that all went down the drain once the function started," he said wryly.
Despite the government's guidelines, not all weddings have been safely celebrated. Nineteen wedding halls in Lahore were sealed in December for violating Covid-19 SOPs. Many more across the country have been sealed and/or fined in the past two months. Wedding halls have become "coronavirus hotspots," according to the government.
"Any gathering where more than 20 people are in a covered place is at risk if SOPs are not followed," said Dr Farwa Raza, a frontline health worker responsible for the Covid-19 patient and testing floor at Excel Labs in Islamabad. The Covid wedding trend is alarming, she said. Many of the patients that Raza has recently received had gotten infected because they attended a wedding. According to her, a surge in Pakistan's Covid cases was inevitable due to the number of weddings held in February.
In November 2020, three days after attending her cousin's wedding in Hyderabad, Fatima* started experiencing Covid-19 symptoms. Soon, the rest of her immediate family — nearly 20 people — began experiencing similar symptoms. It soon became clear that they had contracted the virus from the wedding. According to her, the event was a "grand wedding" with up to 700 people. It was held in the basement of a wedding hall and no proper SOPs were followed, she said.
Fatima's illness was more severe than the rest of her family's and she ended up on an oxygen cylinder. But while Fatima might not have wanted to go to an event like that during a pandemic, it is difficult to get out of attending the wedding of a close family member. "I'm often guilt-tripped into attending these weddings," she confessed.
While she has recovered now, Fatima said the thought that so many weddings are being held during the pandemic makes her anxious. "No one follows any SOPs. If anyone really wants to get married they should only invite immediate family members and make sure everyone's following SOPs."
But it's difficult to make sure people follow SOPs and some people don't want to take the risk. Farzeen Najam decided she was better off delaying her wedding than holding it during a global pandemic. "I'd rather have my nikkah delayed than lose people around me," she said.
Najam, who is a senior at Duke University, has indefinitely postponed her wedding until the pandemic dies down. But convincing her family to abide by her decision wasn't easy.
She had to spend time explaining to her parents why holding a gathering could be dangerous. Even now, she said, many members of her extended family do not agree with the postponement. "In the end, I decided to exercise the veto I had given myself. I flew to Pakistan late, making it impossible for them to plan a wedding."
Like Najam, Mariyam Mohsin decided that celebrating her wedding during the pandemic was too risky. Mohsin, however, was only able to postpone her wedding by a few months. "Not a lot of people are...very willing to prolong engagements or relationships like that in Pakistan. So you have to get married sooner or later," she said.
Societal norms play a large role in the organisation of a Pakistani wedding, according to Ammar Khalid, who has a master's degree in social and cultural anthropology from Columbia University and has a research interest in the socio-religious dynamics of Pakistan. The pressure that comes from close and extended family members makes it difficult to delay a wedding, he said. Celebrating a wedding, he said, is seen as a responsibility that a family needs to fulfil sooner rather than later.
External pressures also factor into the lavishness of the celebration. "You can't have a simple affair in our society because there are a lot of expectations that are associated with a wedding," Khalid said. In Pakistan, weddings are more than a celebration of the union between two people, they are a display of wealth and social status as well, he explained.
People are so afraid of what others will say about a smaller wedding that they are willing to have extravagant celebrations during a pandemic, he added.
Such beliefs and norms are responsible for Pakistan's massive wedding industry too, Khalid explained. The persistent lobbying and protesting of wedding hall owners greatly contributed to the government's decision to reopen wedding halls in September.
However, according to Bhatti, the closure of wedding halls impacted people across the country. "Everything is associated with the wedding industry: shoemakers and sellers, the garment industry, beauty parlours, photographers, waiters, DJs, the furniture industry. You can keep counting," he said.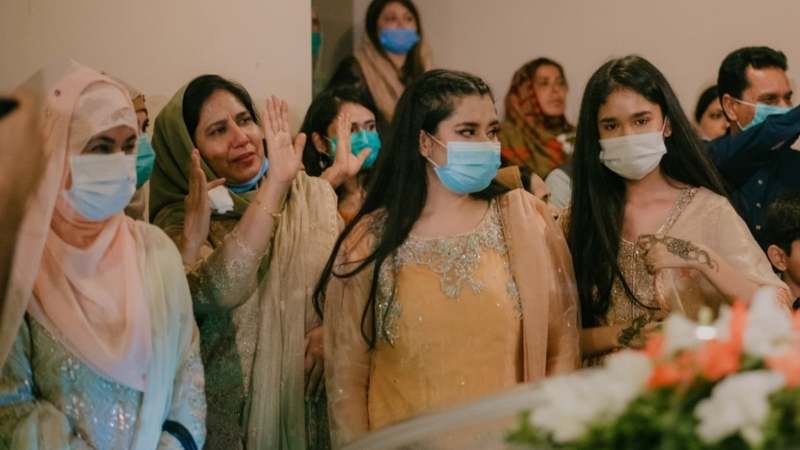 The wedding industry pays for the food of thousands of families' tables and gives young people from underprivileged communities the opportunity to fund their education, Bhatti said. These are the people wedding hall owners are advocating for, he explained. "We are also a part of the country. We don't want lives to be lost because of us," he clarified.
If wedding halls are to be closed, he said, the government should, at the very least, waive the rents due on wedding halls and help support the people that this industry employs, he added.
Although the National Command and Control Centre announced on March 11 that restrictions on commercial activities will be re-imposed, Pakistan's third Covid-19 wave has already begun. Official figures show that Pakistan currently has 667,957 confirmed Covid-19 cases and the daily case tally has crossed the 4,000-mark.
Although indoor wedding halls in Punjab have been closed since March 15, outdoor weddings with up to 300 people are still permitted. On March 28, the NCOC declared that wedding ceremonies will be banned from April 5, but this ban does not apply to everywhere in Pakistan. It's only for areas with a Covid-19 positivity rate above 8%.
The truth is, Mohsin said, holding a wedding right now is terrifying. People should do what they can to celebrate carefully and responsibly, she said.
"We tried to risk as little as possible and did what we could...the rest was up to God," Ahmed said. Honestly speaking, she said, it was a miracle that nobody that attended the wedding contracted the virus.
**Name changed to protect privacy*