Bilal Ashraf, Sanam Jung and many others celebrated the win, expressing their immense pride in the athlete's performance.
Our celebrities are over the moon at athlete Haider Ali's monumental win at the Tokyo 2020 Paralympics Games as they should be. Ali is the first Pakistani to ever win a gold medal at the games, making this a historical achievement for both him and Pakistan.
Ali achieved a 55.26 metre throw in the discus throw competition on his fifth attempt out of a total of six to score the best distance, a personal best. Ali stated that the gold medal will be "very important for para sport" in Pakistan. "They will see what can be achieved through hard work and to be able to compete internationally for Pakistan," he said.
Celebrities, athletes and public figures are over the moon at Ali bagging the gold, expressing their joy and pride in the athlete's achievement on social media.
Cricketer Wasim Akram shared his happiness at the achievement and said Ali is a "true role model for all of us".
Cricketer Nida Dar also praised the athlete and said that he'd won everyone's hearts.
Model Amna Baber excitedly shared the news of the win on her Instagram Stories.
Actor and composer Jimmy Khan couldn't help but post about the achievement either.
Actor and model Tooba Siddiqui labelled the win the 'best news ever'.
Actor Sanam Jung thanked Ali for making the entire country proud.
Actor Mohib Mirza shared a message on instagram that congratulated the athlete on the win, a praise-wrothy achievement despite "multiple issues".
Yasir Hussain wasn't far behind in sending Ali a hearty congratulations as well.
Cricketer Shoaib Akhtar gave Ali the good old "shahbash" on Instagram.
Actor Bilal Ashraf was super happy at Ali winning the gold.
Singer-songwriter Uzair Jaswal said the whole country was proud of the athlete and asked him to "bring home the gold!"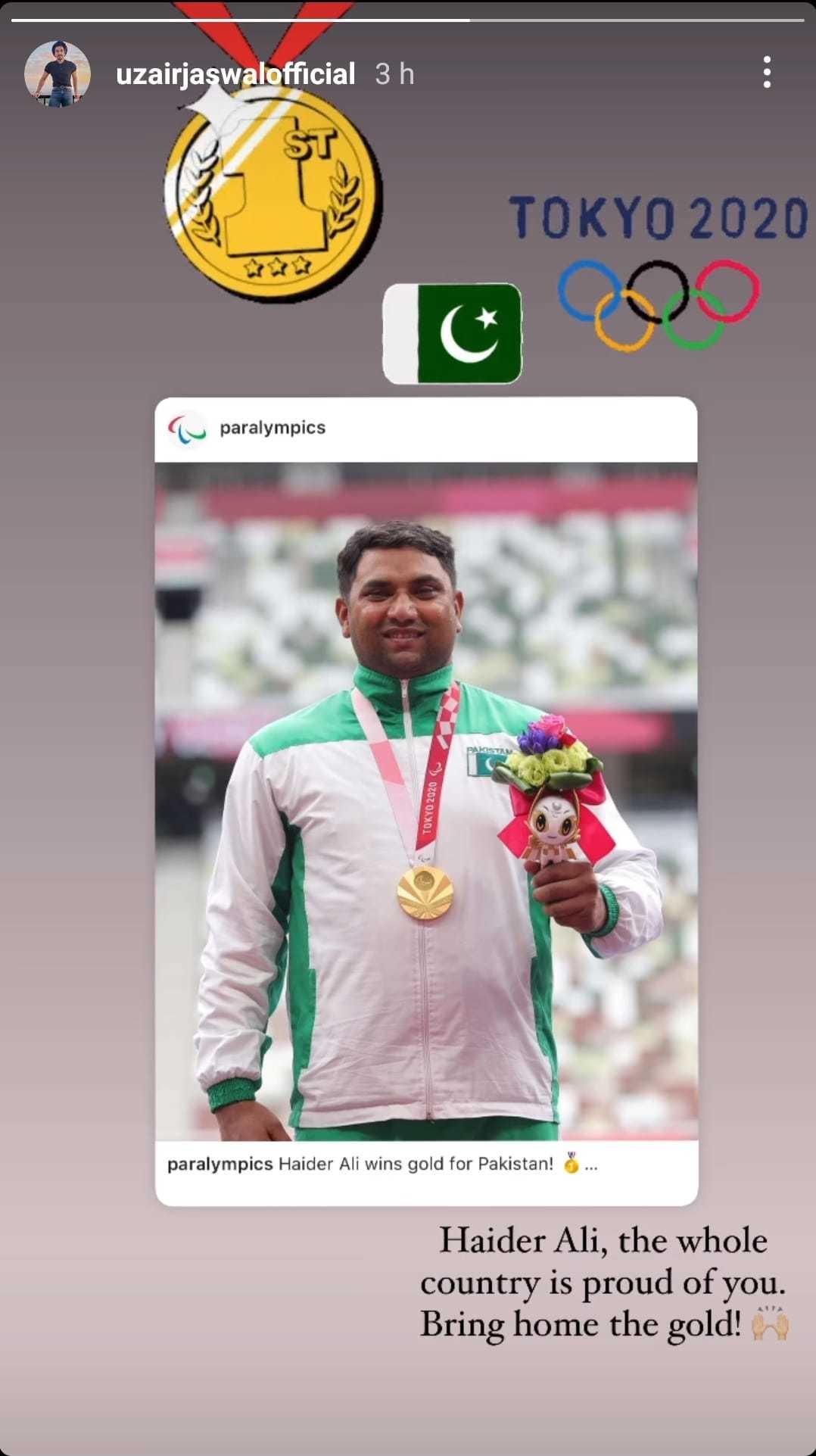 We're really proud of Ali ourselves for such a historic achievement. Congratulations to the athlete for bagging that coveted gold medal and making the entire country proud!
Email