This year's line-up included Ali Xeeshan, Faiza Samee, Kamiar Rokni and Elan, alongside a couple of Indian labels.
The inaugural State-side Edition of Fashion Parade fell on the perfect autumn day in New York, but with fashion month just around the corner, Spring 2020 was already on every fashion-forward New Yorker's mind.
As a Pakistani expat, I personally was itching to see the luxurious fabrics, glittering embellishments, and artisanal handiwork I had become accustomed to back home. After three years of living in New York, however, there is very little about the fashion industry back in Pakistan that I take for granted.
During a chat with Kamiar Rokni, we mused over how unexpected it is that nearly every woman in Pakistan, and most men, will at some point in their lives wear something 'couture,' whether it is a custom bridal for their engagement or their wedding day, a tailor-made suit or sherwani, or even a bespoke Eid jora stitched by the Master sahib at the local tailors'.
And yet, in the fashion world at large, a bespoke garment is something many will never even handle in their entire lives, let alone get the chance to wear, for couture can cost upwards of $50,000 (easily).
On the high street (stores such as Topshop, H&M, Zara and Mango) I am hard-pressed to find clothing that isn't made of some percentage of synthetic fabrics. I long for the summers spent in breezy lawn collections, and winters wrapped up in pashmina shawls – where pure fabrics and textiles reign supreme, and nothing is untouched by the artisanal workmanship and craft that is so quintessentially South-Asia.
It was precisely this soul of Subcontinental style and art that I was hoping to see walk down the ramp of Fashion Parade, and the show did not disappoint in the least.
Putting their best foot forward
Faiza Samee's collection 'The Time Capsule,' was an ideal opener for the show. A tireless champion of the South-Asian textiles for over four decades now, one can argue that she has perhaps been the most fervent devotee of the artisanal craft of the Subcontinent.
Her collection was a flurry of hand-loomed silks, block-printed textiles and velvets, painstakingly dyed with indigo, madder root, henna and turmeric. South-Asian motifs were everywhere – flowers, geometric killims and paisleys all lovingly hand-embroidered onto the fabrics.
The silhouettes were classic, and romantic, with kaftans invoking the ease and movement of contemporary resort wear, and velvet jackets that would work equally well dressed up over a lehnga, or dressed down with a pair of jeans.
Samee classifies herself as a revivalist, but there are some artisanal crafts that have never quite fallen into disuse, simply because she has never allowed it to happen. And the crowd ate it up.
Ali Xeeshan's collection followed his tried and tested formula: keep it chic, keep it fabulous, and bring the drama. Before his pieces were revealed on the runway, all his models walked out clad in hand- painted plastic burkas, making a multi-layered metaphor (pun intended).
For a collection titled 'Choke,' one could clearly see the intended statement that there is still much to suffocate you, literally and figuratively, in today's world – whether it's women suffocating under the weight of archaic remnants of the patriarchy like the burka, or wildlife choking on plastic in the ocean, or the earth itself choking under the weight of pollution, overpopulation and global warming.
His menswear inspired shirt-dresses were equally impactful. Crafted from hand-loomed Egyptian cotton, and decorated with quintessentially South-Asian emblems like elephants, parrots, and gumbads (domes) straight out of Mughal architecture,
Xeeshan kept the color palette crisp in black and white to let the embellishments do the talking. There was a delicate balance between the east and the west, evidenced by the seamless integration of sheer panels, fringe and strands of pearls through the collection.
Élan showcased Le Doux Poison, a capsule collection crafted in resplendent tulle, organza and silks, which is a part of their Winter bridal collection for this year. The collection took inspiration from western couture in its pastel color palette and fabric manipulation techniques like ruffles and pleats.
The crystals and bead work that are now synonymous with Élan twinkled under the runway lights and the sheer opulence of the collection drew repeated exclamations from the audience.
My personal favourite, however, was a blush pink crop-top with diaphanous organza sleeves, paired with a silk pleated ballgown skirt where the richness of the fabric really shone through, unencumbered by embellishments.
I could see the outfit easily translating as black-tie separates for a western audience who are unlikely to ever have an occasion that warrants an extravagant three-piece bridal ensemble.
Delhi Vintage Co. showcased Ulfat (love) a collection created with unity and togetherness in mind, created solely in the spirit of a platform that was showcasing both Pakistani and Indian designers' side by side. In this time of political upheaval and fraught tensions between the neighbors, the message was understated, but did not go overlooked.
Ulfat was a thread running throughout the collection, not least because the word itself was embroidered on multiple pieces. The love for South-Asian textiles was apparent in the collection, with rich gold and mehndi green banarsi silks.
The collection also employed an auditory homage to South-Asia in the coin embellishments that clinked as the models walked down the runway, invoking a sound similar to ghungroos (musical anklets).
Rabani and Rakha's collection was a necessary palette cleanser before the finale, with its neutral hues of blush and ivory, tonal sequins and elegant pearl details.
Represented at Fashion Parade by Raaz Couture, the collection showcased understated South Asian ornamentation on contemporary, western silhouettes, making for a collection that could instantly translate off the runway for an international audience.
The final ensemble was a particular standout, with a skirt showcasing the intricacy of South-Indian handweaving and colorful embroidery, paired with a pearl encrusted, fringed blouse that moved beautifully on the runway.
Kamiar Rokni's finale collection, 'Conversations,' had it all. Mirrorwork, zardozi, phulkari from up-North, hand worked embroidery, shadow work, embellishments and bling galore.
Rokni sought to invoke inclusivity and diversity in his collection in multiple ways – though a combination of multiple fabrics like handwoven raw silk, lame tissue, tissue net, brocade and organza, through a fusion between eastern and western silhouettes, and through the employment of patchwork.
The latter, in his own words, is something that is shared across all cultures and is a common element in folk craft across the world.
The collection emphasized commonality over discord through a celebration of what unites fashion globally, and the impact on the audience was palpable as each piece sashayed down the runway.
Beaded pantsuits and embellished jumpsuits with plunge necklines drew collective gasps of breath from the audience, and I saw more than one fashion influencer in the frow mouthing 'I want that!' when a black and gold sari-inspired ensemble came down the runway.
It was a collection that could have walked straight off the runway and into the closets of many a fashion-forward New Yorker.
Will Fashion Parade give way to cross cultural exchange?
The impact of the collections was apparent at the post-show panel at the Fashion Institute of Technology the following day, where fashion students clamoured to ask questions on artisanal techniques and sources of inspiration from the designers, and faculty floated discussions of a possible fieldwork trip to the region for students to explore South Asian craft firsthand.
Sadia Siddique, the CEO of Mustang Productions and the founder of Fashion Parade, sees this as a huge step in the right direction. "I don't see any reason why the craftsmanship and design of our region shouldn't be recognised, acknowledged and appreciated the world over," says Siddiqui.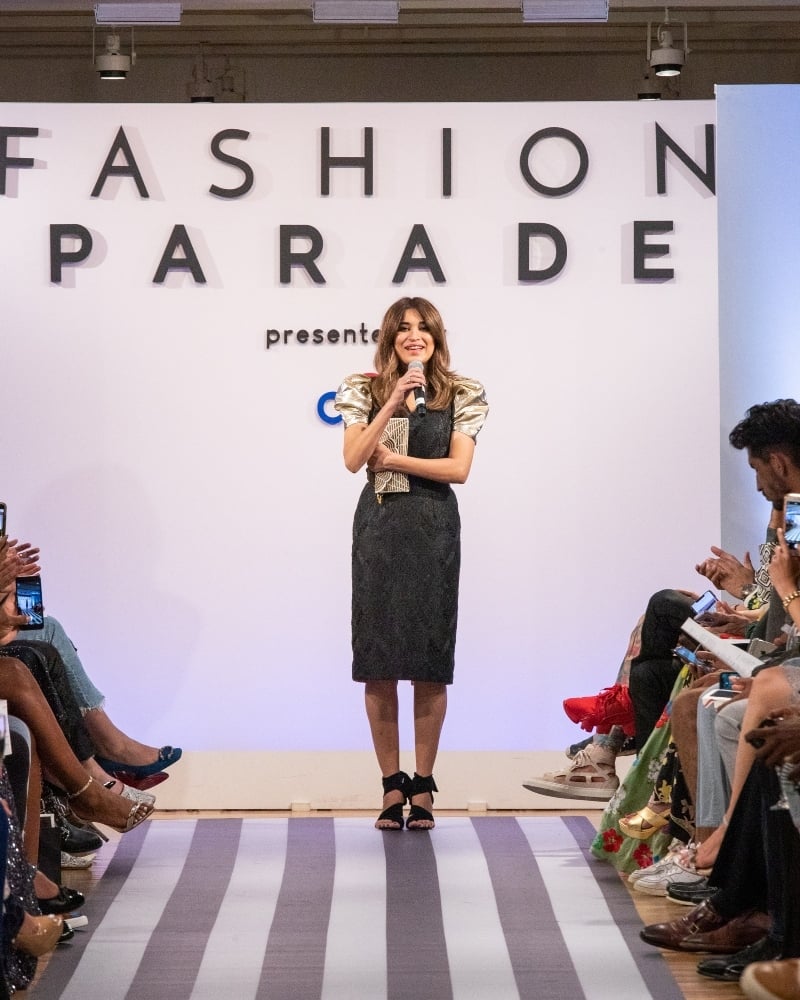 "My partner Jawad and I created Fashion Parade New York to open a channel between the Eastern and western fashion industries so that conditions that can allow that to happen can be brought about, and I'm so thankful to all those people who have embraced us and supported us in this initiative."
The long-term influence of Fashion Parade remains to be seen, but one thing is clear – South Asian craft has arrived with a bang in the Big Apple.
---
Photography credits: Happy Monday
The author is a New York City based journalist and former United Nations staffer. She holds a Masters in International Development from Columbia University. She blogs about the Pakistani expat experience on Instagram: @zinniabukhari