Khairpur's pink palace, built in 1798, is being revived to its original glory through elaborate renovations
For someone expecting a glorious frontal view of one of the country's most beautiful heritage sites, the entrance gate to Faiz Mahal in Khairpur (Mirs), down to the dishevelled array of security personnel, is nondescript. In all its renovated glory, Faiz Mahal comes into view only after you turn a sharp bend on the gravel-shorn road that must have once been adorned by regal vehicles ferrying even more regal human freight.
Today, it stands in forlorn splendour, its current owners probably hard put in reviving the original glory that was lost to years of state apathy, a shortage of funds and the sheer helplessness of the Talpur executives of the estate when it came to tackling such a huge renovation project.
It is only in very recent times that the historic, architectural and heritage values of the building were taken into consideration. As a result, a painstaking renovation process has given Faiz Mahal a second lease of life. The once withering structure, where for a time (to quote Keats from La Belle Dame Sans Merci) 'no birds sang' and where the 'sedge has withered from the lake', now sings a different tune: majestic grace, albeit with shades of nostalgia.
Standing proud over acres of prime real estate in Khairpur (Mirs), the mighty pink palace with its white trimmings, delicately-shaped balconies resting on cupolas of lily leaves, the sunbeams filtering florescent through the windows and tiers of countless rooms, bring back memories of the early days of the Talpur dynasty.
Having wrested the fiefdom from the Kalhoras for whose defence they had been commissioned, the Talpur foot soldiers had set up their own dynasty in 1783. Thereafter, had begun a reign of peace and prosperity riddled only by occasional familial disputes that resolved in due time. Faiz Mahal was built by Mir Sohrab Khan in 1798 and presently it serves as the home of H.H. Mir Murad Ali Khan Talpur ll and his sons Prince Abbas Raza Talpur and Prince Prince Mehdi Raza Talpur.
An elaborate renovation process has given Faiz Mahal a second lease of life.
Walking past the 18th century guns mounted on brick pedestals and standing guard over the spread of lawn and entering the palace, one is transported into an era of opulence and art. The ceiling in the main darbar (court) hall is a panorama of intricate hand-painted motifs blending effortlessly, the one into the next and so on.
Down below, the palace caretaker — staying a respectful few steps behind Mir Mehdi Reza who happened to be visiting that day — points to the row of showcases that displayed historical Talpur memorabilia in well-guarded glass cases, being looked down at haughtily by gigantic photographs of Talpur rulers with swords and rapiers hung across their shoulders.
These relics consisted of letters written in long hand, signed treaties, photographs of royal weddings with even more royal connects and some pictures of elegantly-dressed women which seemed to be a tribute to the status of women in days when their visibility would have been a rare feat.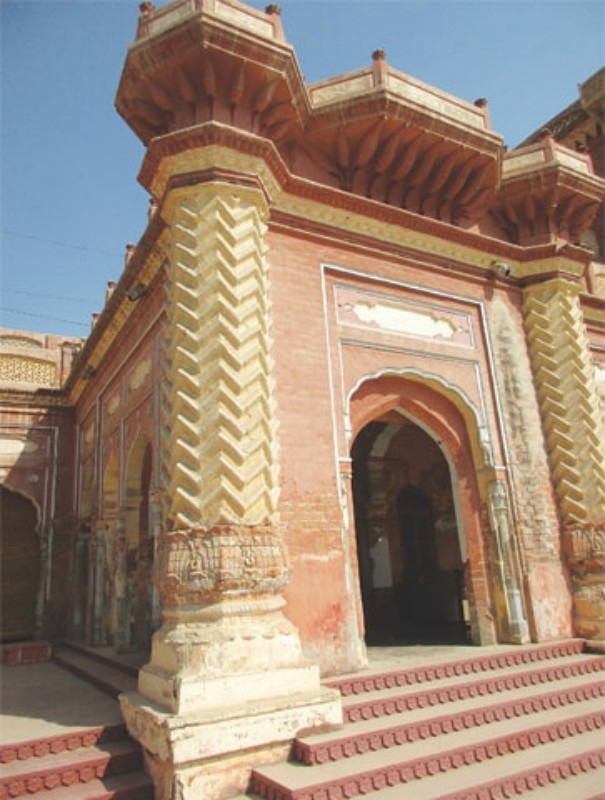 The caretaker is rueful of how conveniently an almost-welfare state was forcibly merged into the state of Pakistan in 1955 using threat of military invasion in violation of the agreement between Mir Ali Murad and Mohammed Ali Jinnah, the founder of Pakistan.
He is His Master's Voice, full of loyalty for the fallen Talpur pride as he recounts the systemic ruination of Khairpur Mirs. Mir Mehdi Reza, the ninth chronological 'ruler' and an unassuming gentleman, hardly needs to elaborate, except for a nostalgic reference to the family zenan khana (ladies' quarters), currently the residence of the Deputy Commissioner.
That Faiz Mahal is an example of architectural excellence, a world apart from today's stone-washed structures, is undeniable. The strategically-placed veranda arches allow a majestic long-shot view of the estate. The contemporary padded couches make a starkly-jarring contrast against the tiled floor as do the threadbare carpet in the main hall, the glaringly-ornate gold painted Victorian chairs and overhanging ceiling fans and later-day light fixtures.
Also, the furniture in the dining hall is not particularly aesthetic. Somewhere along the conservation process, it might have been overlooked that the Talpur rulers might have sat down cross-legged on the floor to partake of royal feasts.
Built on a vast acreage of land as the sovereign's court, the Mahal is also an abiding page of history and culture that can only be espied in period movies. One can imagine the once mighty Talpur sovereigns hosting banquets in sprawling lawns for visiting dignitaries who would be accorded gun salutes. Today the Mahal is truly larger than life because the lifestyle that was once upon a time its fiefdom, is a dream gone sour. Yes, the birds do sing at Faiz Mahal but they sing a different song.
---
Originally published in Dawn, EOS, April 15th, 2018.