Designers Hussain Rehar, Hira Ali and Arjumand Bano surprised critics with promising debut collections
Don't judge a book by its cover or a fashion week by merely looking at the designer lineup – this, in essence, was the lesson one brought back from the first day of this year's PFDC Sunsilk Fashion Week (PSFW).
For, prior to PSFW, there had been plenty of talk about how the designer lineup this year wasn't how it used to be. It truly wasn't. Well-known veteran labels, hitherto PSFW loyalists, were ostensibly missing from the lineup and taking their place was a host of newer designers.
Based on some bad past experiences, one tends to assume that debut collections are going to be replete with fashion fumbles but perhaps it's wrong to generalise. Newer names don't always have to mean bad collections – they could also be an indication of fresh energy being inculcated into fashion week and of new aesthetics and ideas being introduced into the bling-infested, lawn-clad floral bomb that local fashion has now become.
It was a day of firsts and it reminded one of past fashion weeks from several years ago when some now well-established names were taking their first footsteps on to the catwalk: a Sania Maskatiya who improvised with hemlines, a Mohsin Ali with his love for color, an Akif Mehmood with cultural inspirations dominating his designs and a vivacious Ali Xeeshan with his hit-and-miss takes on dramatic fashion.
Every well-known designer was once a blundering newbie who then proceeded to make a mark by virtue of talent and hard work. The new names who showed on day one – Hira Ali, Hussain Rehar and Arjumand Bano – were not entirely exemplary but they all have the potential to grow. They also offered a refreshing departure from the industry's veritable dinosaurs who are increasingly less inclined to delve towards newer, more exciting design.
There were slight tweaks made by the Pakistan Fashion Design Council (PFDC) that added energy; namely the two new catwalks; one, a sleek long 'X' and the other, a black, reflective central path. The tiny details can sometimes really help in pepping things up. There were a lot of new models hotstepping on to the catwalk – models that seemed taller and more professional than their shorter, notoriously crankier predecessors. It was another welcome new change.
The day did have its lows – but what would a local fashion week be without the odd designer playing it far too safe to be interesting? Or a designer deciding to foist garish net hair accessories on to models, managing to ruin the overall look of a collection? Or that feeling of deja vu that you've seen that design before somewhere …. on an international runway, perhaps? Or the music which often droned on in repeat, except for Sania Maskatiya's show where it was upbeat and energetic?
Here's the lowdown…
The PEL Craft/Design show with GOLD by Reama Malik
Designers Zonia Anwaar, Hamza Bokhari, Shahroz Tariq Khan and Akif Mahmood worked with indigenous craft techniques to create capsule lines that didn't usually impress.
Akif Mahmood was possibly the best amongst the four, playing around with flirty little smocks and pairing them with printed pants. Zonia Anwaar's brought out some fun capes and yo-yoing hemlines constructed with hand-woven fabrics and embroideries. Shahroz Tariq Khan's designs didn't impress except for, perhaps, some innovative embroidery patterns. Jeem by Hamza Bokhari created tassels and dabbled with various embellishments but unfortunately overdesigned the clothes so that they looked too busy. GOLD by Reama Malik brought forward their new collection 'Gold Lure' for accessorising the models.
Should this segment become a consistent feature at PSFW, it could improve to become truly path-breaking. For now, the primary reason why it didn't enthrall is that when designers think 'craft', they simply veer towards embroidery. And while hand embroideries are undeniably part of Pakistani's indigenous heritage, we have seen them far too many times to truly be riveted by them.
More techniques need to be blended in; craft like tukri, block prints, gota and patchworked chata-pati, for instance. Then, this would be a segment to watch out for.
Also, this segment featured Maavia, Pakistan's first transgender model to walk the catwalk, wearing Jeem by Hamza Bokhari. It was a long overdue step by the fashion industry to play its role in the social inclusion of transgender people.
Hira Ali
Feminism's the newest 'it' bandwagon and Hira Ali latched onto it with gusto in her fashion week debut collection. The models walked out in the end holding placards with slogans like 'Woman is future' and 'Don't touch my rights', quite ingeniously timed with the Aurat March that took place on Women's Day in major cities.
But the feminist path has now been tread many times before and it wouldn't have had been impactful except that Hira had actually thought things through. Following the theme, glimpses of feminist slogans were visible in her entire collection; a slight belt with 'Woman is future' written all along its circumference and organza skirts and dresses with their linings printed with slogans.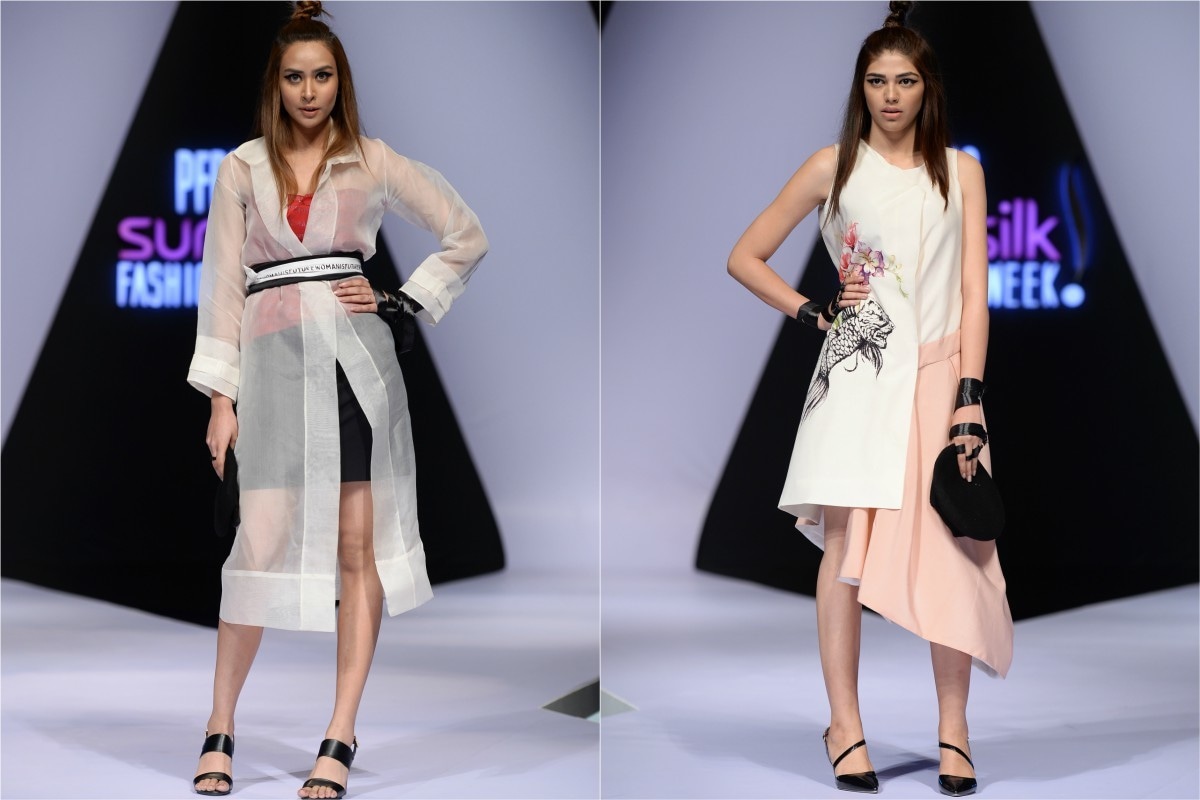 What would have certainly worked for this line would have been better finishing and neater cuts. Also, one wonders if Hira will ever be translating this collection for some semblance of retail. The collection was dominated almost entirely by one-shoulder dresses and skirts that were a bit too Zara-esque sometimes – something that Hira needs to depart from. However, should the designer tweak her work into more Pakistan-centric silhouettes, it's a collection that may prove to be a hit with young girls wanting to make a statement.
A good debut, indicative of better things to come.
Hussain Rehar
One knew what to expect from Hussain Rehar for this may have had been his fashion week debut, but his designs have perpetually been visible. He's dressed celebrities and socialites galore and taken part in events and diligently floated it all out on to social media.
So one knew, instinctively, that the designer was going to bring out the power suits that he seems to enjoy making and mix and match neons and stripes. He did – and a lot of times, it worked. Had he constructed them better, they would have worked more.
There were striped dresses cinched with belts, patterned suits, horizontal zippers putting together stripes and quirky cut-out metal rings. Myriad sea animals floated down from the shoulder or along the hemlines, octopuses, serpents, snakes, et al. It was all quite well thought-out and cohesive – and it all clearly bore Hussain's signature.
For an up and coming designer, this is particularly applaudable. Hussain's spin on fashion certainly doesn't toe the pretty but generic lines that tend to do well in the market. His signature is very modern and edgy with dashes of eccentricity added in for good measure. And he is sticking to this, preferring to initiate trends rather than blend in. He could become one of future fashion's trendsetters.
He does need to work on better finishing, though. Regardless, this was the best debut of the day.
Arjumand Bano
Yet another fashion week first-timer and Arjumand was clearly enjoying herself. Her jungle-inspired collection had its highs: a gorgeous palette and 3-D embellishments, embroideries and print used to create an assortment of flora and fauna.
There were tigers winding their way through the filigree, zebras and plenty of greenery. A trailing cape in aquamarine and turquoise swarmed with sea life, a beautiful coral pink skirt teemed with tassels and a few jackets, slung carelessly on the shoulder, caught the eye.
But Arjumand particularly went wrong with the few pieces where botanical prints dominated. Botanical prints are utterly dated now and not too long ago, every local designer dedicated entire collections to them. They have been reviewed, featured on magazine covers, worn by celebrities, worn by it girls and run rampant to the point that one doesn't want to see them anymore.
Also, the overlarge floral hair accessories pinned on to the head were not fashion forward. The catwalk looks would have had fared better had the designer gone along with the hair that had been devised for the day by team Nabila working backstage: easy breezy top knots and loose, glossy hair.
Nevertheless, this was a good first effort.
Sania Maskatiya
Sania Maskatiya's 'Colour Dash' was superbly finished and bore the designer's signature through and through.
There were assymetric hems, drapes, trails, togas, kaftan sleeves and shirts dexterously cut into layers, the volume toned down with belts. The prints sifted from monochrome black and white to bright colors and one particular black and white trail had a multi-colored lining peeking out from within. Very pretty.
It was also all entirely wearable, ready to step off the catwalk right into retail. This is a balance that very few designers understand but one that Sania has always managed to strike with ease. She also always converts the designs into trendy shalwar kameez for her more traditional clients. Business-savvy and fashion-savvy – another balance well-struck!
Having said this, one now knows what to expect from Sania Maskatiya and this may not be a bad thing. What would Burberry be without the standard chequered patterns? Or Balmain designs without their requisite shoulder pads? Seasoned brands often develop personal signatures and innovate within them. Similarly, as long as Sania brings in some innovation every year, she will not become repetitive. A little less of the togas and kaftans, though, would make things a bit more exciting.
The colors, the upbeat music and a collection conceived by a designer who has grown from strength to strength was a befitting finale for a very young, often ebullient day at fashion week.
Could the remaining two days also deliver some trendsetting moments? We're not going to judge the book by its cover – or the fashion week by its lineup – and wait and see.