Even though it's been three years since Na Maloom Afraad was first released I was looking forward to its sequel, and not just because I'd like to support Pakistani cinema.
While NMA had its flaws, it had its moments as well, which on the whole trumped its drawbacks. I enjoyed the film's Karachi influenced story with its colourful universe of friendship and get-rich-quick schemes.
Nabeel Qureshi has come a long way since his debut feature. Will the sequel be proof of his journey?
The plot
Na Maloom Afraad 2 takes place a few years after its prequel, and we see Farhan (Fahad Mustafa), and Shakeel bhai (Javed Sheikh) become more destitute than they were before as they lose their multinational business. The two, along with Naina (Urwa Hocane), who is now married to Farhan, are living at a construction site and just scraping by.
It's when their pal Moon (Mohsin Abbas Haider) calls to announce his wedding and brings them to South Africa that the three are united.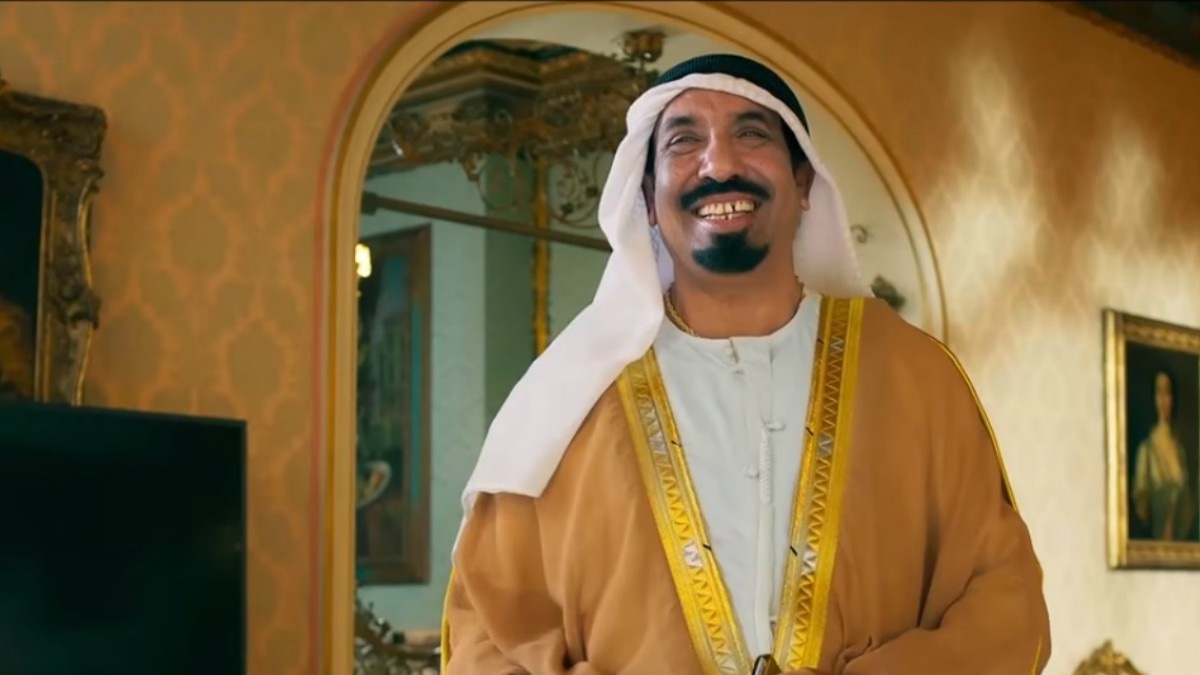 The story kicks off when a Sheikh (Nayyer Ijaz) also arrives in Cape Town with his gold commode in tow... yes you can laugh at that... I did.
The Sheikh stays at a grand hotel where Moon's fiance Parri (Hania Amir) works. A criminal duo (Saleem Mairaj and Nazr ul Hassan) decide to steal the gold toilet (snicker) and blackmail the Sheikh but when the toilet is mixed up with Parri's wedding paraphernalia and ends up with our trio, hilarity ensues.
How have the characters grown
Watching NMA2, I was most curious about how Farhan, Shakeel bhai and Moon had changed over time, and whether each actor would do justice to this evolution.
Fahad Mustafa as Farhan is more daring than in the first film. After the loss of his business he is back to scheming and plotting new get rich quick schemes which are wilder and riskier, probably due to the previous success. However, the scheming Farhan gave me the feeling that the character hasn't really progressed as he doesn't think of the dangerous consequences for his actions. That being said, Fahad Mustafa does a good job portraying the character.
Contrary to Farhan, Mohsin Abbas Haider's Moon is the one who has evolved the most. He is the one struggling for a better life and has cleaned up his act, but it is when the other two reveal their plans of stealing from the Sheikh that we see his new calm and collected persona transform into the panicky character from the prequel. I was amused watching Mohsin balance the mature Moon fighting his crazy past, because even during his 'momentary lapses,' he remains the voice of reason. Mohsin had a lot of margin in the script to top all the actors but there was some "overacting" that prevented him from doing so.
Javed Sheikh is just adorable in this movie. He has the same stutter as the first film and just as before, he prevents it from being an annoying gimmick and sells it well. However I feel like it was the script that let him down as it reduced him to comedic relief rather than a proper character as he was in the first film, to the point that he has regressed a character. But even then, his scenes had me laughing the most among the three protagonists.
The trio still shared the same chemistry as before and they did end up complementing each other. But while our three heroes carry the film well, the villains were not far behind!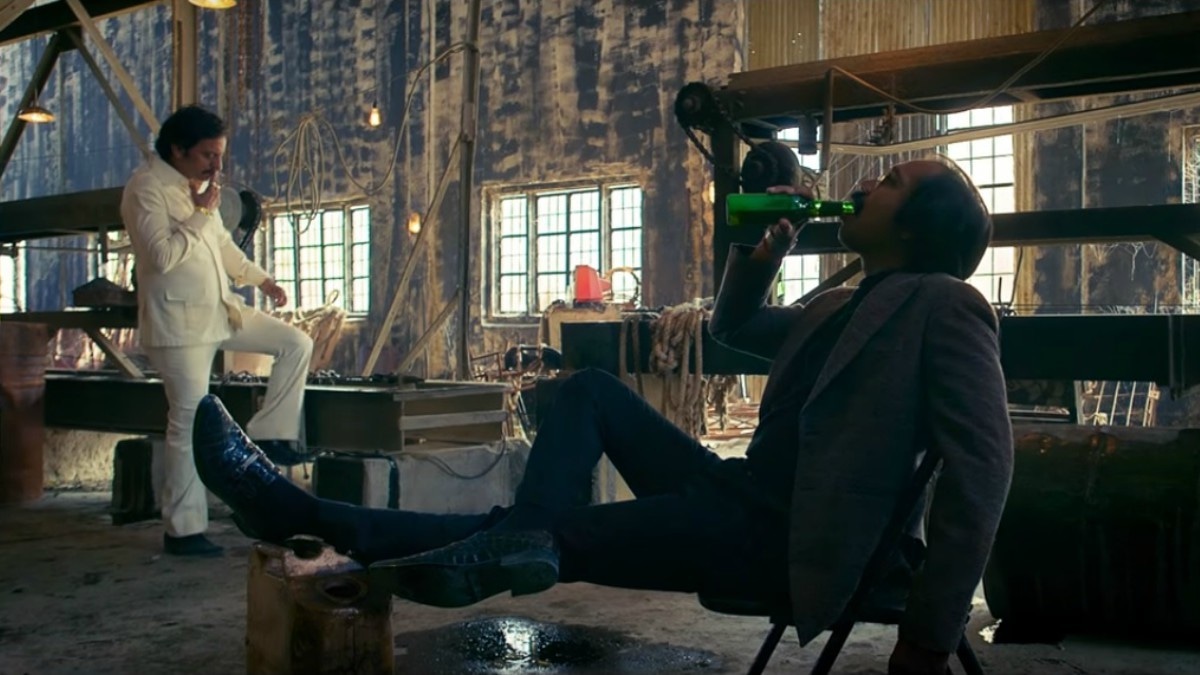 The baddie duo of Saleem Mairaj and Nazr ul Hassan really won me over. They had the right smug attitude and they balanced humour well with it. They had great chemistry as a baddie duo and I wanted to see more of them. Spin off?
Nayyer Ijaz proves that he is up for all challenges yet again as he takes on the role of the Sheikh with the gold pot... Yes I'm laughing again.
While I like that he didn't reduce himself to a stereotype with annoying overacting, he still was lacking the right accent had some consistency issues regarding body language.
Urwa Hocane as Naina and Hania Amir as Parri were a bit of a let down. What saddened me is that the script provided ample margin for the two characters to shine despite the film being led by three males, but Urwa and Hania just couldn't deliver an authentic performance. They lacked chemistry with their on-screen spouses and weren't convincing.
NMA2 is supposed to be Marina Khan's film debut and I liked her more than our leading ladies. Playing Hania Amir's mother, she steals the spotlight within a short monologue where she questions the pairing of Moon and Parri, a question I noticed many in the audience were actually asking. I won't lie, that monologue was my favourite part in the film.
I loved the first half of the film. Up until the intermission, I enjoyed the movie, noticing a few very minor drawbacks but forgiving them. But I realised that these minor drawbacks were foreshadowing bigger problems in the next half.
The script was the film's weakest link
There is a part in the film where bad guy Iqbal (Saleem) says "Yeh dou minute ki kahani das minute mai sunaega (this guy will tell a 2 minute story in 10 minutes)." The joke may have been referring to Shakeel Bhai's stutter but it felt more accurate to describe the major flaw of the film.
The biggest problem NMA2 has is one that Na Maloom Afraad also suffered: an overwritten script. The dialogues needed to be snappier and many elaborate scenes could've been replaced with a single shot.
Spoiler alert
Those who have seen the first film will notice that NMA2 follows an almost identical narrative structure, that is, a conflict leading to a sudden twist climaxing in a big shoot out... only to have a sudden random happy ending. It was almost predictable. Boo.
The last forty minutes especially were very stretched out and we were just getting Andaz Apna Apna vibes with the final showdown taking place in a construction site resembling crime master Gogo's lair.
I do appreciate the script's efforts to not let the women be two dimensional. For example, (spoiler alert!) when Naina and Parri get kidnapped, they put up a fight, beat up the baddies and were only stopped due to the amount of guns pointing at them. I mean, who wouldn't stop then right? In films where the main characters are men, its a very noticeable change when women aren't willing to give up without a fight. So kudos to NMA2 for that.
If the acting backed it up, I'd have enjoyed it more.
I like the humour of Na Maloom Afraad more than the sequel. The first film was very Karachi-centric so the humour had a touch of familiarity. Down to the concept of Na Maloom Afraads the jokes were very relatable. But that means it would be unfair of me to compare the two. NMA2 has some crass jokes but nothing cringe-worthy and considering the film's plot revolves around a gold toilet, toilet humour is kinda inevitable.
Luckily the cinematography is excellent
But I do have to say NMA2 is shot brilliantly. The visuals, the timely effects and framing of the shots grabbed my attention. I've always felt that cinematography is very underrated in the Pakistani film industry and to see it done so well was satisfying.
The crew of NMA2 paid attention to detail and the aesthetics and composition of every shot is proof. I loved the colour scheme and vibrant tones, which were selected to enhance and complement every situation. The Sheikh, for example is bathed in a gold glow and the action sequences were dark, reflecting the gritty situation of our characters.
Overall the film is technically sound. The way the shoot-outs were filmed had me wondering what it would be like if the filmmaker helmed an action movie. Just think about it Nabeel.
The music wasn't overbearing
NMA2 focuses less of songs and more on the background score. There were around five songs and those were also not crazy long. This is a very personal opinion but I really don't like a plethora of songs in a film. It makes me forget whats happening in the film. No judgey.
I liked how Sadaf Kanwal's performance on 'Kaif O Suroor' was a proper dance number and not an 'item song'. Looking past her lipstick that I need to add to my collection, I could see her dance was more about technique and thankfully absent of leering camera angles.
It was the 'Chal Hug Lay' song that irked me a bit, and not because of the pun... that I giggled at because I'm immature. It was the fact that a widower, a married man and an engaged man were dancing with random women on the beach. Plus it added nothing to the film, no offence to Mohsin Abbas Haider's shirtless presence.
Bigger and better?
It's been three years to Na Maloom Afraad and I still like it more than most of the films that have come out in this time-span. So having high expectations from NMA2 was inevitable.
I feel like NMA2 moved to South Africa because producers thought a grand change of location would be the best way to top off their last film. It wasn't. For the most part I wasn't even thinking about Cape Town. The film could have easily been made in Pakistan.
For me, a major reason I liked the first film was the closeness of Na Maloom Afraad with Karachi. Perhaps NMA3 can be situated closer to home.
Overall, I liked NMA2. Despite it needing to be shorter, it was enjoyable. While it doesn't top its predecessor, it's a nice watch and I left the cinema very entertained.
Na Maloom Afraad 2 opens today.
Email