Saba Qamar's latest look as Qandeel Baloch had us look into every look she's gotten for the drama
Saba Qamar has been a busy bee! A busy QB that is... Sorry.
The actor was barely done with her Bolly debut Hindi Medium that she got wrapped up in TV serials. One that has everyone's interest is Baaghi, a drama based on the life of late Qandeel Baloch.
Saba Qamar revealed her role by taking to social media and posting pictures of her dressed in a similar manner as the late social media sensation.
Also Read: I'm going to be playing Qandeel Baloch in a biopic, says Saba Qamar
But that wasn't the end of it. Qamar has shown many of her looks for Baaghi on social media during shoots as well. The latest came yesterday where she had a picture of her in two sleek ponytails and bright clothing. It wasn't the best look we've seen but it made us want to check out all her outfits as Qandeel Baloch to date.
Saba isn't rocking the bunches well but we do like how she has paired her satin 'Pakistan' shirt with white pants. Bright and fun along with patriotic and sporty.
Okay this picture is intriguing, and not just because Osman Khalid Butt is there! Saba is in her Qandeel avatar but in a manner no one would expect. She's wearing a white kurta with light embroidery and has a black scarf on.
We know this is all about Saba Qamar but Osman Khalid Butt isn't looking too shabby either! A black collared kameez over white shalwar is always classy. We wonder what his role is in the drama though.
Saba's got a very casual look going on as her plain grey shirt and skirt with pink florals say "Don't mine me, just lounging about."
Could this be the Baaghi squad? It's Saba Qamar with Khalid Malik and Osman Khalid Butt and the three seem to be having a blast working together. We love Saba Qamar's braid here, messy yet in control, kind of like the character she wants to portray, maybe?
Saba Qamar may be showing us a glimpse of her cast and crew here but we are checking out her printed bottoms more. They look fun and super comfortable and she's balanced the look well by pairing the bottoms with a plain black shirt.
Saba's got some simple looks in Baaghi as well. Like this look has her wearing a loose blue top with black tights. We have to say though, those white shoes and the bag really tie the look together.
Saba is here with co star Khalid Malik in a plain black button down and bright red pants. Malik has a simple jeans with black shirt look going on. What we love about Qamar's look here is the accessories. A green bag, yellow bangles and chunky necklace and bright red pumps, the accessories here just pop.
Speaking of accessories! Saba Qamar gave us a little teaser of her shoes on the set of Baaghi and we're totally not jealous!
Urdu1 unveiled Baaghi with this poster of Saba Qamar next to Qandeel Baloch wearing a similar outfit so as to let you know what to expect from the drama.
Okay, we're not exactly loving the red frames but we love how well Saba's pulling the look off! This look, a bright red collared shirt with ripped jeans and a top knot, is what had people wondering if Qamar is actually taking on the challenge of being Qandeel Baloch!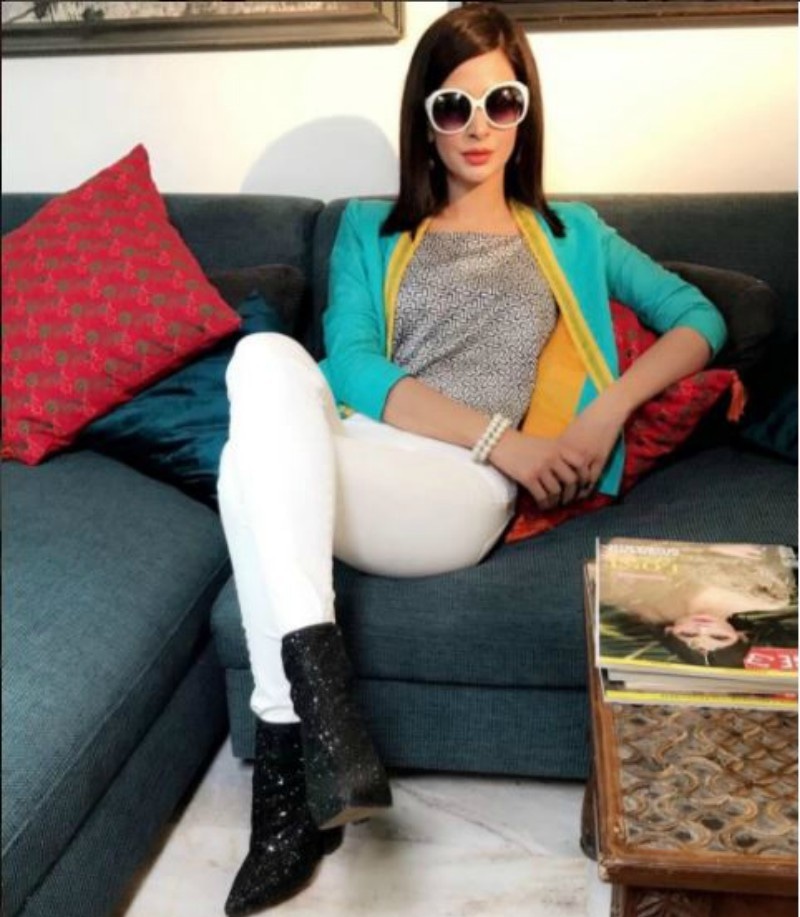 Ah the picture that started it all. If someone would have told us that Saba Qamar would wear a black and white patterned top with white pants, black mini boots and a bright blue and yellow shrug with huge white frames, we'd say you're crazy! But here she is, exuding confidence and letting us know there is no role she will shy away from.