We present our own awards — for red carpet glam and red carpet disasters!
The Lux Style Awards always prove to be a night to remember; the ceremony always entertains, controversies inevitably follow and it's where we crane our necks to see who's wearing what, who made it to the best dressed list and who just missed the mark.
After all, these are our answer to the Oscars!
Rather than boundary-pushing, this year was all about the unexpected, channeling dreamy old world glam. Some took home the trophies while others earned respect in the sartorial department. Here's who had our eyes glued on their outfits:
Most glamourous: Mahira Khan
This real life princess didn't just win Best Dressed (Female) Celeb for nothing. Her intricate powder pink Shahira Lasheen gown had us picking our jaws off the floor. So much volume! So much oomph!
Her dress was so big she barely even made it up the stairs to collect her award!
Most sophisticated: Amna Babar
We're still heartbroken that she didn't scoop up the award for Best Model of the Year but doesn't she look like a million bucks in this bespoke Sana Safinaz ensemble?
Most relaxed: Hamza Ali Abbasi
If it's black shalwar kameez, you can bet Hamza will wear it to any award show. After all, the star admits to owning three of them all stitched by his darzi.
Best monochrome: Meesha Shafi
Meesha was feeling the monochrome madness; though we expected her to do something quirky and completely out of the box, we have no complaints about this Vickteerut jumpsuit with a hint of peekaboo. She wasn't the only one wearing black and white, but her look was definitely one of the best.
Most improved: Fatima Khan
Mr. Funnyman, Ahmed Ali Butt's wifey got a big 10 out of 10 in our books; everything from her Erum Khan couture gown to her hair and make-up was on fleek. Fatima hasn't made it to our best dressed lists before because her default look is always too 'done' — but this time she let her hair down, and it worked.
Sadly, her after-party attire didn't follow suit but hey, good thing we're just talking about the red carpet for now!
Best bright: Shahzad Noor
Who says men can't rock colour? Model Shahzad Noor wears a lean, close-cut teal suit that works wonders on his frame.
Best pastel: Sadaf Kanwal
This diva's known for her laid-back chic style and we absolutely loved her in these lilac separates by Nomi Ansari.
Most dapper: Fawad Khan
Well, we gotta give this one to Fawad Khan. He's wearing Republic by Omar Farooq and dayum, he looks good.
Best accessories: Ayesha Omar AND Meesha Shafi AND Parisheh James
We didn't spot too many standout-accesories on the red carpet, but what we saw, we liked. Ayesha Omar's Giuseppe Zanotti heels were her outfit's saving grace. Meesha Shafi rocked an amazing crystal-covered cuff by Zohra Rahman and Parisheh James rocked these Ali Javeri tasseled earrings.
Best IDGAF attitude: Noori
These boys have been on the scene so long we can forgive them for showing up in jeans and tshirts. Even the prospect of bagging an award (which they ended up winning) couldn't get them into a tuxedo. And we don't mind at all. I mean, what's the point of being a rockstar if you don't get to break some rules?
---
Most disappointing: Ayesha Omar
Okay, so in all honesty, we weren't big fans of her Tena Durrani dress. It was nice but nothing to write home about. We'd have liked to see her in something more form-fitting, all the better to highlight her gorgeous petite frame. Her make-up is on point though.
Worst GOT-inspiration: Urwa Hocane
Such a pretty actress... such an unfortunate fashion decision. The braids, the heavy choker with body chains attached... it's all a little too costume-y for our liking. Perhaps Urwa's been watching Game of Thrones on repeat? Because this is more Daenerys Targaryen than Lux Style Awards. And not in a good way.
We think Urwa should've gone with HSY like sis Mawra.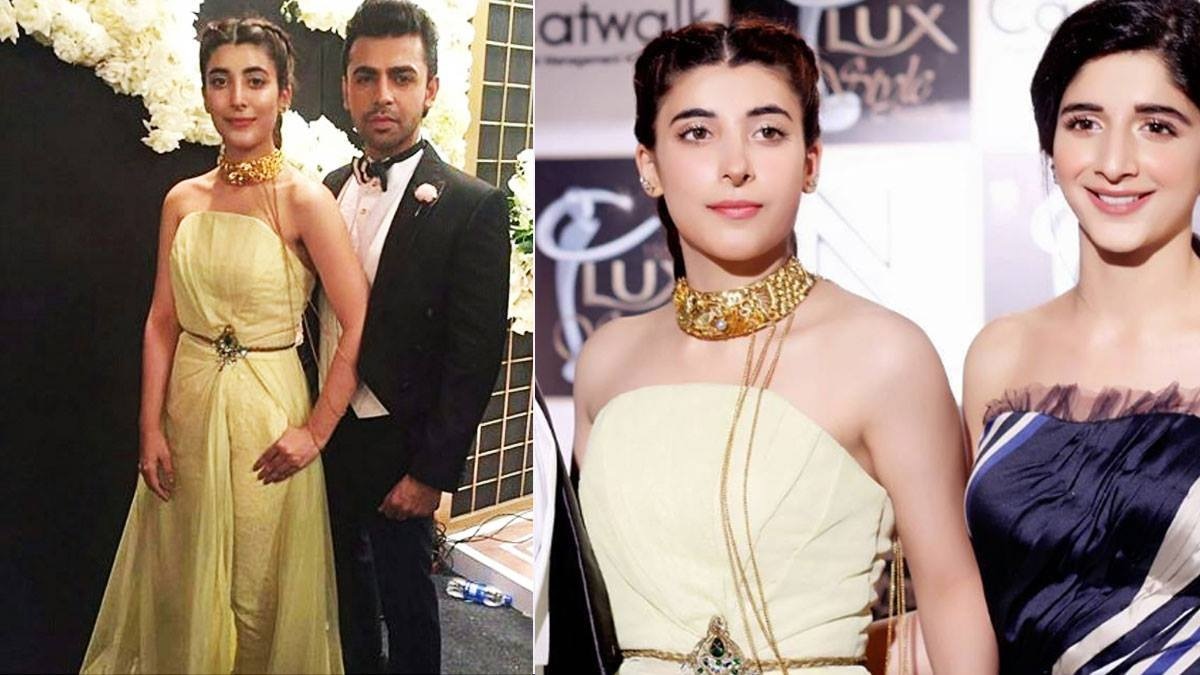 Worst silhouette: Momal Sheikh
We usually love Shehla Chatoor's looks on the red carpet, but this was way off the mark. The most important make-or-break factor that determines a red carpet gown's success is fit, and this was NOT tailored to Momal's body.
Lumpy and bumpy in all the wrong places, this gown/cape/pantsuit did not flatter Momal's figure at all.
Most confused: Ali Xeeshan
Wait, what? We know he's fashion's ultimate chameleon (remember his Kim K-inspired platinum 'do?) but this look just didn't work.
He's wearing a Vietnamese hat (called a Non La) with with hipster frames, a Japanese kimono-inspired jacket and metallic sneakers. This mish-mash of cultural references makes his outfit look like a poorly made last-minute decision as opposed to a thoughtful fashion statement.
Maybe this is his way of paying homage to Raiden from Mortal Kombat?
Worst fusion: Fouzia Aman, Ushna Shah and Hira Hussain
Every time fusion goes wrong, our inner fashion aficionado dies a little death. Fusion done wrong takes many forms: slapping heavy, traditional kaam on a western-style gown, wearing a matha patti where none was required or simply showing up to the red carpet in a shaadi ka jora.
These ladies showed us you should be verrryyy careful when marrying tradition with a modern aesthetic or occasion. Fouzia's armful of bangles didn't work, Ushna's choli would've looked better at a mehndi, and the kaam on Hira's dress was just too bridal to make the cut.
What did you think of celebrity style at the LSAs? Leave your take in the comments below!